Eliminations Come Quickly as Asian Poker King Tournament Final Table Underway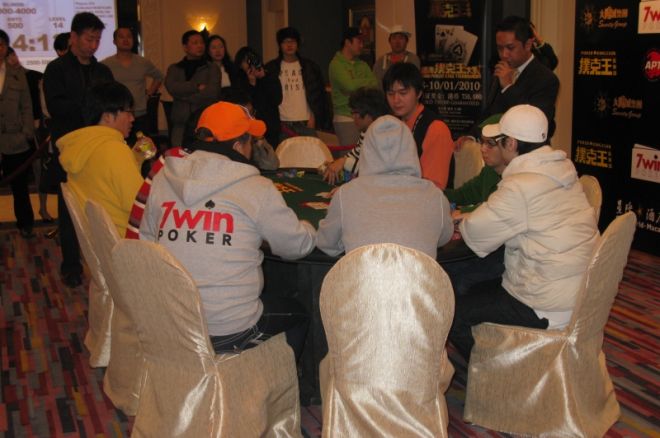 The final table of the Asian Poker King Championship is underway and there have already been three casualties in less than one level of play.
Just a few hands in, we had our first all-in moment when Roberto Wong got his chips in with pocket kings against the chip leader, Il Wong Yoo, who tabled pocket tens. While Wong was ahead pre-flop with the superior hand, a ten came on the flop to give Woong a set. No help came on the turn and river, booting Wong out of the tournament in tenth. He wins HK $15,600.
Later on, we lost another player when Hong Seung Jae got it in with pocket tens against Wong's Q-10. Unfortunately for Jae, Woong spiked a queen on the flop to give him top pair. The board bricked out, sending Jae out in ninth with HK $17,200 in prize money.
With fifteen minutes left in Level 15, Charlie Shin got his stack in with pocket tens. However, his opponent tabled the best pre-flop hand, pocket aces. The board bricked out and Shin exited in eighth with cash prize of HK $25,800.
After the three eliminations, there are six players left in play. That's because despite being a ten-handed final table, only nine players showed up today. Michael Kim, who could not be present due to personal reasons, is being blinded out. He'll definitely have consolation, though – with the eliminations stacking up, he keeps moving up in money without even having taken his seat.
With just one non-Korean player at the table, tournament director Lloyd Fontillas reminded the players to follow tournament rules and speak only in English or the local language, which is Chinese. In addition, he also mentioned to the players not to show their cards to anyone while a hand is still ongoing.
The Asian Poker King Tournament is the first major tournament of the Poker King Club, which is located on the third floor of the StarWorld Casino in Macau. A total of 174 players signed up to play in the event, exceeding the HK $750,000 guaranteed prize pool and bringing the total prize money to HK $870,000.
Join Asia PokerNews on Facebook and follow us on Twitter!