Final Ten Set to Play Tomorrow for the Asian Poker King Tournament Title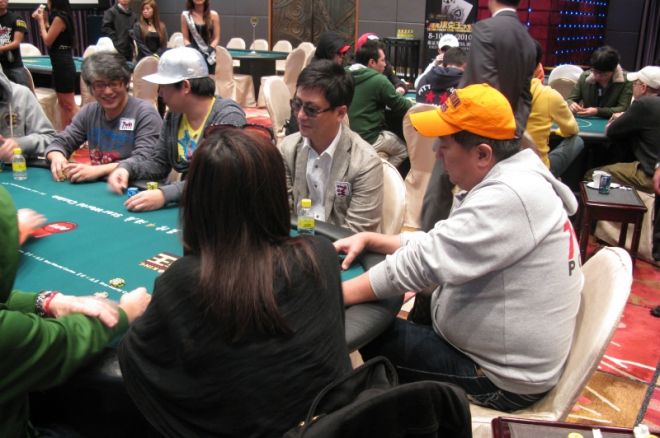 After just under six levels of play in Day 2 of the Asian Poker King Tournament, the final table has been set.
Ten players will return tomorrow for Day 3 of the tournament with each one eyeing the top prize of HK $284,200. They will be led by Korea's Il Wong Yoo, who leads everybody with 434,000 in chips. Right behind him is fellow Korean Soo Bum Kim, who currently has 360,500 in his stack.
The final table bubble boy was Richard Becker, who moved all-in for his remaining 54,000 with


against pocket queens. No ace came to help him, booting him out of the tournament in eleventh place.
Day 3 will be held tomorrow on the 16th floor of the StarWorld Hotel.
The Asian Poker King Tournament is the first major tournament of the Poker King Club, which is located on the third floor of the StarWorld Casino in Macau. A total of 174 players signed up to play in the event, exceeding the HK $750,000 guaranteed prize pool and bringing the total prize money to HK $870,000.
FINAL TABLE CHIP SEATING AND CHIP COUNTS:
Seat 1: Roberto Wong (101,000)
Seat 2: Fabio Augusto Kim (161,000)
Seat 3: Soo Bum Kim (360,500)
Seat 4: Seung Chul Shin (167,000)
Seat 5: Charles Choi (157,000)
Seat 6: Il Wong Yoo (434,000)
Seat 7: Hong Seung Jae (44,000)
Seat 8: Danny Sim (106,000)
Seat 9: Michael Kim (53,500)
Seat 10: Patrick Kim (156,000)