Final Two Remain at the Asian Poker King Tournament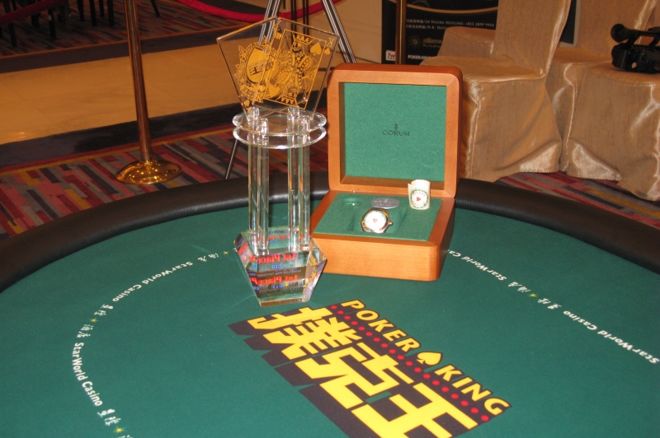 After about three levels of play at the Asian Poker King Tournament, we are now heads up as Il Wong Yoo and Soo Bum Kim battle for the HK $284,200 first prize.
Wong currently has the upper hand with 990,000 in chips, while Kim has 750,000 in his stack.
After three players were booted out in less than an hour earlier on in the day, the next elimination was Michael Kim, who never actually played today. Kim was absent due to personal reasons, leaving his stack to be blinded out slowly until nothing was left. He still wins HK $34,500 for his seventh place finish – pretty good considering he did not play a single hand.
Next to go was Patrick Kim, who shoved all-in from middle position. The player next to act, Fabio Kim, also went all-in with a bigger stack. Everybody else mucked their hands and the two showed their cards. Patrick had


; unfortunately for him, Fabio had


. The board did not help keep Patrick alive and he exited in sixth place for a cash prize of HK $43,100.
Just a few hands later, Charles Choi went all-in on a flop of



and was called by chip leader Soo Bum Kim. Choi showed two overcards with


while Kim tabled


for the flopped top pair. The board did not bring an ace or ten, knocking Choi out of the tournament in fifth place. He wins HK $51,700 in prize money.
With four players in contention, we saw more action on the very first hand after a short break. With some of the players still not in their seats, Danny Sim was all-in for his tournament life against Yoo Il Wong. Sim showed


while Wong had

. The board did not improve either player's hand, giving Wong the pot and knocking Sim out of the tournament. He wins HK $60,300 for finishing fourth.
The action did not let up as we had another all-in moment ten minutes later on a flop of



. Yoo Il Wong went all-in and was called by Fabio Kim, who showed


for the straight draw. Meanwhile, Wong tabled


for the heart flush draw. He hit it immediately on the turn as the

appeared, booting Kim out of the tournament in third place. He walks away with HK $77,500 in prize money.
The Asian Poker King Tournament is the first major tournament of the Poker King Club, which is located on the third floor of the StarWorld Casino in Macau. A total of 174 players signed up to play in the event, exceeding the HK $750,000 guaranteed prize pool and bringing the total prize money to HK $870,000.
Join Asia PokerNews on Facebook and follow us on Twitter!