Il Wong Yoo Crowned Champion of the Asian Poker King Tournament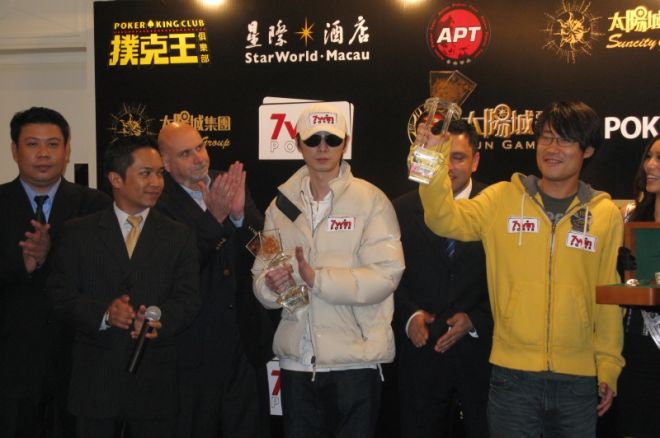 After three days of action-packed poker at the Asian Poker King Tournament, Korean player Il Wong Yoo emerged from the crowd to become the tournament's champion.
Heading into the final table of the tournament, Wong was the chip leader with 434,000 in chips. He continued to build on that, eliminating a few players before finding himself heads-up with fellow Korean Soo Bum Kim.
It didn't get any easier after that, though. Despite the rash of quick eliminations that downsized the final table to two, Wong and Kim played a brilliant heads-up match that lasted for more than two hours. Both players were betting and even calling constantly, even with hands like queen-high, jack-high, and even nine-high.
Early on in heads-up play, it was Kim doing all the damage. He used constant aggression and good cards to wear down his opponent's stack. However, Wong finally decided to take a stand and starting playing back until he eventually reclaimed the chip lead when he slow-played aces all the way to the river and won a pot of more than 400,000 chips.
In the end, after a lot of heavy betting on the flop and turn by Wong, he went all-in on a board of





. Kim called but Wong immediately showed


for the nut flush, sending his supporters into a frenzy. Kim silently mucked his hand, leaving everyone wondering just exactly what he had.
For his first place finish, Wong won HK $284,200 as well as a Corum Royal Flush Automatic Special Edition 2006 watch. Kim, meanwhile, received HK $155,000 for being the tournament's runner-up.
The Asian Poker King Tournament was the first major tournament of the Poker King Club, which is located on the third floor of the StarWorld Casino in Macau. A total of 174 players signed up to play in the event, exceeding the HK $750,000 guaranteed prize pool and bringing the total prize money to HK $870,000.