Day 1B of the Red Dragon Main Event Underway at PokerStars Macau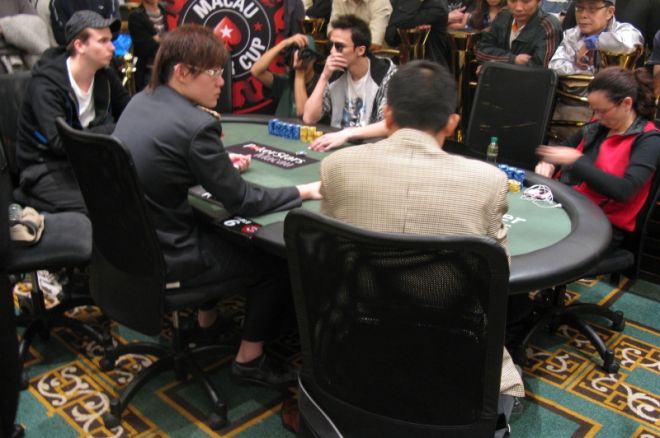 The second Day 1 flight of the main event of the Macau Poker Cup (MPC), the Red Dragon, is now taking place at PokerStars Macau.
Today's field was similar to last night as 161 players signed up to play in Day 1B. Combined with the 160 that played last night, this makes for a total of 321 – the biggest Red Dragon turnout to date.
"When I played in the first Red Dragon over at the Grand Waldo in 2008, it only had 18 players. By the end of the year it got to 57. Last year, it kept increasing. It got to over 100 players and then grew to about 247 at the last Red Dragon. Now, it's grown again as we have more than 300," said Fred Leung, marketing manager of PokerStars Macau.
Some of the big name players who are looking to stack up in today's flight include Team PokerStars Asia pros Bryan Huang and Tae Jun Noh.
Also in the field are Ricky Foo, who has had plenty of success in PokerStars tournaments in Asia, and Don Carmona, a top Filipino poker player who made the final table at the 2008 Asian Poker Tour Manila main event.
Aside from the main event, there have been various side events at this edition of the MPC. Yesterday, Fredrick Appleqvist was the big winner in the HK $3,000 200K tournament. He finished first out of a field of 190 for a cash prize of HK $125,600. The runner-up was Jeffrey Yuen, who won HK $84,600.
Meanwhile, the Deep Stack side event, which attracted 157 players, was won by Michael Ye for a cash prize of HK $51,900.
The Red Dragon main event will be held from March 5 to 7. Buy-in is set at HK $10,000.
For the full schedule of the March 2010 Macau Poker Cup, click here.
Start playing on PokerStars now!
Join Asia PokerNews on Facebook and follow us on Twitter!