Macau Poker Cup Continues, Red Dragon Main Event Slated to Begin Tomorrow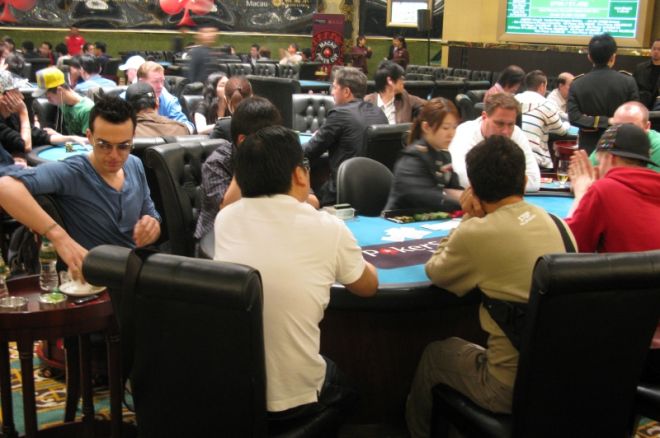 The PokerStars Macau poker room at the Grand Lisboa Casino is buzzing with activity as its popular tournament series, the Macau Poker Cup (MPC), heads towards its main event.
The MPC, which started on Monday, March 1, has brought players from all over Asia to the Grand Lisboa as they try to win the HK $1,000,000 Red Dragon main event. The usual cast of Team PokerStars Asia pros, such as Bryan Huang, Celina Lin, Tae Jun Noh, and Raymond Wu, are already getting warmed up by playing in the cash games and the side events.
For the first side event of this MPC, though, it would be Wayne De Smet who would come out victorious. De Smet placed first in the KO Bounty tournament, Event #1, on Wednesday night to snag a total of HK $40,550.
Coming in second was Chinese player Wei Ming Tseng, who won HK $26,500. Saehoon Lee was the third place finisher, winning HK $17,950. Buy-in for the event was HK $2,000.
Since the KO Bounty tournament was the first MPC event of the year, the three also find themselves at the top of the 2010 Macau Poker Cup Leaderboard. That will probably change, though, as soon as the other side events and the Red Dragon main event get underway.
Tournaments on today's schedule include the Charity event, which started earlier this afternoon, and the HK $3,000 No-Limit 200K Guarantee event, which is slated for 8:10pm tonight.
Even with plenty of events taking place, most of the players at the PokerStars Macau poker room have their sights set on the Red Dragon main event, which will be held from March 5 to 7. Buy-in is set at HK $10,000.
Satellites for the Red Dragon have been ongoing at PokerStars Macau since Monday and will continue all the way until Friday night.
For the full schedule of the March 2010 Macau Poker Cup, click here.
Start playing on PokerStars now!
Join Asia PokerNews on Facebook and follow us on Twitter!