Raymond Wu Wins the March 2010 Red Dragon Main Event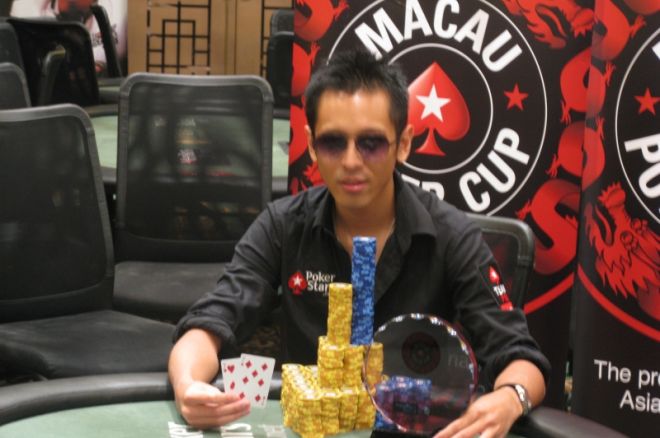 Congratulations to Raymond Wu, who wins the Red Dragon main event of the March 2010 Macau Poker Cup (MPC)!
Wu overcame a field of 321 players to win the coveted Red Dragon trophy as well as HK $664,000 in prize money.
In addition, he takes the current top spot on the PokerStars Macau Asian Player of the Year leaderboard.
Using plenty of aggressive play, Wu accumulated chips from just about everybody at the final table. Early on, he doubled up to about 400,000 in chips when his pocket threes made a set on the turn to beat out pocket aces.
The PokerStars Team Asia pro continued to relentlessly push the action, eliminating Okina Takayuki when he hit a pair of jacks on the flop against the Japanese player's pocket eights. Takayuki's two remaining outs did not appear on the turn and river, eliminating him in sixth place for a cash prize of HK $140,000.
After downing two more players, Wu found himself heads-up against fellow Taiwanese player Wei-En Shi. Continuing his aggressive style of play, Wu kept grinding away at Shi's stack to put momentum on his side.
Facing a large chip deficit of about 3.5 to 1, Shi finally decided to make his final stand and pushed all-in pre-flop with


. To his dismay, Wu quickly called and showed


.
The flop came


. Neither player had any spades, so Shi was basically hoping for a queen or another two to stay alive. It did not happen for him as the

and

completed the board to send him out in second place. For his runner-up finish, Shi won a cash prize of HK $458,000.
The March 2010 Red Dragon main event was held at the PokerStars Macau poker room of the Grand Lisboa Casino. Buy-in was set at HK $10,000. The next big event at the poker room will be the upcoming Asia Pacific Poker Tour (APPT) Macau in May.
Here are the complete results from the final table:
1. Raymond Wu (Taiwan) - HK $664,000
2. Wei-En Shi (Taiwan) - HK $458,000
3. Cedric Raffi (France) - HK $272,000
4. Takuya Suzuki (Japan) - HK $214,000
5. Minsoo Kim (Korea) - HK $170,000
6. Okina Takayuki (Japan) - HK $140,000
7. Nakabo Hirotoshi (Japan) - HK $111,000
8. Kai Paulsen (Norway) - HK $81,000
9. Michael Travers (Australia) - HK $66,000
10. Percy Yung (Hong Kong) - HK $52,000
To fins out more about the PokerStars Macau poker room at the Grand Lisboa Casino, click here.
Start playing on PokerStars now!
Join Asia PokerNews on Facebook and follow us on Twitter!