Elton Tsang Wins the Asian Poker King Tournament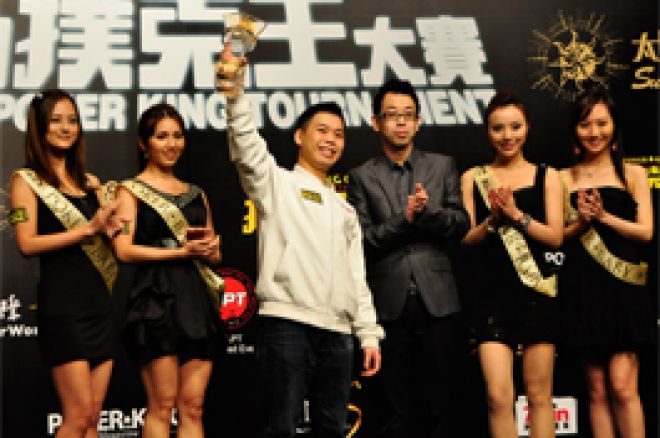 Elton Tsang from Hong Kong outlasted a field of 233 players to become the champion of the Poker King Club's Asian Poker King Tournament Main Event, held at the Level 8 Ballroom of the StarWorld Hotel and Casino, to take home the first prize of HK$ 553,600.
(Main photo: Elton Tsang, in white, holds up the trophy as he poses along with Poker King Club business director Winfred Yu and the Poker King models.)
On the last hand of the tournament, John Hoang from the USA made it 100,000 to go pre-flop and Tsang called. Tsang checked the flop of


and Hoang bet another 100,000. Tsang raised to 200,000 which was re-raised by Hoang to 300,000 total. Tsang called and they saw the turn

. Tsang checked and after Hoang shoved in the remainder of his shorter stack, Tsang snap-called to show


, well ahead of Hoang's
. The river

was a brick, good enough to crown Tsang as the champion of the Asian Poker King Tournament.
Results and pay-outs from the final table:
1 HK$ 553,600 Elton Tsang (Hong Kong)
2 HK$ 294,100 John Hoang (USA)
3 HK$ 138,400 Jose De Caro (Venezuela)
4 HK$ 103,800 Fred Leung (Hong Kong)
5 HK$ 86,500 Samuel Sin Cheung Luk (Hong Kong)
6 HK$ 69,200 Brice Renaud (France)
7 HK$ 51,900 Sae Jin Lee (Korea)
8 HK$ 34,600 Ryan Kim (USA)
9 HK$ 32,900 Kuok Uki Cheong (Macau)
10 HK$ 29,425 Wu Hong Cheng (China)
The Asian Poker King Tournament, which is an Asian Poker Tour Accredited Event, featured a guaranteed prize pool of HK$ 1,000,000 with a buy in of HK$ 7,500 + HK$ 500. The guarantee was exceeded as the prize pool reached HK$ 1,730,025.
The last side event, HK$ 1,100 Shootout Event was won by Ricky Foo. Ricky took home the HK$ 14,600 after the third hand of heads up play when he hit an unlikely flush after four suited cards came on the board.
The Poker King Club is located on the third floor of the StarWorld Casino in Macau. For more information, read the Asia PokerNews feature on the Poker King Club. You may also visit their web site by clicking here.
Sign up for an online poker room through Asia PokerNews to get exclusive freerolls, bonuses, and promotions!
Join Asia PokerNews on Facebook and follow us on Twitter!