Metro Card Club Launches Labor Day Metro Special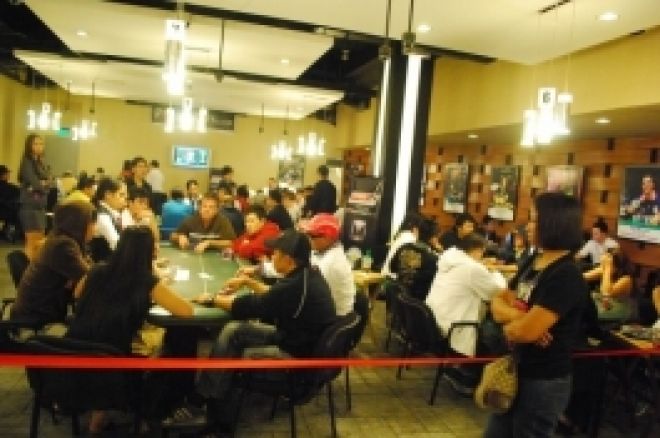 MANILA, PHILIPPINES — The Metro Card Club, the largest poker room in Asia is holding the smallest buy-in for a million peso tournament in the history of the Philippines on April 30th to May 2, 2010. The Metro Card Club is guaranteeing an astounding Php 1,000,000 prize pool with an affordable buy-in of Php3,000 in a 3 day event to be held at the Metro Card Club at Metro Walk, Ortigas Center Pasig.
The Metro, as it's fondly called by its patrons, has once again outdone themselves in fulfilling their vision of promoting poker in the country and their mission of putting the players first by making it possible for even the most casual poker player to enter the tournament. With these kinds of tournament structures, which only the Metro has mastered, more striving poker players are given the chance to make a name for themselves, rise up in fame and become instant millionaires.
Some of the renowned names in the industry that may grace the event are two-time Filipino Poker Tour (FPT) Champion Kent Del Rosario, FPT Champion Joshua Rivera, The Poker Circuit Champion Mark Pagsuyuin, professional poker players Marc Rivera, upcoming star Mike Takayama, and most especially, internationally renowned poker player and Asian Poker Tour Champion Neil "Dirty Ice Cream" Arce.
The tournament is expected to have more than 300 players, coming from all over the Philippines vying to become the next Filipino champion.
For more details, please visit our website at http://www.metrocardclub.com. For coverage of the event, please [email protected] or call +639291073363
The tournament schedule is detailed below:
Dates:
April 30, 2010: Day1a at 3:00pm
May 1, 2010: Day1b at 3:00pm
May 2, 2010: Day 2 at 3:00pm
Venue: Metro Card Club, Metro Walk, Meralco Ave. Ortigas Centre, Pasig City
About the Metro Card Club:
The Metro Card Club is the outcome of a vision shared by a handful of people with a true passion for the game of Poker. It has been the forefront of the local Poker industry, blazing the trail for its tremendous growth up to the present. Today, The Metro has established itself as the first brick and mortar card club in the country located outside a casino. It has also entrenched itself in the market as the leader in the poker industry to provide its players with the most professionally run, upright and worthwhile cash games and tournaments all over the country.
Sign up for an online poker room through Asia PokerNews to get exclusive freerolls, bonuses, and promotions!