Sae Jin Lee Is The Champion Of The Resorts World Manila Inaugural Poker Championships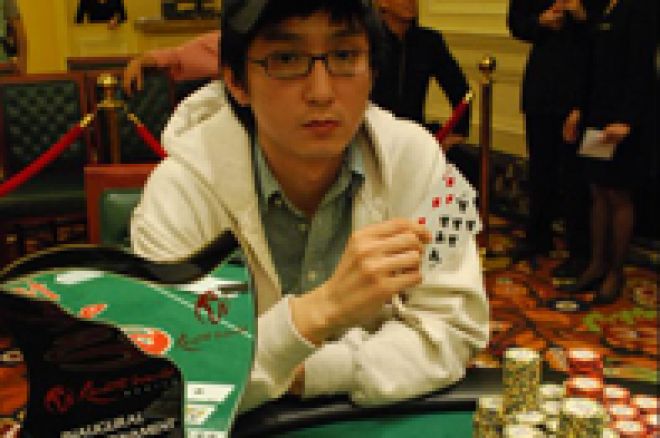 Sae Jin Lee, who hails from Korea, overcame a field of 269 to bag the title of the recently concluded Resorts World Manila (RWM) Inaugural Poker Championships.
Lee entered the final table sixth in chips and immediately went to work building his stack. It worked well for him as he was able to take the chip lead through solid play and making aggressive moves when it counted. He was the first player to reach more than half a million chips after he busted out Sam Munloong of Malaysia and from there never looked back.
It was not an easy feat as Lee had to navigate his way through a very tough field not only of some of the leading players from Asia but the cream of Philippine Poker including 2009 Asian Poker Tour Philippines Champion Neil Arce, Filipino Poker Tour Champions Kent Del Rosario and Vic De Guzman, and The Poker Circuit Champion Mark Pagsuyuin.
In the end, Lee's growing stack left him heads up with fellow Korean, Jeon Seung Soo. Soo used an aggressive strategy to try to lessen the four to one gap between their chips and it worked as Lee folded many of Jeon's pushes. On the last hand of the tournament, Soo raised to 100,000 before the flop. Lee pushed back, re-raising all in. Soo tanked and then placed his tournament fate on his pocket threes. Lee was delighted to see that his pockets eights were ahead. No help came to Jeon on the flop or turn and Lee made a flush on the river when a fourth club fell ending the tournament with cheers from Lee's supporters.
As champion, Lee took home the coveted Championship Trophy and PhP 860,800 in cash. In addition, he won a one-night stay at the six-star Maxims Hotel courtesy of host Resorts World Manila.
The RWM Inaugural Poker Championships – an Asian Poker Tour accredited event - was a PhP 2,000,000 guaranteed tournament which was far exceeded as 269 players signed up to play.
Results and pay-outs from the final table:
1 PhP 860,800 Sae Jin Lee
2 PhP 457,300 Jeon Seung Soo
3 PhP 215,200 Eric Cheung
4 PhP 161,400 Ed Marcelo
5 PhP 134,500 Paul Hirakawa
6 PhP 107,600 Martin Gonzales
7 PhP 80,700 Willy Maliksi
8 PhP 53,800 Gerardo 'Jay' Lubas
9 PhP 51,100 Sam Munloong
10 PhP 45,700 Elmer Binondo
The next APT accredited event will be held in Macau from April 22 to 26, 2010 – The Asian Poker King Tournament. It will be held on Level 8 Ballroom of the StarWorld Casino.
Sign up for an online poker room through Asia PokerNews to get exclusive freerolls, bonuses, and promotions!