2011 World Series of Poker Europe Main Event Day 2: Rijkenberg Flying Highest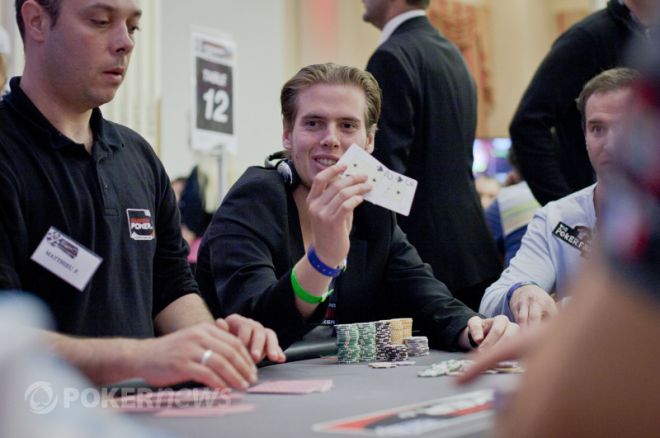 Monday was Day 2 of the World Series of Poker Europe Main Event, where the survivors from both Day 1 flights combined. The remaining 328 filed back into the Hotel Barriere at high noon for six levels of action. When the bags came out again around midnight, Constant Rijkenberg found himself in the chip lead with 462,800.
If Monday's action was any indication, though, Rijkenberg will have to guard those chips with his life. Jamie Rosen failed to do that, and despite coming in with the biggest stack, he was sent home early after having all 162,700 of his chips bled off. Also falling rather quickly was Tommy Vedes who began Day 2 in third place overall. It was Vedes' birthday on Monday, but it turned out to be a relatively unhappy one. In the first level or so, he had his stack cut by about 75 percent, and he soon disappeared entirely, hopefully to have a relaxing and celebratory night out in Cannes. There are worse places to celebrate your birthday.
The fall of the big stacks made way for some fresh faces at the top of the chip counts. It was Rifat Palevic who first established himself as the dominant force, rising through a very tough table that included Jake Cody, Yevgeniy Timoshenko, 2011 November Niner Sam Holden, and the one and only Johnny Chan. Beginning the day with a healthy stack of around 100,000, Palevic went to work early, out-aggressing the rest of the table and building a stack of more than a half-million chips before dinner. Vadim Ifergan snapped him off in a big pot on the last hand before the break, though, and a few after-dinner encounters with Hoyt Corkins saw Palevic slide to 353,500 at night's end. That's still good enough to put him among the leaders.
Others who had a productive Day 2 included Victor Ramdin (156,900), Chris Moorman (167,800), last year's 13th-place finisher Hoyt Corkins (429,900), and, of course, Erik Seidel (297,900). A bit further down the list, but still alive are the likes of Patrik Antonius, Robert Mizrachi, Freddy Deeb, John Duthie, and Tony G. There's a lot riding on Day 3 for everyone, but particularly for Tony G. He's booked €20,000 of action at 5:1 that he'll cash, adding six-figures of equity to a mini-cash.
Deserving of special mention is Jake Cody. Already a bracelet winner from this past summer — and one of only a handful of men to win the Triple Crown — Cody went on a tear in the two levels after dinner to stuff 323,200 chips into his bag at night's end. He's been putting on quite a show over the past two years, and a deep run in this event would only further his reputation as one of the most dangerous players in the game.
Also not to be forgotten are the three women who've made it this far, as well. Melanie Weisner had a slow, grinding day with a short stack, but she managed to rebound close to average with 118,600 chips to close the day. Britain's most charming export, Liv Boeree is doing a bit better with 202,300, and France's Rebecca Selvin bagged up 108,100 with which to try and mount a run Tuesday.
Casualties? There were plenty of those. At the end of the night, the big board shows that less than 110 players survived to bag up chips. Leo Margets departed early, followed by Antonin Teisseire, Peter Jetten, Scotty Nguyen, Johnny Chan, Bruno Fitoussi, and the Devilfish, David Ulliott.
About 115 players will return on Tuesday to play down into the money. The remainder of the tournament is being dealt eight-handed, and the weeding-out process will continue as the field shrinks to the final three tables. Play is set to resume at 1200 CET (0300 PDT).
Follow PokerNews on Twitter for up-to-the-minute news.