Five Thoughts: Holy Macau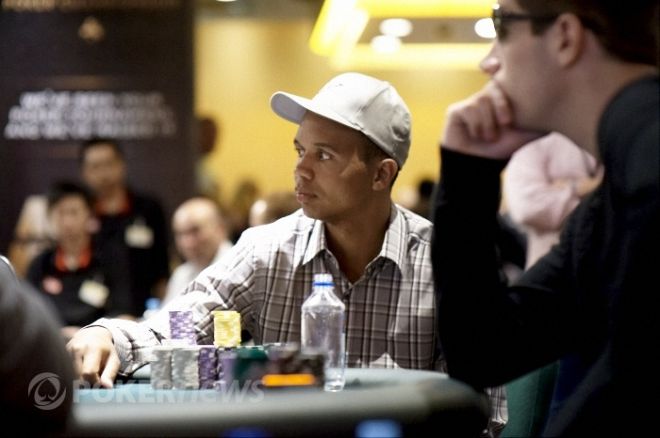 The PokerStars Asia Pacific Poker Tour made its annual stop in Macau last week and, as always, generated one of the biggest cash games in the world. It also attracted Phil Ivey, who leads this week's Five Thoughts.
1. Phil Ivey returns
Since Black Friday, rumors have swirled as to the whereabouts of Phil Ivey. He, of course, boycotted the World Series of Poker and tried to sue Tiltware, all while staying out of the public eye for the better part of seven months. Finally, this past week in Macau, Ivey returned, playing the APPT Macau Main Event and busting on Day 2. His presence created a buzz among players, fans and media members, even though we all know why he's in Macau — for the cash games. We hope Ivey plays more live tournaments because he is one of the most entertaining players in the game, but he has no incentive to, nor are they as profitable as cash games.
Without a patch, Ivey has no reason to grind tournaments with less than a $10,000 buy-in. This means we won't be seeing him frequently. He may travel for the super high-roller events at the PokerStars Caribbean Adventure and the Aussie Millions, but those are the only events that will really pique his interest. Ivey wants to compete for millions, not grind out five- or six-figure scores.
Ivey will also be less accessible (if he was ever accessible at all) unless he signs with a site or lands a major endorsement deal. Neither of those options seem likely though, so we'll just have to settle with watching him catch flies in his mouth, shift his eyes like a crazy man, and scare the living hell out of his opponents on the felt.
2. Up two million, down two million
"Been gambling big in Macau. Won 2 million US straight and was very thankful. Now lost 2 million straight. Thankful for other things."
Andrew Robl tweeted that on Nov. 24, and the cash game action in Macau has been predictably crazy. PokerNews.nl's own Frank "webjoker" Op de Woerd wrote on TwoPlusTwo that the game is HDK$5,000/HDK$10,000 and that, "One of the guys from the casino brought in a wooden box with more plaques of HDK$500,000 and HDK$100,000 than I've ever seen before in one place." He later added that, "Foreigners have to pay back 20 percent of their winnings in some cases to the casino."
The Macau cash games are fantastic, but they wouldn't be as riveting if they didn't play behind closed doors. The Chinese businessmen (the perceived fish) don't want cameras or media members present for privacy reasons, and this creates an aura of mystique. Who's playing? Who's winning? Are there any crazy hands? Once and a while a hand or two will leak from a reputable source, and the forums will explode with excitement and overanalyze every play on every street. Without knowing, there is more left to the imagination, createing arguments and discussion.
Sometimes, live streaming is impractical and actually hurts the game. Hopefully, the Macau cash games will continue to be left alone, so that we can speculate and flame away.
3. Patrik Antonius gets denied
Our friend Mr. Op de Woerd also reported that Patrik Antonius tried to get into the cash game, but wasn't allowed. Most believe that he was denied because he's too nitty, and that the Chinese businessmen would rather play with someone like Tom Dwan who's more willing to gamble. Ironically, Johnny Chan is the big winner in the game thus far (he's reportedly won HDK$11 million or about $1.4 million) and he's known as one of the tighter players in the game. Obviously, the players in Macau would rather play with Chan for personal reasons, whereas Antonius is just a foreigner looking to profit off the locals.
Perhaps Antonius went to the well one too many times. In poker, nobody likes a winner unless it's them, and unlike sports, there's game selection. If you know a player is likely to beat you and said player is so tight that if you lose a pot or two you're not getting your money back , then why would you play them? These businessmen are looking to gamble and have fun. They obviously want to win, but they're certainly not in Macau to grind out a certain hourly rate. If you want to profit as a visitor, you're going to have to respect these guidelines and Antonius obviously failed to. That's why he's on the sidelines watching.
4. Oh yeah, nanonoko won the Main Event
There was a tournament in Macau during these crazy cash games (it's easy to forget, we know) and the winner of was PokerStars Team Online Pro Randy "nanonoko" Lew. Lew entered the final table as the short stack, but maneuvered his way to the win, taking home HDK$3,772,000 (about $484,000). This was Lew's first major live tournament win, his previous best finish came at this year's Aussie Millions Main Event where he finished 10th for $98,902.
"I love you guys! Thanks everyone for the support & congrats!!! I was very happy with my play and even happier to win APPT Macau! Thank YOU!" he tweeted.
Lew is most famous for his insane graph (seen here in the PokerStars documentary I Am Nanonoko) and his ability to 24-table online cash games. He is a legend in the online community, and it's no surprise that he is starting to see success on the live circuit. There is a learning curve though, and Lew will be the first one to admit it – he told our own Lynn Gilmartin that, "I'm still adjusting a lot, there are so many different variables, but as I play more I think I get better."
Congratulations Mr. Lew, we're sure we'll see you at another final table sooner rather than later.
5. Happy birthday PokerStars
PokerStars celebrated it's 10th birthday at APPT Macau, and Lynn Gilmartin was there to check it out.
Follow PokerNews on Twitter for up-to-the-minute news.