Off the Felt with Joe Sebok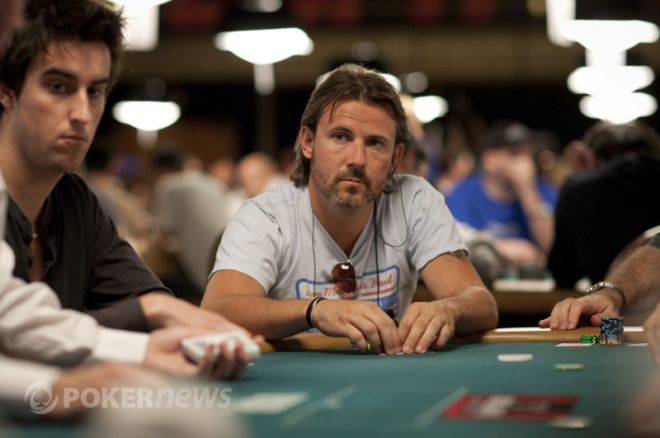 Off the Felt is interviewing your favorite people in the poker industry to find out more about their lives — you've got it — off the felt. We recently sat down with Joe Sebok to talk a little poker, family secrets, and his new pup.
How did you start playing poker?
I jumped into poker when I was about 27, after working at several failed dotcoms in San Francisco and doing some traveling immediately after. I was looking for what the next adventure was going to be and it turned out that poker was just the thing.
What's next on your poker calendar?
Excellent question. I've been focusing much more on business possibilities off of the tables. I am hoping to hit Bellagio for a few events in December though, so let's hope my ass gets over to Vegas for that.
What is your favorite tournament stop?
I think everyone loves Bellagio stops, our professional poker player "home away from home". Hard to argue with the island stops though: Aruba, Bahamas, etc were always a blast and not only combined great poker play with the beach, but everyone there always has a much more laid back approach to the events. Also, can never hate on the Aussie Millions event. Australia is always some incredible fun times.
What are some of your hobbies away from the table?
Hmmmm, I have many. Running is the most accessible thing I do when not playing. I play racquetball as well. I live in Los Angeles so I try and catch as much live music as I can, which has always been a passion of mine. I'm basically into anything fun that I can throw myself into. If someone asks me to do something, I'm usually going to say yes...
Do you have any hidden talents?
I have many, but if I told you then they wouldn't be hidden anymore. And I would also have to kill you. As well as your family. You can see this doesn't end well...for either of us.
From what I can see from twitter it looks like you're a dog lover. Who is that little guy in you picture and how did you get her?
Always have been a dog lover since a boy. The pic is my new girl, Bailey, who is about 10 months old and keeps me company on the beach and when I am watching movies. She is an Aussie cattle dog and is one of the most amazingly intelligent and mellow dogs I have ever been around. I'm pretty sure she channels Steve Jobs and Bob Marley.
You seem to do a lot with charities. Are there any that are especially close to your heart?
I really like to get involved with any group that needs help, to be honest with you. Those closest to my heart are usually ones that have to do with children though. Just this past week I helped out with an event thrown by TACA, which is a group that deals with autism in children. Amazing group that everyone should check out and get more involved with. I also love animals and live on the beach, so I'm a big fan of Jen Harman's event every year and also try to support Surfrider Foundation. There are a lot of people and causes that need help out there.
What has been your most memorable moment in your poker career?
Man, I don't know. It's all been fun. I have a number of tournament wins, but they have all been in events in the buyin range of $1k-$5k, so I haven't gotten the publicity, or the payouts, that those bad ass 10k's bring! The whole last 8 years has been a total blur. If I had to pick something though, it would probably be my first win as a professional, at the Mirage back in the day, pocketing about $150k. Always nice to bag a win!
Have you been involved in any ridiculous prop bets?
Too many to possibly roll through here. I have a very high threshold for idiocy, so you can imagine. Just do a search on Google and you'll find some stuff. Super-Hero costumes, tattoos, spray tan bets, and Muy Thai fighting just to name a few.
Let's hear a secret about your dad, Barry Greenstein since you said you have enough to write a book.
I wish! If only I would let these little cat(s) out of their bag! With all families I am sworn to secrecy though. Sigh, such is life. He is the best though. Had a great time at the WSOP Final Table this year, inducting him and Linda Johnson into the Poker Hall of Fame. Great day...
Would you rather learn how to box from Muhammad Ali or learn how to play hockey from Wayne Gretzky?
Easy one. I'm not a boxing guy and I love hockey, so I'd love to get a little love from the Great One. How could you say no to that?! At the end of the day, I'm really a true baseball lover though, so I'd love to take a few cuts and catch a few grounders at Wrigley Field with my beloved Cubs.
What is the most adventurous thing you've ever done?
I like to think everything. There aren't many things I won't throw myself into: Sky diving, rock climbing, hiking through jungles, scuba diving in caves, trying to lean poker from Barry Greenstein, disabling nuclear devices...I try not to ever back down from a challenge if I can help it.
What team is more likely to win a World Series title next? The Chicago Cubs or the Boston Red Sox?
I gotta go with the better squad as they stand right now, so you gotta say the Sox. The Cubs are making some correct moves right now, but our roster is just a mess and it's going to take a while to revamp the whole team, so it's gonna be a while sadly. Boston is ready to win right now and they'll be hungry after their collapse this past year.
What would you be doing if you weren't playing poker?
Be having as much fun as possible doing something else. I judge success by the amount of fun you're having and how much you love your life. Poker has been an absolute blast, but I like to think I could, and would, find that joy with whatever I happened to fall into. I've never been married to one thing, and I'm still not.