Four in Custody Charged With Assaulting, Robbing Duhamel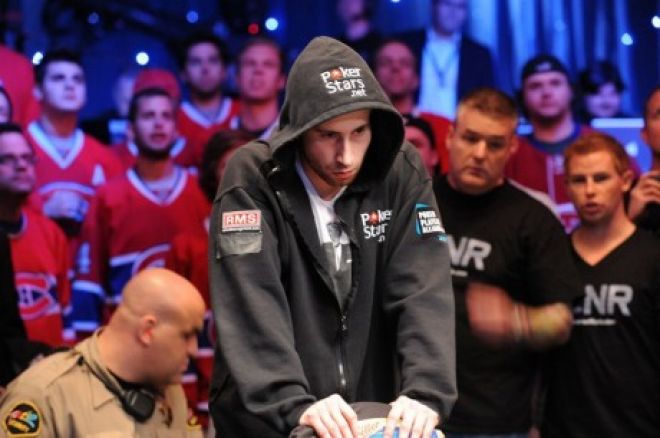 Last Wednesday morning, two men rang the doorbell of Jonathan Duhamel's home in the suburbs of Montreal, Quebec. When the 2010 WSOP Main Event champion answered, they forced their way inside, assaulted him, and stole his things. The champ was okay, escaping the incident with just the few bruises that come with being bound and beaten repeatedly. Notable items that were stolen included an undisclosed amount of 500-euro bills, a black Rolex Submariner watch (which had been a gift from PokerStars), and the priceless diamond-laden WSOP Main Event bracelet.
After recovering from a brief stint in the hospital, Duhamel released a statement thanking those close to him for their support and urging anyone with information to contact the police. He also offered up a $10,000 reward for information leading to the recovery of his jewelry and the arrests of the perpetrators.
Justice seems to be in motion in Quebec. On Saturday night, a 20-year-old woman from Saint-Saveur named Bianca Rojas-Latraverse was arrested in connection with the caper. Police credited information from the public for her arrest, and she was charged with five offenses that included conspiracy.
The subsequent interrogation led to the captures of two more men, 22-year-old John Stephan Clark Lemay from Pointe-Claire and 26-year-old Andre Robert Perron from Pierrefonds. They've been charged with breaking and entering, robbery, assault, and forcible confinement. QMI Agency is also reporting that Perron was in possession of the Rolex at the time of his arrest, but the bracelet is still missing.
This morning, more news broke as CBC News reported the arrest of a fourth person in connection with the robbery. Charges have not yet been filed against the 20-year-old man from Longueuil as police continue their questioning.
Those are the facts as we have them so far, but accurate information regarding the arrests has been hard to come by. Longueuil police department spokesman Mark David told Bloomberg that the investigation was still on-going. Stay tuned for more updates on this story as they become available.