2012 Aussie Millions Day 18: Oliver Speidel Wins the Main Event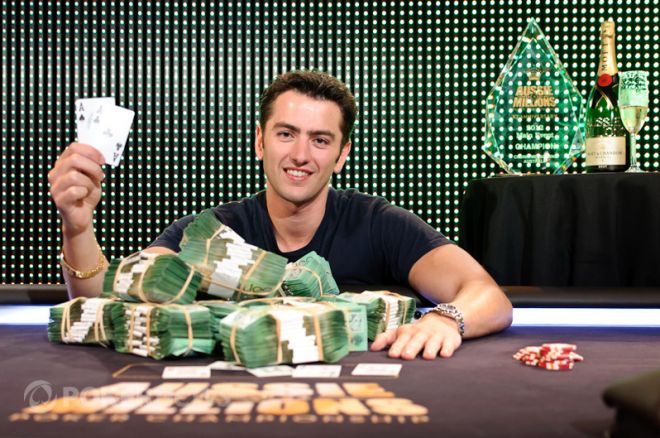 It was quite the weekend at the 2012 Aussie Millions Poker Championship as Phil Ivey took first place in the $250,000 Challenge, which lasted into the early morning hours of Sunday. Then, later in the day, a new Aussie Millions champion was crowned in the Main Event. Who captured the most prestigious title in the Southern Hemisphere? You'll have to read on to find out.
Here's a look at the action from Day 18 of the 2012 Aussie Millions Poker Championship:
Event #8: $10,000 Main Event Final Table
It was one of the quickest major final tables in recent memory as the 2012 Aussie Millions Main Event came to an end after only seven hours of play. For the second year in a row, it was a Melbourne local who ended up in the winner's circle as Oliver Speidel bested a field of 659 players to claim the trophy, the glory, and the $1,600,000 first place prize.
The final table saw just seven players return with a chance at taking down the title, but it was the Speidel show nearly from the very first hand. The first player eliminated was Yann Dion, whose demise came when he got his stack in preflop holding


against Speidel's

.
The next to go was Bjorn Li as he lost a flip with

against Mohamad Kowssarie's pocket threes. At this stage, Speidel was easily the most active player at the table and that continued until he knocked outPatrick Healy in 5th place. Healy tried to get tricky with


on a



flop and ran into Speidel's


. No help came on the turn and river and Healy was sent out the door.
Speidel had a commanding lead over the table with four players remaining, holding more than half the chips in play. Kowssarie didn't shy away from playing pots with the chip leader and that proved to be his downfall as he ran his short stack into Speidel's


. Kowssarie held


and was eliminated in 4th place after the board provided no help.
Mike Krstanoski was the short stack with three players remaining and his elimination would also come at the hands of the eventual champion. In that hand, Speidel shoved his monster stack all in from the small blind holding


and Krstanoski made the call from the big blind holding


. The


flop shot Speidel into the lead, and after the turn and river bricked, Krstanoski exited in 3rd place with a $610,000 payday.
Speidel held a commanding chip lead going into heads-up play and it looked like it was going to be very tough for Kenneth Wong to come from behind. The first few hands of the heads-up battle went Wong's way before the play slowed down for a couple of hands. Then, it ended in a flash as Speidel six-bet preflop to put Wong all in and Wong called off his remaining chips with


. Speidel slammed his


down on the felt to set up a huge climactic ending. No help came for Wong on the last board of the night and the Aussie Millions Main Event had come to a close with Oliver Speidel as the new champion.
The atmosphere in the room was electric and it only got better when Speidel jumped on the table, laid on his back, picked up bundles of his newly won cash and rubbed it all over his body. There aren't many chances in life to have $1.6 million in your hands; maybe if we got the chance, we would have done exactly the same. Either way, it was one of the most entertaining celebrations we have ever witnessed.
It was a long journey, but PokerNews would like to congratulate Oliver Speidel on his fantastic achievement. If there was a player of the series award at the Aussie Millions, Speidel would win it in a landslide. An unbelievable two week run saw Speidel finish 2nd in the $1,000 No-Limit Hold'em Shootout event and then 6th in the $1,500 No-Limit Hold'em Bounty event. Now, he can add the Main Event title to that record. We're pretty confident that the poker world will not forget the name Oliver Speidel any time soon.
$10,600 Aussie Millions Main Event Final Table Payouts
| Place | Player | Prize (AUD) |
| --- | --- | --- |
| 1st | Oliver Speidel | $1,600,000 |
| 2nd | Kenneth Wong | $1,000,000 |
| 3rd | Mile Krstanoski | $610,000 |
| 4th | Mohamad Kowssarie | $405,000 |
| 5th | Patrick Healy | $300,000 |
| 6th | Bjorn Li | $230,000 |
| 7th | Yann Dion | $170,000 |
Event #23 $25,000 NLH—Semi Shootout
On Saturday, the $25,000 NLHE Semi Shootout began with 20 players and played down to a final table of six. However, only four of those men were slated to get paid. Given the hefty price tag, the field was filled with experienced pros, which was reflected in a final table that included Tony G, Dan Kelly, Daniel Alaei, JC Tran, Elliot Smith, and Dominykas Karmazinas, the latter beginning the day with close to a 2-to-1 lead over his next closest opponent.
It only took one orbit into play for the first elimination to occur. It happened when Karmazinas raised to 3,200 and received calls from Smith in the cut-off, Alaei on the button, and both Tran and Tony G in the blinds. When the flop came



, action checked to Smith and he bet 6,500. Alaei then raised to 18,000, both blinds folded, Karmazinas called, and Smith gave it up.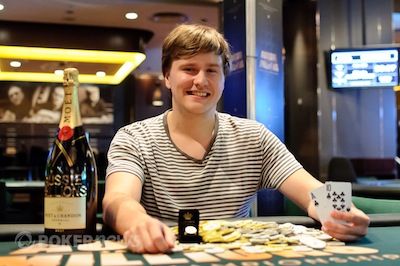 The

appeared on the turn and Karmazinas checked to Alaei, who counted out a big bet and fired 47,000 into the pot. Karmazinas didn't flinch and made the call. The

hit on the river the and Karmazinas immediately moved all-in, putting Alaei to the test. The American pro was far from happy and he had a decent stack of 135,000 left behind. Nonetheless, he announced a call. Karmazinas turned over


for a flush and Alaei mucked his cards and stood up from the table. He whispered something into Tran's ear and quickly left the tournament area, bringing about the money bubble.
It took awhile for the bubble to burst, but it finally happened when Karmazinas raised from the cutoff to 4,800 and Smith called from the button. Tony G called from the big blind and then checked when the flop came down



. Karmazinas bet 5,900, Smith folded, and Tony G check-raised all in . It took a couple of seconds for Karmazinas to make the call.
| | |
| --- | --- |
| Dominykas Karmazinas | |
| Tony G | |
Tony G. was in danger of elimination with a low pair than Karmazinas. The

on the turn and the

on the river brought no help to Tony G, who got up from his seat, shook some hands, and left the tournament area with the unfortunate distinction of being the bubble boy.
Not long after, a short-stacked Kelly opened for 6,000 on the button only to have Karmazinas three-bet to 16,500. When action came back around to Kelly, he moved all in for around 55,000 and Karmazinas snap-called.
Showdown
It was a classic flip, but Kelly needed to improve to keep his title hopes alive. Unfortunately for him, the board ran out an uneventful





and he was eliminated in fourth place, earning $65,000.
After being chipped down to around 40,000, Tran moved all in from the button and was called by Karmazinas in the small blind. Smith then moved all in over the top for 208,900 total, and after contemplating it for about a minute, Karmazinas released his hand.
Showdown
Tran pointed to his ace in reference to his over card, which was his best hope. While the



flop did not deliver an ace, it did pair Tran's eight to give him some extra outs. The

turn was not one of them, and neither was the

river. Tran made his exit in third place and left Smith (265,000) to face Karmazinas (735,000) in heads-up play.
The heads-up battle was a prolonged affair, lasting over two and a half hours, though the chip stacks never really fluctuated much during that time. In what would be the last hand, Smith raised to 16,000 from the button, Karmazinas three-bet to 41,000, Smith made it 76,000 to go, and Karmazinas moved all in. Smith made the call and was in good shape to double.
Showdown
The



flop was interesting as it gave Karmazinas a flush draw, and the

turn made it seem a chop was inevitable. However, the
spiked on the river to give Karmazinas a flush and the win!
Event #23 $25,000 NLH—Semi Shootout Final Table Results
| Place | Player | Prize (AUD) |
| --- | --- | --- |
| 1st | Dominykas Karmazinas | $200,000 |
| 2nd | Elliot Smith | $140,000 |
| 3rd | JC Tran | $95,000 |
| 4th | Dan Kelly | $65,000 |
| 5th | Tony G | None |
| 6th | Daniel Alaei | None |
Event #24 $550 Pot Limit Omaha
Late Saturday night, the $550 Pot Limit Omaha event came to a close with Michael Rowley emerging as the 24th ring winner at the 2012 Aussie Millions Poker Championship. He defeated a field of 97 players to capture the $15,520 first-place prize.
Event #24 $550 Pot Limit Omaha Final Table Payouts
| Place | Player | Prize (AUD) |
| --- | --- | --- |
| 1st | Michael Rowley | $15,520 |
| 2nd | Dean Yuen | $10,185 |
| 3rd | Chilun Wang | $6,305 |
| 4th | Michael Rumbald | $4,365 |
| 5th | Michael Ryan | $3,395 |
| 6th | Peter Brownstein | $2,910 |
| 7th | Alain Rarataud | $2,425 |
| 8th | Martin Benda | $1,940 |
| 9th | Samir Knoueis | $1,455 |
With the conclusion of the $10,000 Main Event and $25,000 Semi-Shootout, our live coverage of the 2012 Aussie Millions has come to an end. However, will be back with one final daily recap that takes a look at the $550 Australian Poker Hall of Fame Classic (Event #25) and the $10,500 8-Game Mixed Event (Event #26), both of which should be finished by Monday, Jan. 30.
Stay up to date on all the latest news by following us on Twitter and liking us on Facebook.