Brendon Rubie Wins the 2012 Aussie Millions Opening Event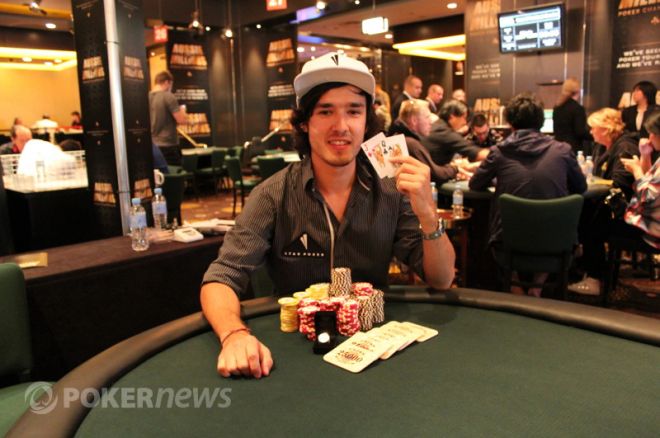 It all started last Thursday and after three Day 1 flight's, a grueling Day 2 and an exciting final table, Brendon Rubie has been crowned the champion of the 2012 Aussie Millions Opening Event.
On Sunday, Rubie and dozens of players were set to be playing down to the winner. As the tournament went late into the evening, it was decided that the final table of ten would be coming back Monday instead.
Final Table
| Seat | Player | Chips |
| --- | --- | --- |
| 1 | Tam Truong | 934,000 |
| 2 | Tamara Volkoff | 191,000 |
| 3 | Brendon Rubie | 1,625,000 |
| 4 | Sean Robey | 262,000 |
| 5 | Sherif Derias | 696,000 |
| 6 | Rob Angood | 1,384,000 |
| 7 | Scott Wilson | 2,628,000 |
| 8 | Manny Stavropoulos | 554,000 |
| 9 | John Thomson | 363,000 |
| 10 | Naz Sibaei | 849,000 |
Within the first hour, the two short stacks at the table had been eliminated, with Sean Robey going home in 10th place before Tamara Volkoff joined him on the rail in 9th place.
Naz Sibaei barely had a leg to stand on after losing a huge portion of his stack to Rubie. In that hand Sibaei tried to get tricky with air and ran into Rubie's set. Sibaei didn't have a chance to get tricky on his elimination, having only a couple of big blinds and finding himself all in holding


against the

of Manny Stavropoulos. No help came for Sibaei and he was sent out the door in 8th place.
Out in 7th place was Sherif Derias, with his cards going into the muck when he shoved into Rob Angood who held the nuts. Then, in sixth place, was Stavropoulos. He was also eliminated by Angood when he ran his


into


. Amazingly, the next elimination would again come at the hands of Angood, with Tam Truong having his stack all in preflop holding


and was out drawn by Angood who held


.
With Truong out in 5th place, only four players remained, but only three of those had enough chips to scare. John Thomson was the short stack for much of the afternoon and put in a great effort to make it to 4th place. From there, Rubie began his rise to the top when he picked up a huge pot against Angood, getting full value holding


against


. Angood never recovered from there and Rubie would end up dealing the fatal blow that sent Angood home in 3rd place.
The heads-up battle started with Rubie holding a 2-1 chip lead over Scott Wilson and Rubie would hold on to that lead for much of heads-up. The game changing hand of began when Rubie opened the pot for 125,000 and Wilson promptly three-bet to 250,000. When Rubie made the call, a



flop was dealt. Wilson led for 350,000, Rubie called, and the

hit the turn. Wilson opted to check this time and then called Rubie's bet of 325,000. The

on the river saw Wilson again check and this time Rubie simply slid out a huge stack of chips. When Wilson made the call, Rubie confidently turned over his

and Wilson proceeded to look disappointed. Rubie knew he had taken down the hand and even went to the rail to celebrate the victory. Unfortunately for Rubie, Wilson was actually left with a few big blinds and Rubie apologized as he sat back down to continue the tournament.
With only a few hundred thousand in chips, Wilson didn't have too many options and proceeded to move all in over the next few hands. A couple of double-ups for Wilson and he had a pulse again as Rubie tried to recompose himself.
The inevitable last hand of the evening occurred when Wilson got his stack all in on a



flop. Rubie's


was enough to be well ahead of the


of Wilson and when the turn and river bricked out, it was all over for Wilson as he was sent home in 2nd place for a hefty $125,000 score.
Not only did Rubie receive $200,000 for his victory, but can now add an Aussie Millions gold ring to his resume and will go down in history as the champion of the 2012 Aussie Millions Opening Event.
Final Table Results
| Place | Player | Prize (AUD) |
| --- | --- | --- |
| 1 | Brendon Rubie | $200,000 |
| 2 | Scott Wilson | $125,000 |
| 3 | Rob Angood | $80,000 |
| 4 | John Thomson | $61,000 |
| 5 | Tam Truong | $49,000 |
| 6 | Manny Stavropoulos | $39,000 |
| 7 | Sherif Derias | $29,000 |
| 8 | Naz Sibaei | $19,000 |
| 9 | Tamara Volkoff | $14,500 |
| 10 | Sean Robey | $10,900 |