Five Thoughts: Blom Booms at 2012 PokerStars Caribbean Adventure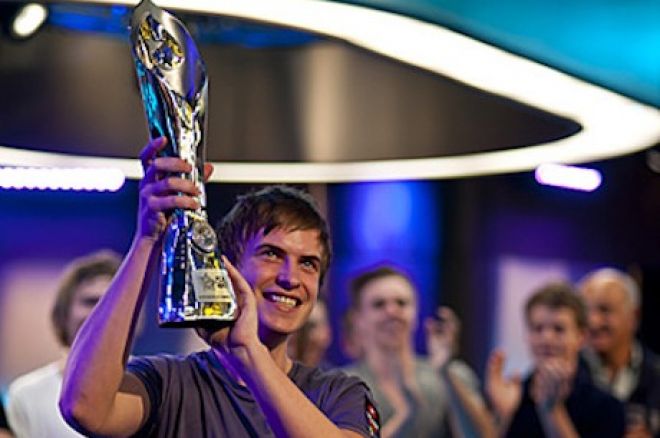 Last year at the PokerStars Caribbean Adventure, we "learned" that Isildur1 was Viktor Blom. This year, he won over a million dollars in the first tournament of the 2012 PCA. We think that's a good place to start this week's Five Thoughts.
1. Isildur1 binks over $1.25 million
Viktor Blom didn't arrive in the Bahamas until the day of the $100,000 Super High Roller, and when he entered the special high-stakes room, he was sporting a new haircut and a bathing suit. He was very quiet, save for a few small conversations at the table, but also very deadly, eliminating Philipp Gruissem, Bryn Kenney, and Matt Glantz. Blom finished Day 1 second in chips with more than three times the starting stack.
Blom struggled out of the gate on Day 2, losing almost half his stack in the third level of play, but he never went on tilt or started spewing. Blom's low point on the day was 550,000, but after busting David "Doc" Sands, Sam Stein, and winning a key pot off of Galen Hall, he bagged over 1.2 million chips, and was in the middle of the pack going to the final table.
On the third and final day, Blom recorded the second knockout, eliminating Michael "Timex" McDonald but didn't move much until the bubble burst. That's when the boomswitch was turned on, and Blom eliminated all four of his opponents.
Blom won a race against Daniel Negreanu, made the nut flush against Jonathan Duhamel's flopped top pair, crushed Hall's pocket nines with pocket aces, and faded Dan Shak's flush and straight draws on the turn to win the tournament. Blom ran white hot at the final table but would've never reached the final eight if he hadn't played so marvelously during the first two days.
Blom's performance was legendary — it almost broke NVG on TwoPlusTwo — and we hope to see him more on this year's circuit. We also can't wait to see how juicy the high-stakes action is going to get on PokerStars.
2. Close, but no cigar
Galen Hall finished third in the Super High Roller. Third. Third! So close!
If you're blankly staring at your computer screen, confused as to why we're so upset that Hall finished third, then you haven't read my 12 Predictions for 2012.
The first prediction was that Galen Hall would win the Super High Roller — and the 2011 PCA Main Event champion damn near did, finishing in third place for $470,400. At one point on Day 2, Hall looked like a dog to survive let alone make a run, but during the last level of play, he won two huge hands against Isaac Haxton.
In the first hand, Hall turned a flush, and after both players checked the turn, he led out for 257,000 into a pot of 220,000. Haxton called and mucked upon seeing Hall's flush. A few hands later, Hall opened to 35,000 on the button, Haxton three-bet to 85,000 from the small blind, and Hall moved all-in for effectively 580,000. Haxton snap-called with


, which dominated Hall's

. There was a jack on the flop, however, and after the turn and river bricked, Haxton was eliminated and Hall ascended into the chip lead to end the day.
Day 3 started off great for Hall. He eliminated Humberto Brenes to start the day and Scott Seiver on the bubble, but once the players reached the money it all came crashing down. Hall's stack began to sink, and once he was three-handed against Blom and Shak, it plummeted. Eventually he three-bet jammed with two black nines, but was dominated by Blom's aces. Blom held, and Hall was out in third place.
Congratulations are in order for Hall for running so deep, and for giving me a good sweat. I was ready to drop the mic and walk off stage.
3. Randy "nanonoko" Lew isn't human
On Sunday, while Day 1b of the PCA Main Event was taking place right behind him, Randy "nanonoko" Lew sat in the Imperial Ballroom here at the Atlantis and played 23,493 hands of online poker in eight hours, setting a new Guinness World Record.
It was insane.
Lew didn't leave the chair once to eat, relieve himself, stretch, or fume after a bad beat. No. He sat there in silence for eight hours and ground his face off.
The result? A profit of $7.65 — bling blang blaow!
Throughout the day, Team PokerStars Online manager Dustin Iannotti would inform Lew of his progress, and Lew would either mutter a short response or simply nod his head. Lew's peak profit was a couple hundred dollars, and his nadir was $1,200. At that point, he fired up some higher-stakes tables and erased the deficit.
Finally, when the eight hours were up, Lew got up out of his chair, stretched his arms above his head, and wiped his tired eyes. His eight-hour poker hibernation was over.
For most people, it takes years to compile 23,493 hands of poker, and even high-volume grinders would take weeks or months to do what Lew did in one day. The legendary "nanonoko" looked fine the next day too, and finished Day 2 of the PCA Main Event with 146,500 chips.
4. Jaka Jaka Jaka
"It's weird getting it in good."
That's what Faraz Jaka said on Day 2 of the PCA Main Event after eliminating yet another player. In this particular hand, Jaka called an all-in with


after an opponent three-bet jammed with

. This was no more than five minutes after a short-stacked player on the button open-shoved with


, and Jaka woke up with two queens in the small blind.
Jaka started Day 2 with 129,500 chips, peaked at 1.2 million, and ended the day with 902,500. He applied relentless pressure, ran well, built a castle of chips, and provided some of the best tweets of the day.
One of our favorites was:
The man they call "The Toilet" entered Day 3 with almost 350,000 more chips than his closest competitor (Christian Folescu, 555,500), and will look to added to his crazy, wild stacks.
5. More Jaka
Ironically, before going on his insane run, Jaka told our own Sarah Grant that good cards make him nervous.
What makes you nervous?
Follow PokerNews on Twitter for up-to-the-minute news.