Randy "nanonoko" Lew Sets Guinness World Record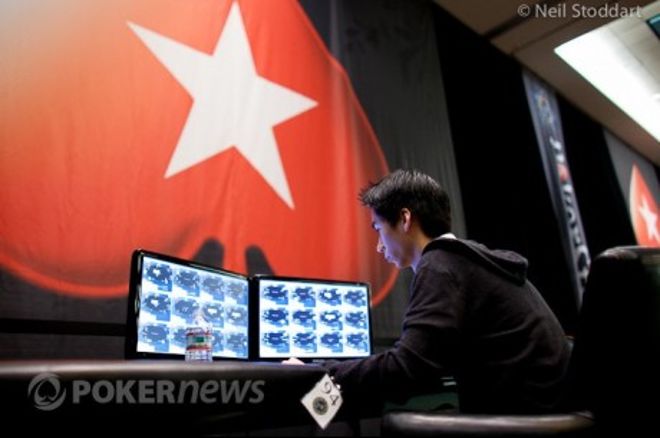 Team PokerStars Online member Randy "nanonoko" Lew set a new Guinness World Record during the PokerStars Caribbean Adventure on Sunday: playing the most hands ever recorded during eight hours while making a profit.
Lew made history by playing 23,493 hands while turning a profit of just $7.65. At 1 p.m. local time on Sunday, the online pro took his seat in the corner of the PCA tournament room and loaded between 25 and 40 tables at a time on PokerStars, refusing to eat or use the bathroom during the entire session.
The tension was building late into the record attempt as Lew was up just $8.91 with 17 minutes to go, but the legendary grinder managed to hold on to his meager profit to reserve a place in poker history. At one point during the day, Lew was down $1,200 and was forced to increase some of his tables to $5/$10 no-limit hold'em to have a shot at the record.
"I was like, 'ugh, I've got to chase those losses,'" Lew told the PokerStars Blog. "I really was running horrible. But I was trying to stay focused like 'You can't let this get to you.' But I still played well and tried to play my best, and eventually it worked out. Twelve hundred was rough, though. It could've been game over, to be honest."
With only minutes remaining in the challenge, Lew began closing tables to ensure that he stayed in the black. With one table left, he picked up aces, and despite some railbirds in attendance begging him to fold the hand, Lew won a three-way pot to add a small amount to his stack. He set the record just a few hands later.
"This is a great feeling. I finished it," he said after achieving the feat. "I had a crowd. Everyone clapped for me. I was reading chat while I was playing. I probably shouldn't have. But people were like 'Go, Randy, go!' So, it kept me pumped, and it is a good feeling when people want you to win."
Here's a look at Lew's final tally courtesy of the PokerStars Blog:
| | |
| --- | --- |
| Hands played | 24,493 |
| Hours | 8 |
| Hands per hour | 2,936.63 |
| Hands per minute | 48.94 |
| Profit | $7.65 |
Lew's Guinness World Record is the second set by a member of Team PokerStars. In 2009, Bertrand "ElkY" Grospellier played 62 sit-and-gos on PokerStars and profited $23. The mark still stands as the most sit-and-goes played at once with a profit.
In December, PokerStars shattered its own Guinness World Record when 200,000 players took part in a $1 no-limit hold'em tournament, besting the previous mark for players to ever compete in a single online tournament.