Tom "durrrr" Dwan Talks Full Tilt Poker, DOJ, and the Future of Online Poker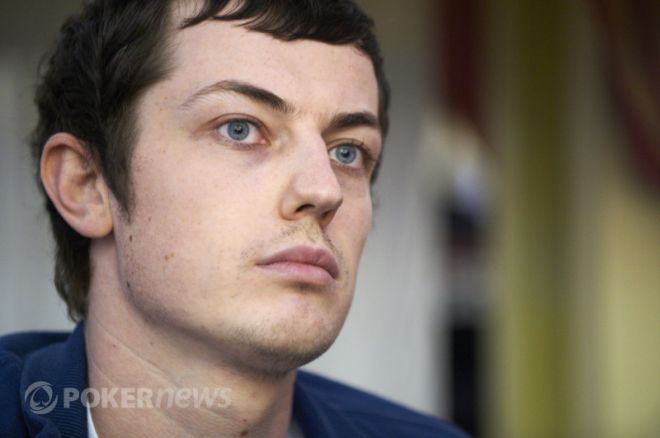 Before the Aussie Millions Poker Championship, rumors swirled that Tom "durrrr" Dwan was spotted in Australia and would be attending the event. Those rumors were confirmed when he arrived at the Crown Casino and entered the $100,000 Challenge. As we witnessed at the World Series of Poker over the summer and at the WSOP Europe in October, his participation in any tournament always draws quite a buzz.
We knew that Dwan was involved in the big cash games in Macau, but the details were sketchy at best. During the Main Event of the Aussie Millions, PokerNews.nl's Remko Rinkema saw an opportunity to grab Dwan for an interview. Dwan agreed, and during a break, our Dutch reporter walked alongside Dwan as he strolled about the property.
Dwan was a little distant at first, but he eventually relaxed and gave honest answers to some tough questions that included his thoughts on Full Tilt Poker, Black Friday, and the state of online poker. Here is what Dwan had to say.
What have you been up to the last couple of months?
I feel like I've played a decent amount of poker. I was in Macau a bit. I played a bit in Vegas. There were actually some games in Vegas. Did I play somewhere else? I think I might have. I think I might have gone to London after. I've played a lot of live poker since, obviously, there's no online [poker], but I plan to start that soon.
Can you tell us any details on these cash games?
There were some pretty big games. I don't talk about cash games much usually, but there were some pretty big games all around.
Reflecting back on 2011, what kind of thoughts come to your mind?
Well obviously the whole Full Tilt situation still makes me sick to my stomach every time I think about it. I don't know, other than Full Tilt, it was an alright year for me, but it still sucks that we can't play online poker in the U.S. anymore. It sucks that I went on a USO Tour where there were a bunch of soldiers talking about how they could play online poker wherever they were in the world, and then came home and weren't allowed to.
When you asked me how poker was in 2011, that's the first thing I think of. It's hard to get past that one. A pretty sour note on the year for me and a lot of other people obviously.
You said you're thinking about going back to playing online. How come you haven't moved out of the country like a lot of other online pros did?
I don't know. It seems like a lot of effort. There are a lot of things the U.S. did in the last ten years that I didn't like, but there are still things I like about the country. Most of my family is there, and I really like Vegas.
Is it easy to stay on top of your game when you're not playing thousands of hands that you usually do online, as opposed to playing live when things are a lot slower?
I don't find much of a difference. It doesn't affect me too much I think. Maybe I'm wrong, but not as far as I've noticed at least.
Do you think you might move anytime soon in order to play online?
Yeah. I actually planned on setting it up where I could play online about two or three months ago, but then there happened to be a bunch of live games where I was, so I played live for about a month straight and just never got around to it. But I definitely plan on setting it up soon so that I can play online.
Your last Tweet was in September, so you've been pretty quiet. How come?
I lost my Twitter password soon after the Full Tilt stuff. I think someone at Full Tilt set up my Twitter for me, you know, nothing mischievous on Tilt's part. Believe me, there was enough mischievousness that they did, but not related to my Twitter. So then I was trying to find out what my Twitter password was, couldn't find it, then I found an old phone that had Twitter logged in on it. First I had my first phone, lost that, then I found another phone that had Twitter logged in on it like a month later. Used that for a bit, and then lost that. For the last few months. I thought I had it worked out. I thought I was going to be getting it. I thought I had a few friends who knew people [at Twitter] well enough that they could get it worked out, but I guess not. I guess Twitter's just too hard to work out.
So if you know anyone at Twitter, tell them to send it over.
So it wasn't a plan of radio silence?
No. There was a little period in late April and early May, which I've talked about, where I intentionally went silent, and that was because there was a bunch of things I wanted to say. But there were a few things I was under a NDA (nondisclosure agreement) that I couldn't say and I thought it'd seem really hypocritical of me to say the stuff I could say and then with the actual interesting questions, be like, 'Oh, sorry, can't answer that.' It would have just seemed really inappropriate. So, there was like a three-week period where I intentionally went silent, and other than that it's been some combination of me being an idiot and my phones breaking. Maybe they break because I'm an idiot. I'm not sure.
Somehow I just can't get my Twitter password. I don't understand it. I went through the normal process. I did the e-mails, and I also tried to contact a few different people who worked there that knew a few friends of mine and could verify it was me. But I haven't been able to get it. Hopefully sometime soon.
It's hard not to talk about Full Tilt. It has been fairly quiet with FTP even though they were close to finalizing a deal with Groupe Bernard Tapie. What do you think we will see in the short-term future? Do you think we will see any developments and do you have high hopes that players will see their money?
I probably shouldn't comment on that too much only because it's in my best interest and the players' best interest, but I do think there is a pretty decent amount of hope left. I'll just leave it at that and hope that's right.
We've just started 2012. What are your goals and plans for the year?
I'd like that little thing we talked about to be worked out, and then I'd like to go win all the money [online], that'd be a good combination. I've needed a bit of time off for like the last eight or nine months. I was planning a vacation. I had a mini-vacation planned for last April 15, 16, and 17 [that got interrupted], and then I had another one that I was talking about right after that, but I just never got around to it in the last nine months because I was really stressed for awhile. Then wanted to play a lot of poker for awhile.
Phil Ivey is currently at the Aussie Millions but has been pretty quiet. Do you know how he feels about everything and have you been playing with him in Macau?
I know that he's a really good guy and I know that he feels really sick about the situation. I said that I thought it was like 90-something percent that Full Tilt would pay out, but obviously in hindsight that was incorrect. I know some people got upset about some things that he said. It's possible that stuff that he said was wrong, but I know that he's definitely a good guy and I believe he is sick about the situation. I don't really want to say much more than that.
Do you think there is a fair shot of seeing online poker back in the United States in the next 12 months?
I sure f***ing hope so. I think it would be hard to see like a countrywide online poker solution in the next 12 months, but I really hope there will be. Obviously I'm really happy to hear that the DOJ announced their interpretation of the Wire Act. Like I said, there is a ton of things I like about the U.S., but it definitely bothers me a bit that the DOJ's new interpretation wasn't used when convincing banks that what Tilt and Stars [were doing was illegal], but then eight months later they say, 'Oh, wait, now that we got Tilt and Stars, [the Wire Act doesn't apply].' Now we are going to say our interpretation of the Wire Act is no big deal. That didn't really sit right with me.
In hindsight, it is hard to be too upset with the DOJ because Full Tilt didn't have all the money, which is one of the things that's made me the sickest. I wish I could be sitting here cursing the DOJ, but realistically I can't do it that much because they knew things were wrong. I think the way they pressured Tilt and Stars, only to then relent in ways that were really good for other businesses, wasn't really right. That said, Tilt didn't have all the money so you can't fault [the DOJ] too much.
So many things have changed with online poker. Has your view toward online poker changed at all and do you feel it is hard to trust anyone?
I definitely trust PokerStars a lot. I don't think there's much chance I'm affiliated with them anytime soon, but I still think that's a fair take on the situation. They handled themselves very well throughout, and they had all the players' money, which is by far the most important thing.
Obviously I wish I would have looked more in depth. It would have been hard but if I really tried . . .
Do you blame yourself?
I think the chance that I would have or should sniffed it out wasn't very high, but it's still the chance of an average person sniffing it out was extremely low. I had a little chance. Yeah, I could have put a ton of crazy things together. I do somewhat. I think it would have been hard. I do wish I would have asked a few more questions. Maybe I could have found it out. One thing I've learned is when you call when you're wrong, or when you fold and you're wrong, you move on with it. I'm definitely really unhappy I didn't ask more questions, but at this point I kind of just have to let it go.
People asking me questions about Tilt is just a reminder of how many people got screwed over. I don't really mind people asking me. I wish the situation didn't happen. I wish I wasn't being asked. But since the situation happened, I think it's only fair that people get to ask me about it.
Stay up to date on all the latest news by following us on Twitter and liking us on Facebook.