Five Thoughts: Ivey No Longer a Fan Favorite?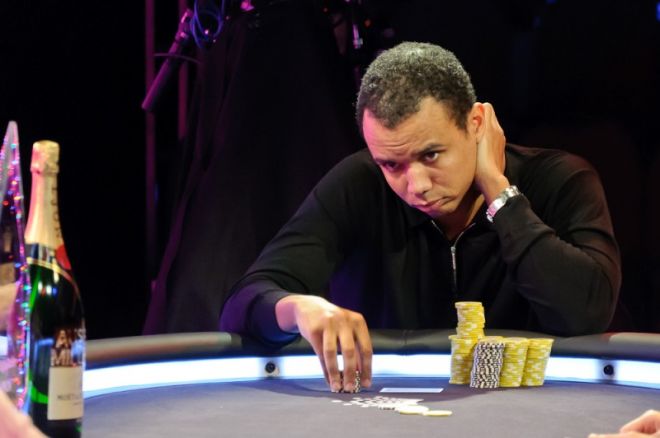 Phil Ivey boycotted the 2011 World Series of Poker after Black Friday, citing that, "I do not believe it is fair that I compete when others cannot. I am doing everything I can to seek a solution to the problem as quickly as possible."
Now, after binking a huge score Down Under, it appears as if Ivey's fans, who still can't compete, are boycotting him.
1. Ivey, Ivey, Ivey?
Over the weekend, Phil Ivey won the second annual Aussie Millions $250,000 Super High Roller, defeating a field of 16 players and banking a cool AUD$2 million. Earlier that same day (doesn't that sound absurd?), Ivey finished 12th in the Aussie Millions Main Event, earning AUD$100,000. A year ago, Ivey would've been glorified for what he did in Melbourne — it's extremely difficult to finish in the top 12 of a Main Event, let alone win a Super High Roller in the same day — but because Full Tilt Poker has yet to pay back it's players, the Ivey bandwagon carries significantly less weight these days.
Remember when Ivey reached the World Series of Poker Main Event final table in 2009? The poker community exploded with excitement. I was sitting behind the media risers in the Amazon Room next to the then Commissioner of the WSOP Jeffrey Pollack when Jordan Smith was eliminated, and the November Nine was set. Every eyeball in the room was on Ivey, who begrudgingly stayed for group photographs and a brief meeting. During the latter part of the WSOP, there was a wealthy businessman playing the big game in Bobby's Room over at the Bellagio. Ivey was itching to take his seat in the game — he had been double dipping all throughout the Main Event.
Now, instead of praising him, poker fans are quick to jab Ivey.
From the PokerNews write-up:
"Mr. Ivey, Please your money in to new full tilt operating funds…" – narucy
From Andrew Feldman's write-up on ESPN:
"Where's my FTP money Ivey?!?!?! I could give a [email protected]%! about how much he wins until I get my FTP cash back!!!!" – TaurenForTheWin
"Wasn't Mr. Ivey one of the guys that profited heavily from the ponzi scheme at Full Tilt poker? Why is he even allowed to play in these poker tournies?" – ringworm218
From the sweat thread on TwoPlusTwo:
"Two millionaires playing heads up for money that won't really make a difference to them. It's a good thing us FTP players paid for this heads up match. Fu Ivey hope your ex takes as much as you have taken from us." – joeyrulesall
Ivey has become the most polarizing figure in poker. He's our Tim Tebow, except that Tebow's success has been in a vacuum, and Ivey is one of the greatest poker players of all time.
The nonstop, 24/7 news cycle certainly plays a role in all of this. Although there isn't a CNN for poker, Twitter, Facebook, and TwoPlusTwo do a fine job of spreading information like wildfire. Five years ago, Ivey's divorce from his wife Lucietta wouldn't have been news. In fact, I bet you didn't know that Daniel Negreanu divorced his ex-wife in 2007. Is Negreanu a bad person? Of course not. However, his image would be drastically different had he divorced his ex-wife on the other side of 2010.
We will learn more about Ivey in the coming years, but for right now we're arguing over things we don't know. We don't know how big a role, if any, Ivey played in the mismanagement of Full Tilt. We don't know when he first learned about the events of Black Friday. We don't know if he was sincere when he skipped to the 2011 WSOP. We don't know any of these things, and to assume otherwise is nothing short of asinine.
Let's not get into a shouting match with one another to see who's the loudest. Let's wait for some facts to come out before we judge for or against Mr. Ivey.
2. Balancing your life
On Monday, Phil Galfond sent out a tweet about a blog post he had just published on his personal website. Before retiring to bed, I pulled it up on my iPhone, thinking I would skim it for some wizardry then fall asleep, but instead I read all 2,000 words. Galfond prefaced the post with a warning: "I've been sleeping very poorly, and I'm currently failing at trying to fall asleep. If this post is a bit rambly and weird…no complaining…you've been warned. I wrote this without thinking or editing much."
Galfond proceeded to talk about balancing life and poker, which is neither rambly nor weird. It's necessary. If a player has no escape from poker, then the game can consume them. Conversely, if a player doesn't study or put in the hours, then they won't be as successful on the felt. There needs to be a give and take, and right now, Galfond feels like his life is out of balance. Here's my favorite part of the post:
"See, normally, I have a lot of things going on in my life… a lot of things that make me happy. If poker was going badly, I had my friends, my activities. I truly was leading two lives. Phil-the-poker-player was losing and stressed, but Phil-the-regular-person had a full life outside of poker that even a $1.5m downswing couldn't put a scratch on.
So now, I'm in Vancouver on a downswing. A somewhat rough one, though no worse than I've experienced many times before. But this time, it's different. I step away from my computer and what do I have?"
Galfond, who is considered one of the best players in the world, peels back the curtain, and bravely discusses the treachery of his downswing. It is a must-read for all aspiring poker players, so that they know how difficult it can be to play the game professionally. I respect Galfond so much for publishing this for the world to see, and I hope that the positive feedback motivates him to re-balance his life so he can come back stronger than ever.
My advice: take an impromptu vacation with some of your closest friends, Mr. Galfond. Leave the continent, turn off your electronic devices, and enjoy yourself. Let non-poker Phil breathe a little bit.
3. Meltzer's big tip
Alan Meltzer, a music mogul and recreational poker player who once appeared on Poker After Dark, passed last week, and left $1.5 million for his limo driver and doorman. Jean Laborde, his chauffeur, received 10 percent of Meltzer's $10 million estate, while Chamil Demiraj, his doorman, received 5 percent. Meltzer's ex-wife, who would've been guaranteed a third of his estate, received nothing, told the New York Post, "I'm doing fine. I could care less."
That's very pleasant.
This story is very heartwarming – one can assume that Laborde and Demiraj need money more that the ex-wife – and it's also another example of a poker enthusiast doing great charitable work. The average person probably believes that high stakes poker players and generosity are mutually exclusive, but year after year we see dozens of players giving back to those who need it most.
Yes, this year's Big One for One Drop is going to help promote the WSOP, and it's going to be a great draw for ESPN, but more importantly, it's going to raise millions of dollars for a great cause. That's powerful.
Rest in peace, Mr. Meltzer. May we never forget your altruism.
4. Pros vs. Joes
Before departing from Australia, Jason Mercier booked a prop bet with PokerNews.nl's Remko "happyfreaked" Rinkema. Mercier and Rinkema will compete in seven different sports during the 2012 WSOP. Rinkema will choose four sports, and Mercier will choose three.
So I made this silly prop bet with @JasonMercier tonight. Gotta think of 4 sports I can beat him at in 24 hours. Time to get some sleep now.

— Remko Rinkema (@happyfreaked)
Booked a 5k prop bet last night against @happyfreaked we play best of 7 sports and he chooses 4 I choose 3 ... Think I'm -260 to win #mash

— Jason Mercier (@JasonMercier)
We will know in the coming days what the seven sports are, but for now we can only speculate. Mercier played basketball in high school, so that is certainly a lock to be one of his sports, while Rinkema, being a native of The Netherlands, has a lot of experience on a bike. We can certainly see competitive cycling on the horizon.
For continued coverage of the Rinkema vs. Mercier seven-sport prop bet, we suggest that you follow them both on Twitter.
5. Oops
We all make mistakes, but unfortunately for our own Nicki Pickering, hers are all on camera.
Stay up to date on all the latest news by following us on Twitter and liking us on Facebook.