Five Thoughts: Kid Poker Rehashes Hatred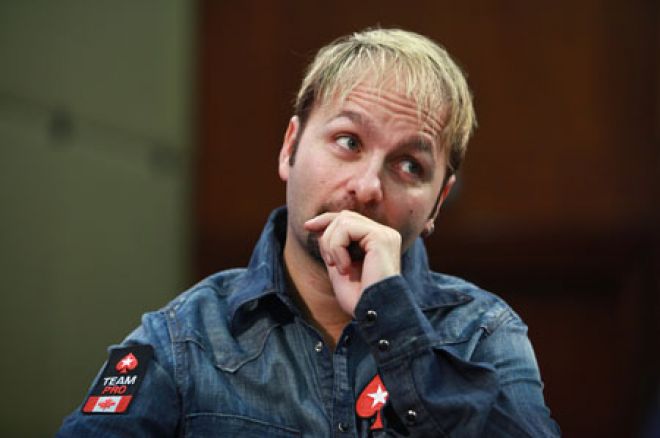 This past week, Daniel Negreanu recorded a rant and then final-tabled the Latin American Poker Tour Grand Final, Drew McIlvain gave his side of the chip-dumping story, Jason Somerville made a big announcement, and online poker legislation failed again in the United States.
We've got some thinking to do.
1. Kid Poker rehashes hatred, then crushes São Paulo
On Feb. 15, Negreanu uploaded a vlog on his YouTube channel titled, "Real Talk." During the ten-minute video, Kid Poker talks about his upcoming trips to Brazil and Ireland, the World Series of Poker schedule, and, of course, Full Tilt Poker.
"I've come to realize that those comments are pretty harsh," he admits, alluding to a past blog post where he advocated for old-school Vegas punishment for Ray Bitar, Chris Ferguson, and Howard Lederer. "I've had some time to think about what I said, and..um…yeah! I think they're absolutely appropriate! I do, Howard! If you're listening and watching this, I do! I don't think I would have any problem with somebody who had $15,000 of their hard-earned money or your site, come up to you and bash you in the nuts with a baseball bat."
This vlog — like everything Negreanu does — received mixed reviews. Some people just can't stand him and how open he is, while other people, including some of the Negreanu-haters, champion his stance and hatred of FTP. Unsurprisingly, Matt Glantz served as the voice of reason, tweeting the following to Kid Poker:
At the risk of ur wrath @RealKidPoker, u would better serve ur purpose so much better without the vulgarity and inciting violence imo.

— Matt Glantz (@MattGlantz)
Negreanu will always be vocal, and that turns people off, but right now he has more support than ever because (1) he's right, and (2) he's playing well.
What FTP did was inexcusable, and the repercussions will be felt for a long time. That being said, advocating violence isn't always the best course of action, Daniel. I love that you're honest, and that you're not afraid to be yourself, but there are times where self-censorship is necessary. Please, bash FTP all you want, but don't tell everybody that it's OK to bash Lederer's genitals. There are better, more productive ways to solve this problem.
Right or wrong, Negreanu's opinions will remain in the headlines as long as he's producing. This year alone, Kid Poker's finished fifth in the PokerStars Caribbean Adventure $100,000 Super High Roller, bubbled the Aussie Millions $250,000 Super High Roller, and finished sixth in the LAPT Grand Final. That's an impressive two-month résumé.
I'm positive that we'll hear more from Negreanu in the future, and I am certain that one of his recurring topics will be FTP.
2. It's not about intent
Last week, I had a chance to talk with both Drew McIlvain, the player who was banned from Harrah's Tunica, and Seth Palansky, the vice president of corporate communications at Caesars Entertainment. McIlvain, while his interview was interesting to say the least, says he did not intend to cheat or steal "Terry's" chips. It's not about intent however; it's about following the rules.
"The definition of collude in the dictionary that I have in my hands," Palansky told me. "Is two words: conspire together."
McIlvain admits to having multiple conversations with "Terry," but this doesn't allow him to plead ignorance. After the first conversation, he should've known something strange was going on. After the second conversation, you have to tell somebody. If McIlvain called the floor at that point, what's the worst that could happen? They tell him he's wrong, and when "Terry" donks off his chips, he gets to keep them.
Some are arguing that only a small percentage of players would notify the floor in this situation, and that these types of things happen "all the time." I don't believe either claim is true. Had these people been in McIlvain's shoes and were told the things McIlvain was told by "Terry," they would've done something about it. Likewise, this doesn't happen regularly. Sure, we've all seen someone get crippled then say something like, "I'm either going to triple-up or bust in the next orbit," but that scenario is clearly different. "Terry" and McIlvain spoke player to player, away from the table, and there was a plan in place.
McIlvain didn't make the plan, but he didn't turn it down either.
Should McIlvain have been disqualified? Yes. Should he be banned from all Harrah's properties? No. Will he be banned? I don't think so. I think he's learned a valuable lesson, and, after the appeals process, he will be welcomed back.
I hope he's learned something from his mistakes, however, both on and off the felt.
3. Jason Somerville is a courageous man
Upon entering the poker media at the 2009 WSOP, Jason Somerville was one of the first players I met. He was very cordial, and didn't act like he was above me in any way. As a rookie in the game, I appreciated that greatly. And, despite making four WSOP final tables, winning one bracelet and racking up over $1.6 million in live tournament earnings since our first encounter, Somerville hasn't changed. He's still one of the nicest players in the game.
Last week, on his blog, Somerville admitted that he was gay. More importantly, he said that he's "honestly happier now than I've ever been."
To those of you who don't believe this is news, I ask you to name another high-profile male poker player who is openly homosexual. OK, now can you name an openly gay NFL player? NBA player? MLB player? NHL player? Golfer?
Having trouble?
It's 2012, and while we'd like to think that things like race, creed, and sexuality don't matter, they do. There are still stigmas, there are still arrogant people, and, above all, there is still fear.
"That same year, the second and third people I came out to were my parents (probably the hardest thing I've ever done)," Somerville writes.
Pressing "post" on this blog was probably in Somerville's top 10, but the response from players and fans has been overwhelmingly positive. Even Perez Hilton reached out to Somerville:
There may not be a ton of homosexual poker players, but if there are any who were previously afraid to be themselves, I hope that Somerville's post will make them more comfortable. We can't change who we are inside, but it should be mandatory for us to live life to the fullest. It's impossible to enjoy life while living in fear, however, and I commend Somerville for his courage.
4. Gullible is written on the ceiling
The millisecond I filed last week's Five Thoughts, I came across something — I forget if it was a tweet or an article — that basically said online poker had no chance of making it on the payroll tax cut extension. A few days later, the ship sailed, and online poker was left on the dock again.
Optimism is the worst, and I really have no reason to be optimistic. Senator Harry Reid has been rumored to save the day twice now, and both times we were woefully disappointed. Even if something was passed, it would take months for anything substantial to occur, and that would be on a state-by-state level. It's a never-ending bureaucratic nightmare.
I'm here to formally announce that Five Thoughts will no longer be optimistic towards online gaming legislation in the United States. Five Thoughts' official stance: I'll believe it when I see it.
This will be a hard-line stance, and I promise it won't change until the next rumor pops up.
5. Carnival!!!
Enjoy
If you love poker, be sure to follow us on Twitter and like us on Facebook.