PokerNews Jet Set: Seoul, South Korea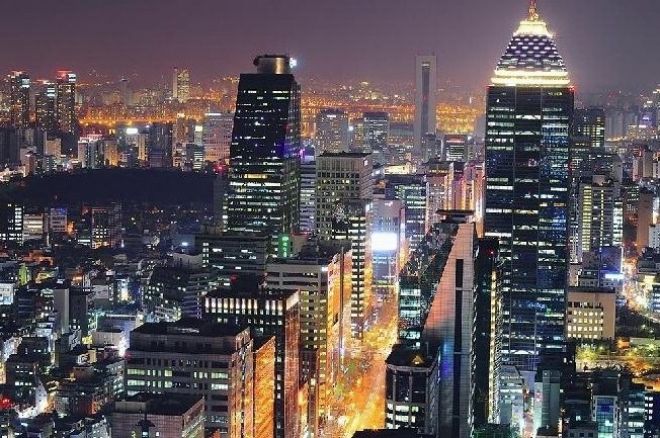 Think modern skyscrapers in a city laced with neon lights, intertwined with Buddhist temples, and you have Seoul — a charming recipe of old and new.
The first two seasons of the PokerStars.net Asia Pacific Poker Tour took us to South Korea's capital. In recent years, the stop disappeared from the tour's schedule, but now it's back for the fifth season. The APPT Seoul Festival of Poker will take place at the prestigious Paradise Walkerhill Casino from March 8 to 11.
The Basics
Language: Korean and some English
Weather: Average high of 10.4 °C (50.7°F), described as cool, crisp and sunny
Time Zone: GMT +9
Voltage: 220-240 volts
Minimum Age: 19
Currency: Korean Won USD 1 = KRW 1,150. Please refer to xe.com for current rates
Visas: People from many countries are required to have a visa to enter South Korea. Visit the country's official visa requirements page for further information.
The APPT
PokerStars qualifiers will be staying at the luxurious Sheraton Grande Walkerhill Hotel, which is the same location as the tournament venue, located inside the Paradise Walkerhill Casino
.
Sheraton Grande Walkerhill
 & Paradise Walkerhill Casino

21 Gwangjang-dong
Gwangjin-gu, Seoul
South Korea

If you did not qualify for this event and are looking to book your own accommodations, please visit PokerNews Hotels for great rates on nearby hotels.
Arriving and Exploring
Even though taxis around the city of Seoul are quite cheap, traveling from the airport to your hotel can get quite expensive. The Incheon International Airport is located one-hour from the city and will cost approximately KRW140,000 for the taxi.
It is for that reason that buses are the most recommended mode of transport from the airport. When you exit the building at the airport, you'll immediately see the bus stands lining the sidewalk. Take KAL Limousine Bus to Paradise Walkerhill Casino. This trip will take approximately 80 minutes.
Once you're in town, taxis are quite affordable, and I've come across an incredible website, Visit Seoul, that provides the most comprehensive breakdown of the various taxis available. I was impressed to discover that Seoul offers a taxi service specifically for non-Korean speaking visitors — brilliant!
If you want to try something different, Seoul is actually known to have one of the world's best subway systems, which can make your journey around such a hectic city much easier than expected. Once again, Visit Seoul provides an excellent guide to using the subway system.
For a more scenic and relaxed route around town, take a water taxi from one of the 17 stations located along the Hangang River. Check out Visit Seoul for timetables and more information.
Also, a free shuttle service leaves the tournament venue every 10 minutes to downtown Seoul, operating between 6 a.m. and 11:20 p.m.
Download | Map of Seoul
Shopping
If you're in the market for electronics, then you absolutely must visit Yongsan Electronics Shopping Mall. It's the largest electronic-specific shopping complex, housing 10 different malls! Like most places in Seoul, you can reach the mall easily through public transport, which is located near Yongsan Station.
Dongdaemun Market has the ultimate combination of traditional market stalls and modern commercial retailers. Be ready for an overwhelming experience because this is Korea's largest wholesale and retail shopping district with 26 different malls, 30,000 specialty shops, and 50,000 manufacturers!
The retail malls open at 10 a.m. and they don't close until 5 a.m. the following day, some even operate 24 hours, making it a great place to visit after a day of play. To deal with the overwhelming size, begin your trip at the Dongdaemun Tourist Information Center, located in front of exit 14 of the Dongdaemun History & Culture Park Station, for some English-speaking guidance! You can easily reach the market via public transport, located near Dongdaemun Station, but please keep in mind that it closes each Monday.
For more of a traditional market then head to GwangJang Market to pick up some handmade and vintage goods while enjoying some of the best, local street food. Conveniently, it's located near the above-mentioned Dongdaemun Market.
Korean Culture and Food
Seoul is a city of many cultures, which are celebrated by over 700 museums and over 400 galleries throughout the city, enough to satisfy any history buff or art lover.
With so much of Seoul having been modernized, it's refreshing to be able to truly experience, learn and immerse yourself in the local culture, and a visit to Bukchon Hanok Village will do just that. It's a preserved village of hundreds of traditional houses called "hanok" that date back to the Joseon Dynasty. Spend an afternoon strolling through the streets, eating lunch at one of the many cafes, and sipping on local flavors at a traditional tea house.
For a hands-on experience with Korean food, try Trip Advisor's No.1 ranked "Thing to Do" in Seoul — O'ngo Food Communications.
The term o'ngo (oen-go) means modernizing traditions, and that's exactly what they do. It's a culinary school and tour company offering Korean cooking classes, as well as tours to show off the city's best food and drinks, providing a taste of the real, local flavors of Seoul.
Walking Tours
A site that I've referred to many times in this article has once again impressed me. Visit Korea has put together a slew of itineraries for tours on foot throughout Seoul. There are so many to choose from, depending on your goals, all of which are fully detailed, mapped, scheduled, and even budgeted for your convenience.
Download | APPT Tournament Structure | APPT Tournament Rules
The PokerNews Live Reporting team will be on hand in Seoul to bring all of the APPT action. Whether you're there with us, or railing from afar, follow @PokerNews_Live on Twitter so we can keep you updated!