Vadzim Kursevich Wins the 2012 PokerStars.fr EPT Deauville Main Event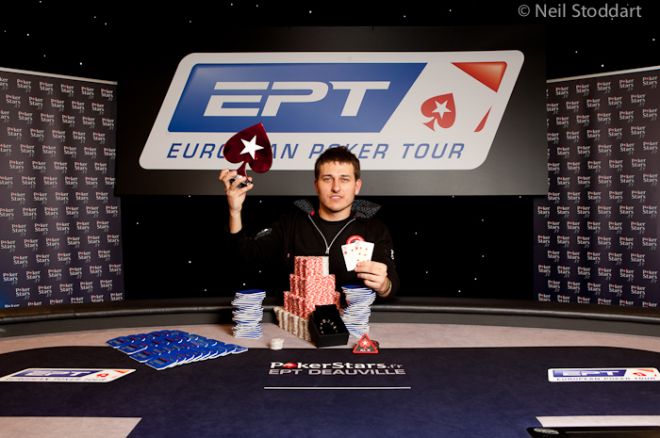 The 2012 PokerStars.fr European Poker Tour Deauville Main Event concluded on Monday night. Vadzim Kursevich emerged triumphant from a field of 889 players. Kursevich began the final table second in chips and endured a tumultuous journey before finally claiming victory.
Mick Graydon, the short stack to begin the final table, lasted about two hours before he shoved


into chip leader Paul Guichard's


. The board rolled out



to end Graydon's run in eighth place. Following him to the rail was Team PokerStars Pro Luca Pagano. Unable to gain any consistent traction, Pagano three-bet shoved with

. Vuong Than Trong, the raiser, called with


and held up through the




board.
About three and a half hours later Olivier Rogez was the next to fall, doing so in unusual fashion. His 14 big-blind stack slowly dwindled to less than two big blinds before Rogez called all-in from the big blind with


. The pot was three-handed and following a



flop, Paul Guichard isolated with


. Rogez found help from the

turn, but the

river ended his Main Event run in sixth place. Roughly two hours passed before Bruno Jais exited in fifth place. He shoved on a



flop with


, but ran into Vuong Than Trong's


. The

turn gave Jais two extra outs to win, but the

river was not among them.
The players took a one hour-break and when they returned, the chips started to fly. Than Trong was leading, but lost much of his stack to Kursevich who was in second place. After raising on the button, Than Trong watched as Kursevich three-bet from the small blind. Action folded back to Than Trong and he four-bet shoved with


. Kursevivh called all-in immediately with


and won the pot when the board fell





.
With the huge chip lead, Kursevich went to work eliminating the shorter stacks. First, with

, he eliminated Yorane Kerignard (who held


) when neither player improved his hand on a




board. A few hands later, Than Trong got it in with


against Kursevich's

, but once again, the board improved neither player.
Heads-up play began with Kursevich holding just less than a 7:1 chip lead, but Guichard stormed back to make the stacks nearly even before the final hand occurred. The blinds and antes were at the 125,000/250,000/30,000 level when Kursevich min-raised the button to 500,000. A three-bet to 1,250,000 came from Guichard and after Kursevich called, the flop came down

.
Guichard bet 625,000, which kept Kursevich in the hand to see the

land on the turn. Not slowing down, Guichard bet 1,325,000. After a few moments Kursevich moved all-in, and got an immediate call from Guichard, who tabled


for a set. Kursevich was very live, with straight and flush outs, holding


and sure enough, the

hit the river to give Kursevich a straight and bring the tournament to a close.
Final Table Payouts
| Place | Player | Prize |
| --- | --- | --- |
| 1 | Vadzim Kursevich | €875,000 |
| 2 | Paul Guichard | €557,000 |
| 3 | Vuong Than Trong | €328,000 |
| 4 | Yorane Kerignard | €260,000 |
| 5 | Bruno Jais | €200,000 |
| 6 | Olivier Rogez | €155,000 |
| 7 | Luca Pagano | €110,000 |
| 8 | Mick Graydon | € 67,200 |
Be sure to check back to our Live Reporting pages because we'll be at plenty of tournament stops across the globe just about every week.
Follow us on Twitter for up-to-the-minute news.