Cookie Lazarus Opens Up About Full Tilt Poker, Miriam Foundation & the Montreal Open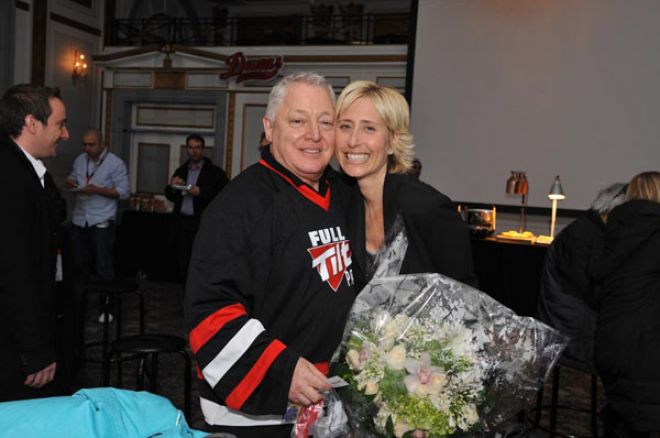 A couple of weeks ago, PokerNews brought you a story about Full Tilt Poker leaving the winners of the Montreal Open, a charity poker event to raise money for the Miriam Foundation, empty-handed and in the dark about their prizes. Morden C. Lazarus, also known as "Cookie," was a major player in helping organize the event, but believes the Miriam Foundation has an obligation to pay the winners.
The Miriam Foundation does not feel the same way, and a melodrama has ensued that involves a Provisional and Interlocutory Injunction and Introductory Motion for a Permanent Injunction filed by the foundation, and a Contestation to the Motion filed in response by Lazarus.
For those unfamiliar with Cookie Lazarus, he is an attorney with Lazarus, Charbonneau, where he has practiced law since 1967. He is a prominent figure in the gaming law world and has served as legal counsel to many igaming companies. He specializes on gaming advice from jurisdictions including Kahnawake, Malta, Antigua, Cyprus and the Isle of Man. Lazarus is also the man who first introduced the Miriam Foundation to Full Tilt Poker, resulting in a sponsorship relationship.
PokerNews recently reached out to Lazarus to find out more on his take on the situation.
Can you give us a brief explanation of your side of the story?
The Miriam Foundation is a charity that does excellent work, that provides a great service to autistic children and children with learning disabilities. That's certainly not in dispute, never was, and never will be. What's in dispute here is that they took an injunction against somebody who, like myself, worked for six years and helped raise a lot of money, millions of dollars, for the Miriam Foundation. I also contributed, by the way, in excess of $192,000 from a personal perspective in the last five years. I have the tax receipts to verify it.
It shows you that you can be put in a position, even though you're helping people and you're doing work in a charitable manner for people. You're providing your services, your connections, time, effort, money. And the type of thanks I received when I was out of town on Dec. 28, 2011? An injunction taken in my absence when they knew I was out of Canada. Unfortunately, they're a very thankless organization, and I'd be very remiss to do anything for them in the future.
Did you have any idea the Miriam Foundation would file an injunction against you?
I had no idea. I had no intention to use the name of "The Montreal Open" and now the name is tainted, the Montreal poker playing community is extremely upset with the Miriam Foundation because the winning players have not been paid with the money from the prize pool.
What's the real issue in this situation, the use of the Montreal Open name or one involving the players' prizes?
The most important fact . . . is that the Miriam Foundation is far off base [thinking] that the winning players had a contract with Full Tilt, the winning players had no contract with Full Tilt. The winning players only had a contract with the Miriam Foundation. The Miriam Foundation contracted with Full Tilt as a title sponsor to pay the monies that were to be paid out of the prize pool. The players never had, what I call, a privy of contract with Full Tilt.
Miriam Foundation contracting with Full Tilt, like any other supplier, the supplier doesn't agree to pay a certain obligation because they are a sponsor, they don't do it. It's still the Miriam Foundation's responsibility to satisfy that obligation, and they certainly have that obligation to do so if, in this case, Full Tilt doesn't pay out the prize pool.
Well, that's what happened. Miriam received all of the money that was generated from the tournament; every penny that was generated went to the Miriam Foundation that was paid in by the players. They paid not only the entry fees, but also rebuys and all of the sponsorship monies went directly to the Miriam Foundation. They've never given out an accounting of how much money they received, but I'd be very interested in finding out where this money went and to what extent they received from the actual event. I've been told it's in excess of $800,000, it's mentioned here as $700,000, and that they only netted $300,000.
Even being on the poker committee the last five years, we've never been provided with any accounting of any of the tournaments in the past. So that's really a question for me that I'd certainly like to have answered at some point. The other thing is that I have done many poker tournaments in the past. I've done them for UltimateBet, Absolute Poker, and for other poker names in the industry, and they've been for different charities . . . there's no such thing as anyone having a permanent hold on myself and my resources to do [a charity poker tournament].
It's incomprehensible that they think that if I am doing another charity event with another sponsor that that is a breach of any obligation I have to the Miriam Foundation. I don't have any agreement with the Miriam Foundation whatsoever. I've never had, and I've only supported them over the years. I guess they themselves think that they're losing a potential source of revenue for themselves, and this is what their general complaint is all about.
Will you be filing a lawsuit against the Miriam Foundation regarding the players' funds/prizes?
There's a rumor a lawsuit against the Miriam Foundation is in the works by myself and by unpaid players. I have not been involved in any lawsuit against the Miriam Foundation nor do I have anything in the works. I wouldn't sue the Miriam Foundation for the players, I don't think I would do that on any occasion. [The players] have come to me many times and I've told them that if they're unhappy, they ought to see a lawyer of their choice, and find out exactly what they can do.
The key thing here is the Miriam Foundation has not paid the players, and a lot of the players have come to see me because they associate myself as I really created this tournament many years ago. All of the elements that were brought together to carry out this tournament were brought to this event by myself. They were essential to the success of the event. The major sponsors were sponsors I had brought.
Do your think your new charity tournament, the Montreal Party Poker Classic, conflicts with any plans the Miriam Foundation may have to host a new Montreal Open?
The Miriam Foundation actually called the people before we even got involved in doing another event with PartyPoker and said that the Miriam Foundation is no longer interested in poker any more, they no longer want to do any tournaments, they're getting out of the poker business, and they're closing their doors, and closing their website. They weren't even answering phone calls or messages left by some of the unpaid players. This was the last I had heard that the Miriam Foundation was going to do way back in November/December of 2011.
Do you have anything else you'd like to add regarding the Miriam Foundation's injunction against you?
The allegations that I was paid for my services are totally untrue. As I explained in my affidavit, whenever I was asked to provide an account for whatever we did, and the out-of-pocket expenses we incurred . . . what we did was give them a bill, crossed checks with them, I gave them my check and they gave me theirs, and that's how we worked. I never benefited one penny from any work I did for the Miriam Foundation, and yet they allege that I breached a fiduciary obligation.
I had no fiduciary obligation since I was never a paid attorney, I was strictly a volunteer and a contributing individual for the past six years, and only benefited the Miriam Foundation. I feel like I've never come across a charity that reacted in such a way that they'd become such ingrates for everything I had done to help them.
What would be your ideal conclusion for this whole debacle?
I just want to see their action against me dismissed, I mean I'm not using the name, I never intended to use the name, but they took an injunction against me because of the name. They ought to withdraw that application and walk away from the proceedings.
The [Montreal Open] name is worthless in any event, but they're trying to sue me to come to the table to try to help them and let them have a piece of the new tournament moving forward. I absolutely will not work with the Miriam Foundation ever again. I think in final analysis, justice will prevail.
Do you think players will receive their fund from Full Tilt Poker?
I am always hopeful. I have to temper my words because I have acted as a lawyer for Full Tilt Poker in the past. I'm always hopeful that the negotiations with the Department of Justice and others will go well and that ultimately a third-party purchaser will step into the picture and they will come up with a formula to repay player liabilities. To what extent, I'm not sure, but I'm optimistic that it could happen.
*Lead photo courtesy of The Montreal Open
Stay up to date on all the latest news by following us on Twitter and liking us on Facebook.