Five Thoughts: In-Game Betting on Poker, Another Win for Isildur1, and More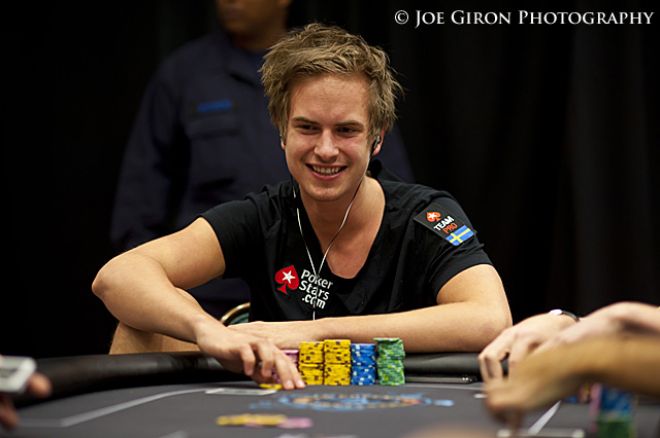 If you've ever railed the final table of a major, live tournament, then you're probably aware of how much betting is done off of the felt. Live poker is, well, boring, so instead of simply watching the action, players would rather gamble and bet props. The most popular game is red-black, where the participants bet on the flop texture.
Clearly it's a skill game.
Well, now you don't have to travel to the nearest major tournament circuit stop to get in on the action, because Poker Royalty has teamed up with PaddyPoker to bring you iSeriesLIVE.
1. Wait, you can seriously bet red-black online?
Starting on April 5, a handful of pros, including Daniel Negreanu, Phil Hellmuth, Maria Ho, David "Devilfish" Ulliot, and Marvin Rettenmaier will take part in a series of tournaments. Because the players will be sequestered with no audience or phones/laptops/tablets allowed, the tournament can be streamed live with hole cards visible, so viewers outside of the United States (standard) will be able to wager on numerous things like red-black.
The odds will obviously adjust themselves based upon the market's reaction, but at the moment, I love Ho at 10/1 and Jaka and Rettenmaier at 8/1. In this kind of made-for-TV sit-n-go type format, where the blinds will probably increase somewhat rapidly, it's anyone's game. There's no reason to give up value for someone who may be slightly better — although I'm not sure anyone is better than Jaka — when this is going to be a high-variance game.
According to the site, you can also bet on the aforementioned red-black, updated odds to win, winner of the next hand, last-longers, next elimination, pair on flop, trips on flop, straight on flop, flush on flop, straight flush on flop.
As long as the betting limits aren't too high, this is a phenomenal idea. Interactivity is the key to a better user experience, and in-game wagering and live streaming poker are a great fit. Is it a little degenerate? Sure, but as long as the limits are low and viewers can wager a few Euros here and there, it will be very enjoyable, even if people lose a little.
2. Isildur-won
Vikor "Isildur1" Blom competed in his 13th SuperStar Showdown match this past weekend, beating Alex "Kanu7" Millar out of $37,687. The win gives Blom a 9-4 record in the series, and he's profited $534,090.
According to the PokerStars Blog, Blom won the only six-figure pot in sick, Blom fashion. The Swede opened to $600 with the button, Millar three-bet to $2,600, and Blom called. The flop fell



, and Millar led out for $4,000. Blom called. The turn was the

, and Millar fired a second bullet worth $11,500. Again, Bloom called. The

completed the board, and Millar emptied the chamber, moving all in for $32,350. Blom called, and Millar tabled


for seven-high.
Blom showed


for bottom pair, and was shipped the $100,900 pot. Boom.
To date, Blom has defeated every player he's faced except for Isaac "philivey2694" Haxton. I will be the first to admit that I thought Blom would be fish fodder for the sharks on Stars, but he's no longer the reckless "spaztard" who used to frequently donate to the former members of Team Full Tilt Poker. Blom still applies crazy amounts of pressure, and while he's down a little over $66,000 in 2012, he profited nearly $1.5 million last year. He still has his moments however — he blew a $100,000 lead against Haxton in last week's SuperStar Showdown while also losing over $400,000 playing both $100/$200 heads-up NLHE and PLO at the same time.
What we can all agree upon is that Blom is a must-watch whether he's on the virtual felt or the actual felt. Let's not forget, he also won the $100,000 Super High Roller at the PokerStars Caribbean Adventure in January. Fingers crossed, he'll grace us with his presence at the 2012 WSOP.
3. We need more rivalries
The PartyPoker Blog sat down to talk with Andrew Robl bout Tony G and the upcoming PartyPoker Big Game VI in Vienna next month. Robl told them, "I look at things very rationally and in my mind if Tony G is in Vienna I have to go as I need to make money — that's the bottom line."
Shot's fired!
Even if Tony G and Andrew Robl don't really have a beef — Tony G is the master of entertainment — these two chirping at one another makes the Party Poker Big Game more appealing.. As a matter of fact, if you sit and think about it, what is the most appealing thing in poker right now? It's whatever or whoever Negreanu has a beef with, whether it be Annie Duke, Jeffrey Pollack, Epic Poker, Full Tilt, or meat products. His vlog has become mandatory if you're in the industry, and one of the main reasons is because he has "enemies."
Music, hip-hop especially, garners more attention when there are clashing groups or bands. Who is the greatest rapper of all time? Forty-five percent of you just said, Tupac, another 45 percent said Biggie, and the other ten percent of you are probably hipsters.
We love rivalries. We love picking sides. Does this mean that a well-known player should take to his or her blog and put another player on blast? No. Should somebody go Sam Grizzle and start throwing punches? Absolutely not, but we want some competition. We want two polarizing figures to split the poker world.
Unfortunately, nobody wants to be the villain (see: LeBron James). Even Phil Hellmuth has toned down the "Poker Brat" mantra. C'mon poker players, even Hulk Hogan turned heel. One of you needs to step up and be the enemy, even if it's only for a short while.
4. Alec Torelli talks about perspective
If you haven't been reading Alec Torelli's blog posts here on PokerNews, you're missing out. In his latest, two-part venture, he discusses the pain of losing and how to combat it both physically and mentally. He also offers an anecdote about Kevin Garnett and Paul Pierce playing blackjack at the Bellagio. I don't want to ruin the story, so let's just say it's not as baller as you would think.
Torelli admits that the biggest hand he's ever lost is $475,000, and the biggest downswing he's ever had is $1,000,000. He also introduces a very interesting term called "happiness expected value" (hEV). Torelli argues that happiness trumps everything, and says that poker players shouldn't make decisions based upon mathematical EV, rather hEV. He also advises players to count their losses in order to move to acceptance and then recovery.
Pieces like these from guys that have been there are extraordinary reads. You can lurk forums and read a paragraph here and there about guys who've gone from nothing to something, or visa versa, but Torelli is an excellent writer and both his pain and his pleasure can be felt reading the words he's penned.
If you haven't already, go ahead and read both Part 1 and Part 2 of his most recent post.
5. Frosty012 the poker player
Ryan Firpo is at it again, this time his subject is PokerStars Team Online member Tyler "Frosty012" Frost.
Follow PokerNews on Twitter for up-to-the-minute news.