Gordon Huntly Wins 2012 PokerStars.net ANZPT Sydney Main Event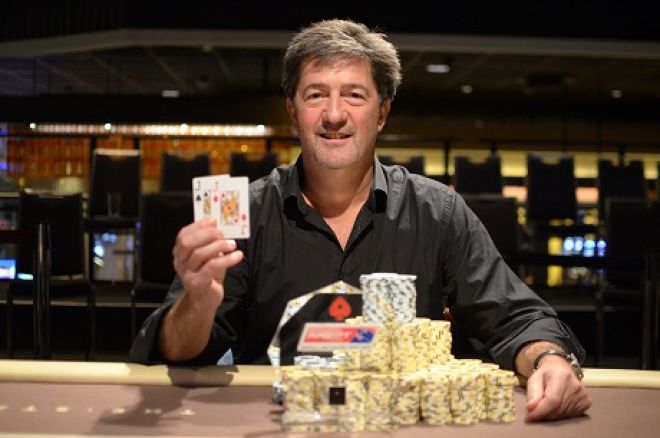 The 2012 PokerStars.net Australia New Zealand Poker Tour Sydney Main Event came to a close early Monday morning in Sydney, Australia. Gordon Huntly, from Scotland, conquered the 461-player field to pocket $226,812.
2012 ANZPT Sydney Main Event Final Table Payouts
| Place | Player | Payout (AUD) |
| --- | --- | --- |
| 1st | Gordon Huntly | $226,812 |
| 2nd | Liam O'Rourke | $144,754 |
| 3rd | Anthony Aston | $80,214 |
| 4th | Stewart Ballard | $62,696 |
| 5th | Jason O'Brien | $48,405 |
| 6th | Oliver Speidel | $39,185 |
| 7th | Craig Blight | $29,965 |
| 8th | Bradley Lancken | $23,511 |
| 9th | Martin Rowe | $17,518 |
There were 27 players still in contention at the start of the final day, but after 12 hours of play only one player could take down the title. When the day began, Nicholas Heather held the chip lead, but that didn't last long, as he faltered late in the afternoon. In the end Heather bowed out just shy of the final table in 12th place.
After five hours, only nine players remained and going into the final table, Liam O'Rourke had a monster chip lead. O'Rourke put on a bit of a show in the lead up to the final table and continued his aggressive play well into the early hours of the morning.
2012 ANZPT Sydney Main Event Final Table
| Seat | Player | Chip Count |
| --- | --- | --- |
| 1 | Anthony Aston | 1,900,000 |
| 2 | Oliver Speidel | 715,000 |
| 3 | Liam O'Rourke | 3,400,000 |
| 4 | Jason O'Brien | 800,000 |
| 5 | Martin Rowe | 360,000 |
| 6 | Stewart Ballard | 325,000 |
| 7 | Craig Blight | 425,000 |
| 8 | Bradley Lancken | 370,000 |
| 9 | Gordon Huntly | 715,000 |
The first elimination at the final table occurred just a short while after it began, with 2008 APPT Sydney Champion Martin Rowe going home in ninth place when his


couldn't win a race against


.
Not long after Rowe's elimination, Bradley Lancken found himself on the rail in eighth place. Lancken got his stack all in preflop holding


againts Oliver Speidel's


. Unfortunately for Rowe, the flop was spread housing a

, and with no help on the turn or river, Rowe was eliminated.
Shortly thereafter, Craig Blight exited in seventh place when he couldn't win a race against O'Rourke. Next to go was Speidel. A great effort from Speidel saw him add a sixth place finish at ANZPT Sydney to his poker resume which includes a 2012 Aussie Millions Main Event victory.
Jason O'Brien and O'Rourke rumbled for much of the final table, and as such it was somewhat apt that O'Brien's elimination would come at the hands of O'Rourke. In the end, O'Brien lost a massive flip holding


against O'Rourke's


and was out the door in fifth place.
The final four fought fiercely, but play slowed down to a crawl. It took over two hours for the next elimination to occur, but Stewart Ballard was eventually sent to the door in fourth place.
At this point O'Rourke was controlling the table. The young Aussie was seemingly involved in every hand. Just a short while after Ballard's elimination, O'Rourke dealt the fatal blow to Anthony Aston. O'Rourke held


when he had Aston all in holding


. No help came for Aston on a





board and he was sent home in third place.
Going into heads-up play, O'Rourke held a chip lead, but it still took less than half an hour for Huntly to take care of O'Rourke. Huntly chipped away and chipped away before he had an almost 3-1 chip lead over O'Rourke. The last hand of the night saw O'Rourke all in preflop holding


against Huntly's

. The




board was spread and it was all over for O'Rourke. For his runner-up finish O'Rourke pocketed a very respectable AUD$144,754.
Just this event is over, it doesn't mean the live reporting stops. PokerNews' worldwide leading Live Reporting Team is constantly all over the globe providing updates from the biggest and best tournaments on the circuit, so be sure to check those events out as well.
Follow PokerNews on Twitter for up-to-the-minute news.