PokerStars.net Latin American Poker Tour Chile Day 1a: Barrientos Leads, Horno Lurks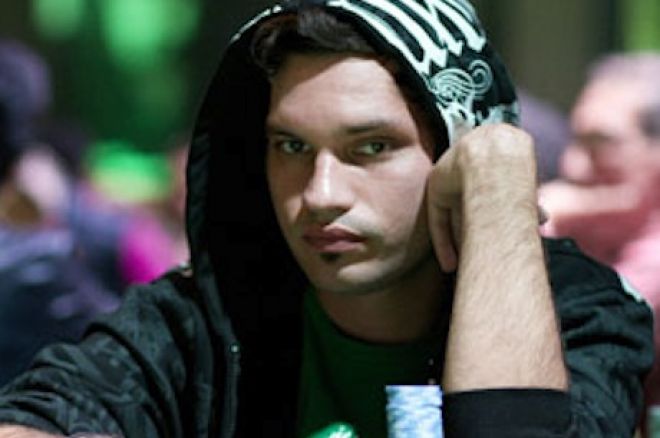 Season 5 of the PokerStars.net Latin American Poker Tour kicked off on Wednesday at the Enjoy Casino & Resort in Vina del Mar, Chile. This marked the third time the LAPT had visited the "Vineyard by the Sea," and the second time since 2010 when a tragic earthquake forced the cancellation of the event.
Last year, a massive field of 621 players took to the felt, constituting the largest LAPT event in history up until that point. Brazilian Murilo Figueredo won that event for $146,000 and set the stage for this year's highly anticipated tournament.
Day 1a ended up drawing players from as far away as the United States, New Zealand and Australia, who combined with the hundreds of players from South America to form a world-class tournament. When registration closed, the official number of players was 284, a number that ought to be eclipsed by Day 1b's field. In fact, officials and players alike are waiting with bated breath to see if 338 register, which would surpass last year's total.
Day 1a kicked off with a bang as Daniela Horno, who finished in sixth place in this very event last year, got off to a quick start and established herself as the early chip leader. In one of her more significant hands, a player in middle position limped and was met with a raise to 1,450 by Horno in late position. The big blind then brought it in for a three-bet to 4,000 and the limper got out of the way. The details are sketchy at that point as the action happened so fast, but the big blind ended up all in preflop for around 20,000.
Showdown
Horno was in a dominating spot, though the



flop gave her opponent some hope and he began calling for a jack. Unfortunately for him, and much to Horno's delight, neither the

turn nor

river were a jack. With that, Horno eliminated her opponent and took down the massive pot, bringing her stack to over 60,000.
Horno continued to climb, throughout the day, and ended with 122,200. That was a big stack, but not nearly as big as the chip leader, Waldermar Barrientos, who bagged up 140,300. Other players who advanced to Day 2 included twin brothers Luis Perez (59,300) and Carlos Perez (36,700); former LAPT final tablist Brent Sheirbon (56,100) and reigning LAPT Player of the Year Pablo Gonzalez (32,500).
Unfortunately not everyone was so lucky. A plethora of notables hit the rail throughout the ten levels of play including James Honeybone, Jonathan Markovits, Brian Gitter, Stuart McDonald, Rodrigo Arguello, Jamie Atelenoff and Team PokerStars Pros Freddy Torres (Online) and Leo Fernandez (Argentina).
The PokerNews Live Reporting Team didn't catch Fernandez's elimination during Level 8, but were later told that he had moved all in from late position for around 19,000 after an under-the-gun player had opened with a raise. Claudio Lopez then made the call while the original raiser got out of the way. Fernandez rolled over


, which was way behind Lopez's


. The board ran out king high and the Team Pro made his way to the rail.
Not long after, Fernandez's tablemate, Julian Menendez, followed him out the door. It happened when a player in middle position opened to 2,000, Menendez three-bet to 5,500 from the cutoff, the button and blinds both folded, the original raiser called and the flop fell



. It was checked to Menendez who took about 30 seconds before announcing he was all in (for roughly 29,000). His opponent snap-called and tabled


for ace high with the nut flush draw.
Menendez had outs, but trailed with


. Unfortunately for him, he found no help from the

turn or

river and the Season 4 LAPT Colombia champion was eliminated from the tournament.
Joining Barrientos and Horno toward the top of the chip counts are Jaime Farriol (128,300), Sebastian Rios (126,200) and Carlos Munoz (124,100).
End of Day 1a Chip Counts
| Player | Chip Count |
| --- | --- |
| Waldermar Barrientos | 140,300 |
| Jaime Farriol | 128,300 |
| Sebastian Rios | 126,200 |
| Carlos Munoz | 124,100 |
| Daniela Horno | 122,200 |
| Fernando Martinez | 84,000 |
| Delfin Zacarias | 84,000 |
| Claudio Lopez | 71,000 |
| Luis Perez | 65,000 |
| Brent Sheirbon | 38,000 |
The 89 remaining players will return on Friday for Day 2, and a whole new set of players will take their seats at 1200 CLST (0800 PDT)for Day 1b. Of course you can follow all the action right here on PokerNews as we patrol the floors of the Enjoy Casino & Resort for all the latest and greatest poker action.
Stay up to date on all the latest news by following us on Twitter and liking us on Facebook.