Five Thoughts: A Look at The Lederer Files and WCOOP Winners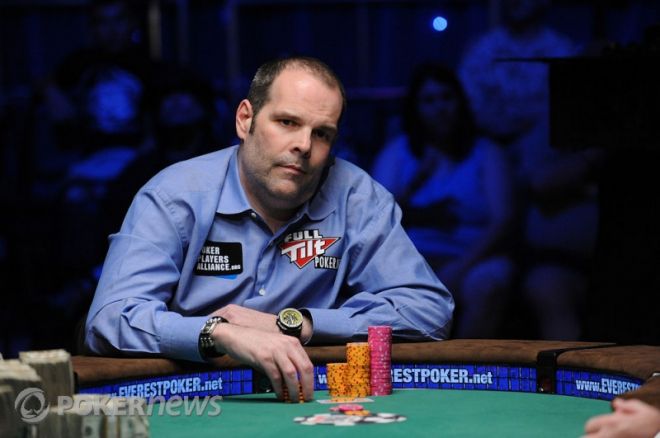 "As an owner of Full Tilt Poker," Howard Lederer told PokerNews' Matthew Parvis, "I took and I take full responsibility for what happened. And what happened wasn't right. And it caused a lot of pain. A lot of suffering…That wasn't right. And for that, I am truly sorry."
If we take Lederer at his word, then it's apparent that he didn't know much about the fall of Full Tilt Poker. Obviously he knew more than he was willing to tell when he sat down for the seven-hour marathon interview with Parvis, but how much? Was he protecting himself, or was he afraid to give misinformation?
It's hard to assess the interview because it's hard to believe Lederer — no one is going to volunteer for an interview and then commit reputational suicide. There are a few points that are more believable than others however, and we'll focus on those in our first thought.
1. Sifting through the "I don't knows"
For those of you saying that "you didn't learn anything new" from The Lederer Files, I beg you to watch them again. For those of you trolling, well, I guess trolls gonna troll.
There are four people that I want to focus on in regard to Lederer's interview. They rank in order of importance.
Ray Bitar: It was pretty clear that Lederer was going to point a very big, damning finger at Mr. Bitar. From the onset, when Lederer discusses the creation of Full Tilt, Bitar is depicted as an outsider. Just "Chris [Ferguson's] friend."
Despite "not hanging out" with Bitar, Lederer supported him as the CEO of Full Tilt Poker, and had plenty of opportunities to remove him from the board. He did not. Lederer also claims that he never saw the infamous "funds will always be at risk" email that Bitar sent, calling it "odd" because it was "very extensive." That's very odd in itself because previously, Lederer states that he wanted a different email regarding player funds forwarded to Bitar to be answered properly.
Lederer also knew about the lack of segregated funds, admitting that Full Tilt Poker didn't even consider it important.
To make matters worse, when Bitar told Lederer about the "backlog" before his USO trip, he didn't do anything to Bitar. Lederer explains that he didn't want to do anything rash, but when your CEO — a person who has butted heads with a handful of members of the board and other majority shareholders — suddenly tells you that there's a nine-figure backlog, then you do something. You get the board on the phone and you take action.
As an owner of Full Tilt Poker, Lederer should be less sorry about the frozen funds, and more sorry about allowing Bitar to run rampant. He was your CEO and you had the power to do something about his reign of terror, but instead you sat back and ignored it, claiming you were "out of touch."
Bitar deserves a lot of blame, and he is arguable the seediest culprit in this whole mess, but Lederer and Ferguson had every opportunity to do something about it.
Chris Ferguson: I believe Lederer when he says that Ferguson isn't greedy. I believe Lederer when he says that Ferguson was against distributions. I believe Lederer when he says that Ferguson gave the company $14 million because it was in dire need of cash. However, these good deeds don't absolve Ferguson from blame either.
Ferguson was Bitar's number one fan, and just like Lederer, he had plenty of time to act and remove Bitar from his position as CEO. Also, if Ferguson was that concerned with taking too much money from the company via distributions, then why didn't he focus more on the financial stability? Why wasn't solvency his number one priority?
I don't doubt that Ferguson is a charitable person who cared about refunding the customers, but that doesn't clear his name from this travesty. I hope that Ferguson is the next member of Full Tilt Poker to speak, and I hope he admits his mistakes.
Phil Ivey: There is a small pocket of the poker community that loathes Ivey. They're baffled by the fact that he is idolized, despite the fact that he is arguably the greatest poker player of all time.
So, when Lederer throws Ivey under the bus, there's suddenly a small celebration of salty individuals who question why fans revere Ivey.
Hint: it's the same reason football fans enjoy watching Michael Vick, basketball fans enjoy watching Kobe Bryant, and baseball fans enjoy watching Josh Hamilton.
Was Ivey trying to protect himself when he "boycotted" the World Series of Poker? Absolutely. Did his lawsuit affect the sale of Full Tilt Poker in 2011? Yes. But did Ivey tank the company? Did he refuse to segregate player balances? Did he hide the numbers only to spring them upon the owner less than a week before Black Friday?
Blaming Ivey for Full Tilt Poker's downfall would be like blaming LeBron James if Nike tanked. Or blaming Dale Earnhardt Jr. if Mountain Dew collapsed. Ivey had little if anything to do with the day-to-day operations of Full Tilt Poker. He was so irrelevant from a business sense that they immediately removed him from the board during the early days of the company.
Ivey was more worried about himself than the customers after Black Friday, and that makes him very selfish, but you can't blame him for the atrocities committed by Bitar and company. He was never expected to make business decisions, and can't be blamed for business mistakes.
Erick Lindgren: Wow, dude. Just. Wow.
We will learn more in the coming weeks and months about Lederer and other members of Team Full Tilt, but none of that would be possible without this first, momentous interview by Parvis. It was imperfect, as Parvis tells you himself, but it was still successful and very necessary.
2. From FPPs to $1 million
A total of 1,825 players entered the $5,200 World Championship of Online Poker Main Event on PokerStars. Only 225 players cashed, with the minimum-cashers earning $12,318.75, and the exact bubble boy was Brendon "Brendon1717" Rubie. Finishing right behind him in 226th place was Adam "AJunglen7" Junglen.
A few Team PokerStars Pros were eliminated right after the money bubble burst, including Bertrand "ElkY" Grospellier, Jonathan Duhamel, and Jude "j.thaddeus" Ainsworth, and Team Online member Mickey "mement_mori" Petersen busted as well.
Fellow Team Online member Kevin "WizardOfAhhs" Thurman finished in 34th place, earning $29,200.
When it was all said and done, the final table looked like this:
| Seat | Player | Counts |
| --- | --- | --- |
| 1 | maratik | 1,935,189 |
| 2 | FOO-92 | 1,402,455 |
| 3 | Mike "munchenHB" Telker | 11,907,089 |
| 4 | Phil "takechip" D'Auteuil | 3,783,516 |
| 5 | Ryan "TheCart3r" Carter | 1,894,230 |
| 6 | Jossel2008 | 6,002,830 |
| 7 | sly caveat | 941,302 |
| 8 | Kakalala | 7,633,941 |
| 9 | mitdadu | 999,448 |
The first three players eliminated were "mitdadu," Phil "takechip" D'Auteuil, and "Kakalala," and then there was an extensive deal-making process.
Just like Nick Grippo did during the 2012 Spring Championship of Online Poker Main Event, Mike "munchenHB" Telker demanded extra money. He got it. The other players were testy, they were upset, but eventually they caved — especially Russian "maratik," who needed "HostOlgaS" to help translate for him.
Despite saying, "I wont million," "maratik" agreed to take a lesser deal, guaranteeing Telker $1 million. Here's what the deal looked like before the final six players played for $100,000 and the title:
| Seat | Player | Prize |
| --- | --- | --- |
| 1 | maratik | $900,907.26 |
| 2 | FOO-92 | $502,992.46 |
| 3 | Mike "munchenHB" Telker | $1,000,584.34 |
| 4 | —empty— | N/A |
| 5 | Ryan "TheCart3r" Carter | $662,516.39 |
| 6 | Jossel2008 | $814,602.12 |
| 7 | sly caveat | $601,884.93 |
| 8 | —empty— | N/A |
| 9 | —empty— | N/A |
The Russian was not to be denied his million, however. He reached heads-up play against Carter, and on a board of



Carter was all in and at risk holding

. He was dominated by "maratik," who tabled


, and the

completed the board, giving "maratik" his $1 million.
Best of all, "maratik" didn't buy into the Main Event — he qualified using his PokerStars FPPs. Congratulations sir, you "wont" your million, you got your million.
3. Kelly wins a fourth
Prior to the WCOOP Main Event, Dan "djk123" Kelly won his record-breaking fourth-career WCOOP bracelet. The win came in Event #36: $215+R No-Limit Hold'em, where Kelly bested 1,483 players to earn $138,355. Kelly's previous wins came in razz, H.O.R.S.E., and 8-game. Kelly also finished fourth in the 2009 WCOOP Main Event.
Kelly's WCOOP stats are outstanding. Along with his four wins, he has 35 total cashes, seven final-table appearances, and he's earned a total of $1,222,132.64. Only three players have reached more final tables, (James "Andy McLEOD" Obst, Bertrand "ElkY" Grospellier, and "Rabscuttle" have all made eight), and only nine players have earned more money (With thanks to his 2010 WCOOP Main Event win, Tyson "POTTERPOKER" Marks has $2,285,759.17 in earnings).
Kelly finished the 2012 WCOOP tied for seventh on the Player of the Series leader board with 255 points — an honor he won in 2009.
What's so impressive about Kelly is that he's just as dominant in the live arena as he is online. Kelly has been eligible to play in the WSOP for three years. In that time, he's reached three final tables, racked up seven top-33 finishes, won one WSOP bracelet, and earned $1,491,727 in the process.
Kelly also finished third in the 2012 World Poker Tour L.A. Poker Classic ($521,770), and won a $1,000 side event during the 2012 Wynn Poker Classic ($39,099).
The American, who's bounced around from Malta to Australia to Costa Rica to play online poker, currently ranks 186th in the Global Poker Index, and I'll make the following bold prediction: Kelly will rank in the top 20 this time next year.
4. It's never ending
Jason Mercier, who recently dropped to second in the GPI Top 300, will probably soon forget 2012. Mercier's largest cash on the live circuit this year is for $80,460, which he earned for finishing third in a $5,000 side event at the PokerStars Caribbean Adventure. Mercier reached one final table during the WSOP, finishing eighth in the $10,000 Pot-Limit Omaha World Championship, earning $72,132.
These two cashes are definitely respectable, but when you consider that Mercier has bricked multiple six-figure events and the $1 Million Big One for One Drop, a handful of five-figure scores won't suffice.
Perhaps Mercier is gearing up for a late surge in 2012 though, because on Sunday evening, he took down WCOOP Event #64: $10,300, earning $253,425 and his second-career WCOOP bracelet.
The tournament attracted a total of 93 players, including Team PokerStars Pros Alex Kravchenko, Eugene Katchalov, George Danzer, Theo Jorgensen, the aforementioned Grospellier, and two huge names who made the final table; Mercier and Daniel Negreanu.
Two members of Team Online went very deep. Anders "Donald" Berg (7th), and George "Jorj95" Lind III (8th) just missed the final table.
In the end, Mercier and Negreanu were three-handed with "Gozoboro," and just when you thought "it" would end, "it" didn't. Negreanu was crushed during a round of limit hold'em, eventually falling to the hands of "Gozoboro," who had the chip lead at the start of heads-up play. Mercier quickly snatched the lead however, and finished him off in a hand of razz.
Mercier immediately hopped on a flight to Cannes, France for the World Series of Poker Europe, and is hunting for his third-career WSOP bracelet. Good luck to all who oppose him — he's dangerous when he has the taste of mashed potatoes still lingering in his mouth.
5. Full Tilt relaunch
On Monday, PokerStars sent out a press release detailing the relaunch of Full Tilt Poker and the repayment plan for "rest of world" customers. FullTiltPoker.com is set to launch during the first week of November, and "rest of world" players who live in countries not named France, Spain, Denmark, Estonia, Belgium, and Italy can either play or withdraw their funds.
Players in France, Spain, Denmark, Estonia and Belgium will be paid on PokerStars once they "pair" their PokerStars account with their Full Tilt account.
Players in Italy will have to wait until PokerStars strikes a deal with regulators.
In the United States, there is no news to report. The U.S. Department of Justice, who assumed all responsibility for repayment when they accepted $547 million from PokerStars, has not released any formal plan to pay back U.S. players. Like the Italians, the Americans will have to wait.
What's most notable about this press release is the "pairing" of PokerStars and Full Tilt accounts in the countries with their own PokerStars server. If PokerStars is capable of linking accounts in those countries, then they should be capable of linking them in other areas. This means that there could be inter-site transfer, which would benefit many players who want to play in different tournaments or cash games. This is pure speculation, but it's an easy connection to make.
It's amazing to think that customers will be playing on Full Tilt in just two weeks. More importantly, it's liberating to think that millions of dollars that were frozen will finally become available.
Follow PokerNews on Twitter for up-to-the-minute news.