Five Thoughts: Hellmuth Wins WSOPE Main Event, Ivey Owed £7.3 Million, and More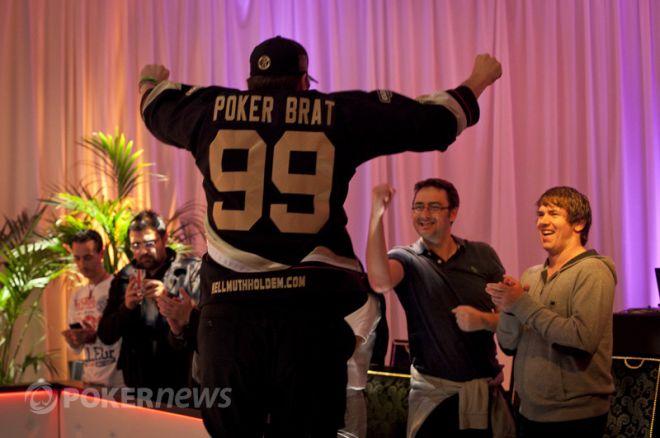 In the past two years, while poker, particularly no-limit hold'em, has morphed into a "solved" game where there is a set of widely accepted "standard" plays, the most un-standard player in the world is crushing.
His name is Phil Hellmuth.
Over the past two years, Hellmuth has recorded 16 World Series of Poker cashes, has reached seven final tables, and won two more bracelets. The self-proclaimed Poker Brat earned No. 13 in Cannes, France, last week when he took down the €10,000 Main Event, earning €1,022,376 ($1,333,841). It was his third career seven-figure score — prior to the 2011 $50,000 Poker Players Championship, Hellmuth had never earned more than $755,000 in a single event.
Best of all, if Greg Merson fails to win the WSOP Main Event later this month, then Hellmuth will be crowned the 2012 Player of the Year.
Hellmuth proved me wrong this summer in Event #18: $2,500 Seven Card Razz, winning his first ever non-hold'em bracelet. Ironically, I covered the event first hand, and I am very happy to have been wrong. Poker is a lot more fun when the greats are playing great, and don't be mistaken — Hellmuth is one of the greatest ever.
1. Hellmuth ships the WSOPE Main Event
The $1 Million Big One for One Drop has rendered the all-time money list useless, but amidst the super high roller controversy, the Hendon Mob created a new list last year: an all-time money list that excludes invitational events and buy-ins of more than $50,000.
Hellmuth, who is now ranked third on the all-time money list, thanks to a fourth-place finish in the One Drop, ranks second. Here's the top five:
| Rank | Name | Money |
| --- | --- | --- |
| 1 | Michael Mizrachi | $13,879,915 |
| 2 | Phil Hellmuth | $13,851,965 |
| 3 | Daniel Negreanu | $13,424,147 |
| 4 | Phil Ivey | $12,510,810 |
| 5 | Jamie Gold | $12,220,468 |
If you include invitational events, Hellmuth ranks No. 1, finishing third in the 2005 WSOP Tournament of Champions and earning $250,000.
After winning his 13th bracelet in Cannes, Hellmuth was justifiably ecstatic, but he was also introspective. While speaking with PokerNews' Sarah Grant, he admitted that the fame may have gotten to him a little bit.
"When you start reading the press, and you start listening to people, you know they want your autographs everyday. Pictures and stuff like that. Then you start to think 'alright I'm kinda cool,' but you have to ignore all that. You have to keep your head in the game. You know [Daniel] Negreanu was criticizing me for a couple of years there, and he was right. You know, my head just wasn't where it needed to be."
Rather than saying "Me, me, me. I have 13 bracelets and a five-bracelet lead over Phil Ivey and Erik Seidel," Hellmuth was open and honest about his lackluster performance on the felt in 2009 and 2010. Prior to the 2011 WSOP, it looked like Hellmuth was fading, but upon further review, those two years simply look like anomalies.
| Year | Money Earned |
| --- | --- |
| 2012 | $4,394,823 |
| 2011 | $1,652,521 |
| 2010 | $427,656 |
| 2009 | $177,243 |
| 2008 | $1,156,544 |
| 2007 | $932,324 |
| 2006 | $1,271,502 |
| 2005 | $845,810 |
Hellmuth was very close to having two massive scores in 2010 — he finished sixth in the World Poker Tour Bay 101 Shooting Stars, and seventh in the WPT Championship.
Love him or hate him, the Poker Brat is here to stay. Now the question is will he reach his target of 24 career bracelets? I'm leaning toward no just because winning nine more bracelets sounds absurdly difficult, but at the rate he's going, it's far from impossible.
2. Ivey owed £7.3 million
Over the weekend, the Daily Mail reported that Crockfords, the oldest casino in London, is withholding £7.3 million (about $11.7 million) from Phil Ivey. In August, Ivey was playing Punto Banco, a variant of baccarat, in the casino, and went on a heater. He requested that the casino wire him his winnings and they refused. The casino then began investigating his win, interviewing casino workers to make sure that Ivey wasn't colluding, but no evidence has been publicized.
Ivey has yet to be paid.
The Daily Mail also reports that Ivey was with a "beautiful" Asian woman during his stay. This woman was allegedly suspended at a separate Mayfair casino, and is quite possibly the reason for the red flag.
CNN is now reporting that the British Gambling Commission is involved.
According to a very reliable source, Ivey's camp — you know, the ones who post the bogus tweets on the @PhilIvey Twitter account — wants to know what the "vibe" is like in the poker world in the wake of this story. That is very interesting, because if I was Ivey, and I was innocent, I would be front and center demanding my money.
Even if Ivey only had a third of his own action, this two-day Punto Banco run would be worth more money than he earned in 2005 playing poker ($3,733,426) — his best year ever.
Ivey has declined to comment on the issue, and his mother told the Daily Mail, "He never mentioned it. It can't have been very important to him, or I think he'd have mentioned it."
This is all really weird, but until there are more facts I refuse to speculate.
3. Lederer returns
On Monday night, a thread popped up on TwoPlusTwo titled "Howard Lederer spotted in Bobby's Room." It was accompanied by a grainy photo of Lederer at the table, and the story was later confirmed by Brian Pempus who tweeted: "Howard Lederer playing black-chip game in Bobby's Room w/ Brunson, Elezra, Schulman (no Ivey). Friendly game — lots of laughter and chatter."
Also, according to Pempus, a dealer hugged Lederer because it was his first session since Black Friday.
On Tuesday night, another thread appeared named "Howard Lederer in Ivey's Room." This story was also confirmed by Pempus.
It's evident that now, after the sale of Full Tilt Poker to PokerStars and the release of the Lederer Files, that Lederer feels that he is no longer excommunicated from the poker world. He's partially correct, Huck Seed, Doyle Brunson, Eli Elezra, and other people that consider Lederer to be a friend will have no problem playing with him, but don't expect to see Lederer at Festa al Lago in the next few days — he's not ready for that quite yet.
However, I wouldn't be shocked if Lederer participated in the 2013 WSOP. May is seven months away, and by that time the new Full Tilt will be fully operational, rest of world players will be fully paid, and perhaps American players will start to see some of the money that was previously frozen on the site. Likewise, Lederer shouldn't expect too much confrontation — his sister, Annie Duke, who reneged on an epic $1 million freeroll, faced very little opposition outside of a small spat with William Reynolds.
Lederer will always receive hate on forums and on Twitter, but he will, at one point, fully return to the poker community. Then we will see just how hateful people are.
4. Full Tilt receives license
On Tuesday, the Rational Group announced that Full Tilt Poker has been granted a license by the Isle of Man Gambling Supervision Committee (GSC). After the news broke, I had a chance to talk with Steve Brennan, the CEO of the GSC, and I was very comforted by what I heard.
Customers of Full Tilt Poker need to know two major things: 1) there was a clean, complete break between the brand and management, and 2) in order to obtain and retain a gaming license on the Isle of Man, operators must separate player funds.
Brennan was very clear when he told me that the only things the new Full Tilt kept from the old Full Tilt were the software, the hardware, and the brand. That's it. He also made the point that the GSC can do nothing regarding Full Tilt's history — the only thing they can do is understand what happened.
They do. Don't forget that PokerStars was affected by Black Friday as well.
The mandatory segregation of player funds is an absolute blessing. According to Brennan, politicians think it's necessary to protecting the banking and insurance industries on the Island. Thus, they are very cautious when it comes to online gaming, and player funds must be protected. This is a win-win for all parties involved, especially the players, who will not be vulnerable like they were with the old Full Tilt.
If you choose not to play on Full Tilt for personal reasons, then more power to you. Too few people take a stand and stick with it nowadays. However, don't boycott the new Full Tilt because you don't think it's safe. The GSC is no joke, and your money will be segregated.
5. Haralabob calls Ray Bitar a "buffoon"
Early Wednesday morning, Haralabos Voulgaris, a former professional poker player who is considered to be one of the best NBA handicappers in the world, posted a blog post titled "Heroes and Villains in Poker." In it, Voulgaris admits that he almost bought 2 or 3 percent of Full Tilt Poker, but after meeting with Ray Bitar he was very turned off.
"To me Ray [Bitar]'s lack of sharpness wasn't really the issue. The issue was that I kind of felt he might have been actually been dumb. I even mentioned this to Howard but I am not sure if I used the term 'dumb' or some other derogatory dismissive term. In the end I decided that I wasn't really interested in doing any other non sports betting work at that time, and I was not going to pay a markup to invest in what was at best a grey area gaming company headed by a (hardworking) Buffoon."
At least Haralabob capitalized "Buffoon."
Using reports from Full Tilt insiders, Voulgaris estimates that, by not investing, he missed out on approximately $10 million. However, even though he didn't have money tied up on Full Tilt, nor did he have a piece of the company, Black Friday still affected him because Erick Lindgren owes him money.
Voulgaris continues to bury Lindgren, as he has since Lindgren's fantasy football debts were publicized on TwoPlusTwo, saying that "At the time of Black Friday, Erick had paid off roughly 65% of his loan (non including interest)."
Voulgaris' first-hand account of Bitar is brutally honest, but his story is very important. Unlike Negreanu who champions the anti-Lederer, Chris Ferguson, and Bitar parties, and Lederer, who obviously worked side-by-side with Bitar, Voulgaris is an independent third party. He doesn't have a horse in this race, and his moral compass is intact — there are surely people who would've preferred that the Full Tilt gravy train kept on chugging, despite the backlog, because they wanted to get paid.
Voulgaris is not that scummy.
Also, rather than completely bashing Negreanu for arguing in Lindgren's offense, he compliments him on his loyalty. Voulgaris also says Negreanu is unquestionably a good person: "He seems like the kind of person who would rather starve than stiff someone."
Voulgaris is immeasurably bright, and his views and opinions tend to always be spot on. I strongly suggest you read the entire post and follow him on Twitter.
Follow PokerNews on Twitter for up-to-the-minute news.