Inside Gaming: Atlantic City's Struggles Continue, Parx Passes Borgata, and More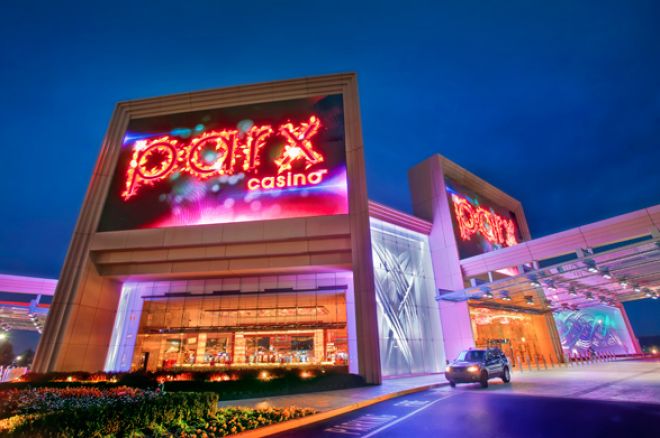 In this week's edition of Inside Gaming, February casino data shows beginning of post-Sandy rebound, Parx surpasses Borgata as the most profitable poker room in the area, the American Casino & Entertainment Properties LLC reports their fourth quarter earnings from 2012, and Massachusetts Gov. Deval Patrick signs a new deal with the Mashpee tribe.
Restore the Shore
According to the Press of Atlantic City, AC casino wins in February totaled $212 million, an increase of $6.8 million from January. This increase is normal, and typical for the season, but with widespread storm damage still affecting the Northeast, casino officials are very pleased.
"I'm keeping my fingers crossed," said Tony Rodio, head of the Casino Association of New Jersey and president of Tropicana Casino and Resort. "I'm hoping we get Sandy completely behind us."
In October, when the storm hit and there was a five-day shutdown across Atlantic City, gambling revenues dropped a record 24% compared to the previous month. That's more than three times the six-year average (7%) drop in gambling revenues between September and October.
Rodio knows that February's return will not be solidified until summer is upon us. If the numbers continue to grow when the whether gets warmer, then casino officials will truly know whether or not Sandy's effect is waning.
There's also the issue of increased competition in the greater New York area. In the past, Atlantic City executives had enough troubles battling it out with one another, but now Parx Casino, Sugar House, Harrah's Philadelphia and other Pennsylvania gaming establishments are a huge threat. In 2012, casinos in the Keystone State out-gained casinos in the Garden State by an estimated $160 million.
Casino gambling is on the rise in Maryland, and the state of New York may join the party as well. That could put a stranglehold on a large part of Atlantic City's market share.
When compared to February 2012, Atlantic City's gambling revenues are down almost 13 percent. Despite the uptick from January, there is still room for improvement, and the coming months are paramount for the future of Atlantic City.
Parx > Borgata
According to Philly Gambles, in February, Parx's poker room generated $1.53 million in revenue, besting rival Borgata, which generated $1.42 million. The two have been neck-and-neck for the better part of a year, with Borgata always edging out Parx, and this is the first time ever that the Bensalem-based casino finished a month in the top spot.
In September, Parx brought Matt Glantz aboard as the poker room ambassador. Glantz, who has over $4.2 million in career live tournament earnings and has been a staple in the largest limit games on the East Coast for many years, happily accepted the position because of the casino's potential and the proximity to his house.
"I saw the potential in this very young, two-year-old poker room," Glantz told PokerNews. "The location can't be beat."
Glantz hit the ground running and started to implement a myriad of changes straight away.
"Since coming aboard in September, we've made drastic improvements to the room much faster than I had anticipated," Glantz said. "In my opinion, we're now the most player-friendly poker room in the country. We currently have the fourth-busiest poker room in the United States, but I still feel like we can do better. We have so much room to grow."
The changes implemented by Parx include a full kitchen with delivery to the tables, $59 hotel rates seven days a week at neighboring hotels for poker players, free high-speed WiFi, a Big Stax Poker Series every three months (the next one is May 8-20), and a large selection of games are spread across the room.
Everyone knows that no-limit hold'em is both the Cadillac of poker and profits, but Glantz is staying true to his roots and focusing his efforts on mid-to-high-stakes limit games as well.
"High-stakes limit games are running less frequently down by the shore, and many have told me that they're becoming less fun," Glantz admits. "At Parx, the high-limit action has been picking up. This past Tuesday, we had a $75/$150 H.O.E. game, a $150/$300 H.O.R.S.E.T. game, a $200/$400 B.E. game, and a few $10/$10 no-limit hold'em games running concurrently. My goal is to recreate that high-limit atmosphere that so many loved before."
While Glantz is excited about being the top poker room in the area, he doesn't care about any rivalries. He simply wants to grow the game.
"It's great that this past month we were number one in the area, but my real focus is not necessarily to have Parx take over a huge percentage of the business in the area from other poker rooms," Glantz said. "My true desire is to grow the popularity of our game in the region so there can be a much larger pie for all of the neighboring poker rooms to share."
American Casino & Entertainment Properties LLC Reports Fourth Quarter Losses
American Casino & Entertainment Properties LLC (ACEP), owners of Stratosphere Las Vegas, Aquarius, Arizona Charlie's Decatur and Arizona Charlie's Boulder reported a net revenue of $79 million for the fourth quarter of 2012. This is a 3.1% decrease from 2011 ($81.5 million). ACEP also reported a fourth quarter net loss of $8.3 million compared to a net loss of $7 million in 2011.
ACEP believes that they're fourth quarter revenues were, "impacted by softness in hotel occupancy and ADR at Stratosphere, and lower gaming revenues in the Las Vegas local market. In addition, increased expenses had an impact. During the fourth quarter, our repair and maintenance expenses increased $665,000 due to ongoing projects at Stratosphere, Aquaries, and Bolder. In addition, we wrote off $775,000 from our cancelled debt offering and $81,000 for various property improvements we do not expect to complete."
ACEP is looking forward to future revenues from the newly opened acePLAYpoker.com, and McCall's Heartland Grill replaced the Top of the World restaurant at Stratosphere.
According to Vegas Inc, Ned Martin, chief financial officer for ACEP, believes that free-play poker site is a good marketing tool, but there are no immediate plans to run in for profit.
Stratosphere's net revenue decreased 5.1% in the fourth quarter of 2012, and $300,000 was spent on closing Top of the World and training the staff for McCall's Heartland Grill. ACEP believes that McCall's Heartland Grill was not as efficient as it will be over time. They expect the revenue to build.
Arizona Charlie's net revenue also decreased 5.1% in the fourth quarter, with most of the decline taking place on property. Bingo revenue decreased 58% due to a lower hold percentage.
Fourth quarter revenues at Aquarius were $21.2 million, a 2.9% increase from 2011.
A New Deal
According to the Associated Press, Massachusetts Gov. Deval Patrick and Mashpee Wampanoag tribal chairman Cedric Cromwell signed a compact on Wednesday. It replaces a previous agreement that would've forced the tribe to pay 21.5% of gambling revenues to the state.
Under the new agreement, the tribe would pay 17% of gambling revenues of its proposed casino in Taunton, Massachusetts to the state. The share would drop to 15% if a slots parlor opens in the southeastern region of Massachusetts, and to zero if a commercially developed casino is built.
If the casino in Taunton is the only one built in the state, the tribe will be forced to pay 21% of their gambling revenue.
"We are pleased to see this next step in expanded gaming take place and I urge the Legislature to ratifiy the agreement quickly," Patrick said. "A gaming facility will bring needed jobs and economic opportunity to the region."
The Bureau of Indian Affairs has 45 days to sign off on the new compact. Cromwell believes it will be approved.
"We look forward to breaking ground in the next year on a development that will bring thousands of jobs and significant economic benefits to our tribe, the people of Taunton, and the entire Southeastern Massachusetts region," Cromwell said.
The revised compact has a term of 20 years, and includes provisions that would assist tribes in securing new hunting and fishing rights. Some believe these provisions fall outside of the scope of gaming issues.
Commercial developers, including KG Enterprises, strongly object to the new pact, and are urging lawmakers to open Southeastern Massachusetts to commercial gaming applicants, as it has in the other two regions.
If the tribe encounters further delays, certain southeastern law makers support allowing commercial bidders to develop in the region.
Photo courtesy of VisitPhilly.com.
Get all the latest PokerNews updates on your social media outlets. Follow us on Twitter and find us both Facebook and Google+!