Exclusive CasinoGrinder $1,000 Slot Tournament at Spin Palace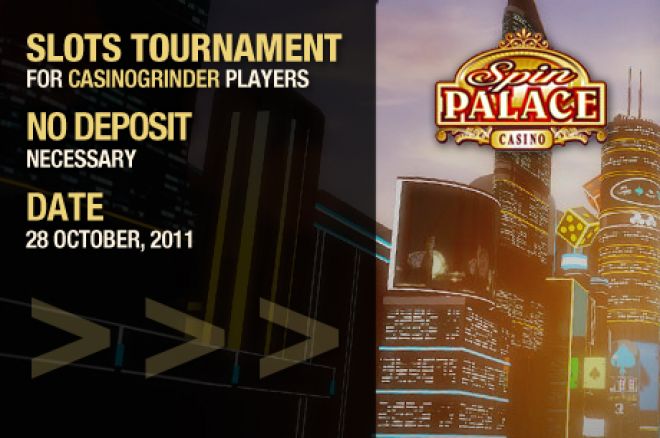 Play in the exclusive CasinoGrinder slot tournament freeroll at Spin Palace for your chance to win a share of a free $1,000 prize pool.
The excitement of a slot tournament is unrivaled, with the fast-paced action keeping players on the edge of their seats as they try to accumulate as many coins as they can. Thanks to CasinoGrinder, you will be able to feel the adrenaline of a slot tournament by taking part in the exclusive freeroll tournament held at Spin Palace.
The Exclusive CasinoGrinder Spin Palace Slot Tournament
To qualify to play in the exclusive slot tournament, players need to register for a Spin Palace account through CasinoGrinder before 23:59 GMT this Sunday, Oct. 23.
Once players are fully registered, they can begin warming up for the slot tournament freeroll, which will commence on Oct. 28 at 1900 GMT and continue until Oct. 30 at 1900 GMT. If there are less than 100 players who take part in the tournament, the prize pool will be $500; however, the tournament is expected to have more than 100 players and will therefore feature a very generous $1,000 prize pool!
How To Win The Spin Palace Slot Tournament
The tournament will be played on the "Thunderstruck 2" slot machine and participating players can then play anytime between Oct. 28 at 1900 GMT and Oct. 30 at 1900 GMT. Players will begin the tournament by sitting at the Thunderstruck 2 slot with 6,000 in starting coins and will then have five minutes to earn as many coins as possible. However many coins a player has at the end of the five-minute period will be logged as their tournament score and will be posted on the leaderboard where the highest score will win the tournament.
The best part about this tournament is that the first five-minute tournament session with 6,000 starting coins is absolutely free to enter, giving players the chance to win the tournament with a zero dollar outlay. There really is nothing to lose, so players may as well take a shot at this fantastic offer!
If you want to maximize your chance at winning the slot tournament and are not happy with the score you received during your first free tournament session, you will have the chance at an optional rebuy. The rebuy costs $10 and players will get another 6,000 coins and another five-minute session to log the highest score they possibly can to ensure they give themselves the best chance to win the tournament. If you continue to be unhappy with your score, do not fret — rebuys are unlimited!
To add to the fast-paced excitement, there is also an option of an add-on during your five-minute tournament session. The add-on will allow players to purchase an additional 6,000 coins for $10 during their five-minute session, and the add-ons are unlimited. This gives players the potential to post huge tournament scores and ensure the best chance at sitting atop the leaderboard.
What: Exclusive CasinoGrinder slot tournament freeroll!
Where: Spin Palace
Registration: Players must register at Spin Palace before 23:59 GMT on Sunday Oct. 23.
Tournament period: Starting: Oct. 28 at 1900 GMT; Ending: Oct. 30 at 1900 GMT
Slot Machine: Thunderstruck 2
Starting Coins: 6,000 (first 6,000 free with optional rebuys and add-ons available for $10)
Tournament Session Time: Players have 5 minutes to accumulate as many coins as possible.
Prize pool: $1,000 (if more than 100 participants); $500 (if less than 100 participants
Players can try Thunderstruck 2 at CasinoGrinder before they register for the tournament and full terms and conditions of the Spin Palace Slot Tournament can be found at SpinPalace.com. Don't miss out!
Don't forget that not only are CasinoGrinder players eligible for fantastic exclusive offers like this slot tournament but are also eligible for the best casino deposit bonuses such as the 100% up to $150 first-deposit bonus on offer at Spin Palace.