Last Chance Sattelites now Running for the $25K PokerNews Showdown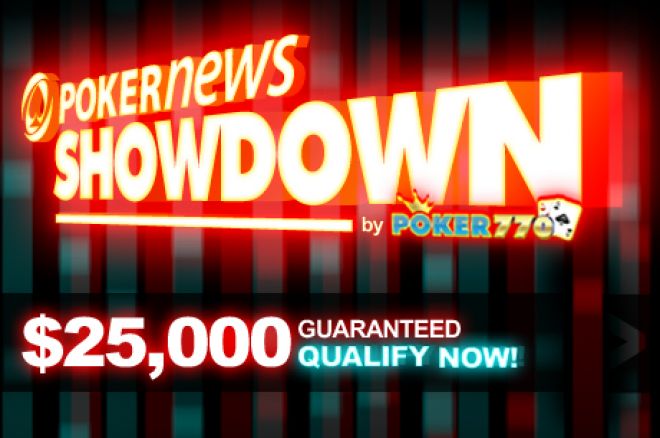 Download Poker770 now and satellite into the PokerNews $25K Showdown for free to claim your share of the juicy guaranteed prize pool!
Showdown Just Days Away
If you want a chance of winning your share in a guaranteed $25,000 prize pool, be sure to head over to Poker770 at 2100 CET this Friday (Oct. 28) and take part in the exclusive $7.70 Rebuy event to have a chance of becoming the winner of the first ever PokerNews $25K Showdown.
The event is an exciting $7.70 rebuy tournament and features a massive $25,000 guaranteed prize pool. With the field capped at 3,000 players and rebuys limited to 10 per player plus one add-on, we can tell you with much confidence that there is almost certainly going to be an overlay. Imagine turning less than $10 into a large chunk of $25,000. The only better feeling would be turning a freeroll into such a large prize and that's exactly what you could do thanks to Poker770.
Qualify For Free Before Friday
You could turn a freeroll into thousands of dollars thanks to the daily PokerNews $25K Showdown qualifier freerolls on offer at Poker770 and with only a few days left to satellite for free, be sure to hit tables asap. The daily freerolls take place at 1600 CET each day and give away a guaranteed 10 seats. That's a minimum of 30 seats to be given away before this Friday!
If you're an Australian player you will have extra chances to take down a free seat thanks to the Freeroll for Australian players. The last Australian targeted freeroll takes place at 1100 CET today and will also give away a guaranteed 10 seats.
If you don't manage to lock up a seat for free in one of the freerolls, don't stress as you could turn less than $1 into a PokerNews $25K Showdown seat in the daily cheap-roll qualifiers. The cheap-rolls take place each day at 2100 CET so be sure to take to the tables over the next couple of days and lock up a Showdown seat.
Overlay Imminent This Friday
We know that an overlay is almost a lock in the PokerNews $25K Showdown because in July PokerNews and Poker770 offered players The PokerNews Giant, a $2 rebuy event which featured an equally ambitious $30,000 guaranteed prize pool. When the tournament was all over it was "NoobDomination," who was the biggest winner as the event ended up with a $15,000 overlay and awarded NoobDomination a massive $6,000 first place prize.
With the PokerNews $25K Showdown looking to go the same way as the PokerNews $25K Showdown, be sure to head over to Poker770 and start qualifying now as the massive event kicks off this Friday!
While it doesn't matter where players signed-up to Poker770, be sure to open a Poker770 through PokerNews so you will be eligible for all the PokerNews exclusive promotions that will take place in the future and while you're at it make sure you use the bonus code "PKRNEWSEN" when making your first deposit to receive a generous 200% up to €1,400 bonus.
If you experience any problems with this or any of our promotions, please contact our Ticketed Promo Support System.