Win a Seat in the PokerStars 10th Anniversary Sunday Million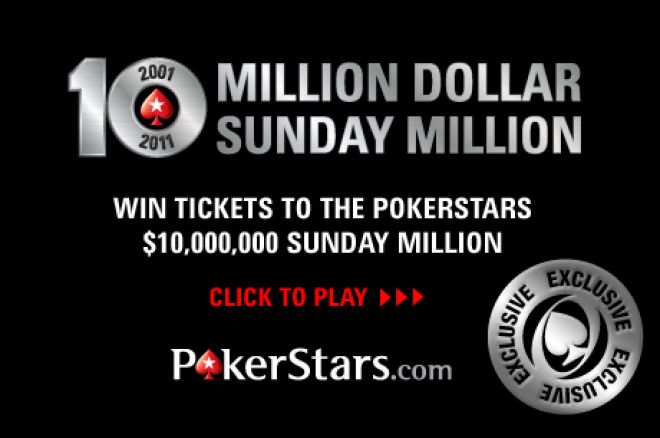 Download PokerStars for your chance to turn just a couple of dollars into a life changing $2 Million!
In celebration of their 10th anniversary, PokerStars is hosting a Sunday Million which features a $10 million guaranteed prize pool. Thanks to PokerNews, you could walk away with a share of that giant prize pool for only a $2+$0.20 investment.
10th Anniversary Special
The 10th anniversary Sunday Million is set to take place on Dec. 18 at 1430 EST (1930 GMT) and there is a life changing $2 million guaranteed to the eventual winner, while a mammoth $10 million prize pool makes the event one of the biggest of the year.
To help celebrate this monumental moment in PokerStars history, Pokernews will be hosting a $2+$0.20 satellite which will offer huge value to our players as several 10th anniversary Sunday Million tickets worth $215 each will be given away.
The PokerNews 10th Anniversary Special kicks off on Dec. 16 at 1400 EST (1400 GM) and will award the top five finishers with a seat into the $10 million guaranteed Sunday Million.
The satellite costs only $2+0.20 to enter and all players need to take part in the event is the password "PN10SPECIAL". In addition to the 5 seats on offer to the eventual winners, there will also be one bonus seat on offer.
Eliminate Team PokerStars
To add even more incentive for players to take part in our fantastic satellite, we can announce that Team PokerStars Pro Pat Pezzin will be playing in the event and there will be a bounty on his head.
The player who manages to send Pezzin to the rail in the tournament will be awarded a seat in the 10th anniversary Sunday Million. This seat is in addition to the 5 seats which will be awarded to the top 5 finishers and offers huge incentive so make you sure you don't miss out on this event.
PokerNews 10th Anniversary Special
Date: Dec. 16
Time: 1400 EST (19:00 GMT)
Buy-in: $2+$0.20
Password: "PN10SPECIAL"
Guaranteed Prize Pool: 5 Sunday Million Seats
Bonus Prize: Additional Seat awarded for the elimination of Pat Pezzin
If you would like to take part in the PokerNews 10th Anniversary Special satellite but don't yet have an account, be sure to sign up for a PokerStars account through PokerNews. Remember to "POKERNEWS.COM" and the bonus code "STARS600" and you can receive a very generous 100% up to $600 first-deposit bonus.
If you experience any problems with this or any of our promotions, please contact our Ticketed Promo Support System.