APPT Manila Main Event
Day 1a completed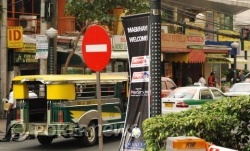 After a frantic final few minutes of action, we reached the conclusion to the end of Day 1a of the 2008 APPT Manila Main Event.

Today saw a healthy field of 149 players take to the felt with several notables, many locals and one world champion. In the end, approximately 40 players survived the day, and are likely to be led by Chang Yong Suk, who captured a massive pot very late in the evening against Eric Sia. He'll hold a narrow chip lead over Michael Shell, who was out in front for most of the day without being involved in too many big pots.

Other notable players that survived include David Saab, James Broom, Josh Pang Ang, Sunshine Samson, Michael Chrisanthopoulos and Wally Sombero.

Tomorrow we expect to see many of the big name professionals hit the felt, with the likes of Lee Nelson, JJ Liu, John Phan, Van Marcus, Eddy Sabat, Carter Gill and Celina Lin all scheduled to play. The action once again commences at 12:30 p.m. local time and we look forward to your company then!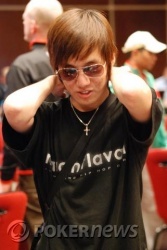 In some wild, end of the day action, Chang Yong Suk and Eric Sia went to war in a 120,000 chip pot!
All the chips were in preflop, with Sia moving all in with


and cringing when Suk made the call and tabled


.
The board ran out




and out of nowhere Suk became our chip leader as Sia crashes, left with only 12,000 chips.
Once again James Broom opens with a raise. Once again Rudy Lim reraises. Once again Rumil Tandoc puts in the third raise. Once again Broom folds, but this time Lim calls instead of shoving all in.
On the flop of



, Lim reaches for chips, grabbing roughly 10,000. As he reaches forward across the betting line, with the chips in his hand but before he can actually release the chips, Tandoc announces "all in". Lim quickly pulls his hand back, chips still in it.
Danny McDonagh is summoned for a ruling. The ruling is that since Lim appeared to have no intention of deceiving Tandoc, all that has happened is that Tandoc has acted out of turn. If Lim commits any less than the amount of Tandoc's all in, the raise will stand. If he moves all in himself for more than Tandoc's all in bet, than Tandoc will have an option again.
Lim considers what to do for about a minute before exposing his hand as


. He's done it to try to get a read of Tandoc, in direct violation of the TDA rules. In fact, McDonagh made a special announcement about exposed cards at the beginning of the day. As a result, after Lim finally folds his hand (about a minute later), he's assessed an eight hand penalty. Four hands of the penalty were served today, four will be served tomorrow.
After the hand, Lim asks Tandoc what he had. Not one to miss a chance for a needle, Tandoc replies "King jack."
The clock has been paused and dealers have been instructed to deal four more hands each before play will officially wrap up for the evening.
Follow the action: James Broom raises. Rudy Lim reraises. Rumil Tandoc puts in the third raise. Broom folds. Lim moves all in. When all of the chips are swept, roughly 30,000 is in the pot, and Tandoc has to call another 30,000 to go to showdown. He elects not to do so, folding instead and asking Lim what he had. Lim pushes his cards over to Tandoc, who is incensed to peek down at


.
The board read



. Action checked to Michael Shell, who bet 8,000 into a pot with roughly 15,000 in it. Shell's lone opponent agonized over his decision, going into the tank for three minutes. A clock was finally called. After a minute, Shell's opponent folded, allowing him to scoop the pot and increase his chip count to 110,000.
Level:

9
Blinds:

500/1,000
Ante:

100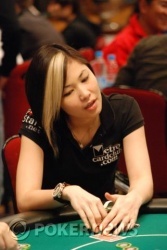 The action flop was



and all the chips went into the middle in a hand between Sunshine Samson and Kai Paulsen.
Samson held


for a very strong top pair and flush draw, as Paulsen quipped, "That's not the hand that I wanted to see", however he tabled the best hand with


.
The turn was the

and the river was the

, missing Samson as she slips down to about 4,000 chips with Paulsen now in good shape with over 30,000.
A massive three-way all in confrontation has seen Chang Yong Suk nearly triple up. A short-stacked player came over the top of an opening raise from Hyoungjin Nam but Suk made the call in the blinds. Nam then reraised enough to put Suk all in and he called for his tournament life.
The short-stacked player sheepishly tabled


, but had live cards against the

of Suk and


of Nam.
The crowd gathered around the table to watch the board run out




giving Suk the nut flush and a triple up to over 35,000 chips. Nam slips back to 25,000.