APPT Manila Main Event
Day 1b completed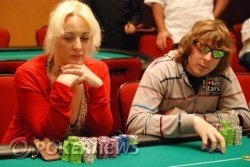 Another wild day has come to an end here at the Hyatt Hotel & Casino in Manila. There were some massive swings in both directions for several notable players. Van Marcus made an impressive run late in the day, riding a wave of pocket aces to one of the bigger chip stacks. Melvin "the Miracle" Matibag provided entertainment at his table and put some brutal beats on his opponents. Last season's champion, Brett Parise, also made it through to Day 2, although as one of the shorter stacks. His work is cut out for him tomorrow.

The ladies were well represented on Day 1b. Several of them, including Celina Lin and former Miss Earth winner Priscilla Meirelles, have made it through to Day 2 with above-average chip stacks. The best performance for the ladies, and the whole Day 1b field, was turned in by Tasha Ellis, who finished the day with a shade more than 100,000 chips. That will put her near the top of the combined leaderboard.

The tournament clock has been set to thirty minutes remaining in Level 9. That's where we'll pick up tomorrow, when the 38 Day 1a survivors and approximately the same number of Day 1b survivors will combine into a single field for the first time. PokerNews will be on the tournament floor at 12:30pm local time to provide live updates of all the Day 2 action. Join us then!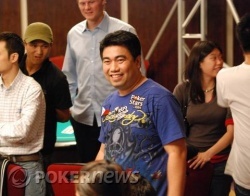 Melvin "the Miracle" Matibag is one of the rising stars of the Filipino Poker Tour, known for playing some creative cards. He open-raised all in from under the gun for almost 30,000. A player in middle position called with pocket kings and was in great shape against Matibag's


. But we wouldn't be writing about this hand if the kings just held up on an uninspired board. Matibag flopped an gutshot straight flush draw,


. He missed the turn

, but filled his straight with the river
, crippling his opponent down to just 800 chips.
"Ship it to me!" Matibag exulted. "Miracle! That's how we roll."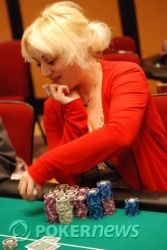 Tasha Ellis has just eliminated another player after flopping a set of deuces on a



flop. Her opponent was drawing very slim with his


for top pair, top kicker and didn't find any miracles on the turn and river.
It looks like Ellis is going to end the day as the chip leader as she has now cracked the 100,000 mark for the first time today.
The clock has been paused with 46 minutes remaining in the level. Dealers have been instructed to deal five more hands, at which point play will conclude for the day.
Korean Noh Tae Jun is making a late charge up the leaderboard with some aggressive all in plays.
On a recent flop of



he check-raised all in over the top of Lee Nelson's bet of 5,200.
"You like that move huh?" chirped Nelson as he went into the tank with a big decision late in the day. He eventually gave it up and Jun now sits with over 40,000 chips.
We've just commenced Level 9 which will be the final level of play for the day. We'll play 30 minutes of this level today, as this was the same amount that was played during Day 1a yesterday. All surviving players will then return tomorrow to be in the same room for the first time, where they will complete the rest of the level.
Level:

9
Blinds:

500/1,000
Ante:

100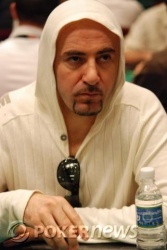 With three players already in the pot, the action was with Nali Kaselias in the big blind who decided to squeeze for all of his chips. It was 6,800 more to William Te Jr., who then decided to move all in from under the gun. The other two players folded and the cards were tabled.
Te Jr.:


Kaselias:


"A ten will do!" exclaimed Kaselias but when the flop came


he changed his wishes as he looked for another club to complete his flush. The turn delivered when the

peeled off to leave Te Jr drawing dead. The river was a meaningless

and Kaselias more than doubles up to 16,000 with Te Jr falling to 36,000.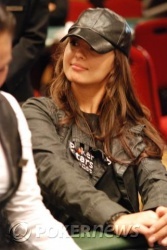 We've seen lots of unorthodox hands throughout this tournament, so it should come as no surprise that another one has gone down on Table 10. Celina Lin got the action started with a raise to 2,400 that Priscilla Meirelles called before a player in late position reraised to 6,000. That raise folded the small blind (who later said he fold pocket jacks) and an agonized Lin (who accidentally exposed her hand as she was mucking it, revealing pocket queens). Action passed back to Meirelles, who tanked for roughly two minutes before calling the raise. Speculation was rampant amongst the gallery as to what Meirelles could possibly be holding in order to make that call, knowing that Lin had folded queens and that the small blind had folded jacks.
The flop came down



. Meirelles checked to her opponent, who nervously bet 8,000. Meirelles debated the action for over a minute before mucking her hand.