APPT Cebu Main Event
Day 3 completed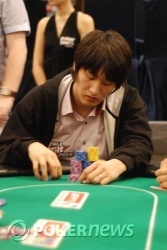 After almost 7 levels of play to the minute, we've reached our final nine players, to set the final table of the PokerStars.net Asia Pacific Poker Tour Cebu.

The play differed in tempo across the day. We started out with the usual rush of bust-outs that occurs after the bubble has burst, but then things slowed dramatically. The snails pace continued until the final two hours of the day, where we once again had a string of eliminations to bring us up to the final table.

The sole local representative at the final table will be Mark Pagsuyuin. He'll enter the final table seventh in chips with 497,000.

The chipleader Sim Somyung has 1,442,000. His nearest rival is David Hilton with 995,000. Amazingly, two New Zealanders - Kevin Clark and Phillip Willcocks, possibly the only New Zealanders in the field, will line up amongst our final nine.

The counts for all remaining players and their seating order around the table are as follows:

Final Table

Seat 1: Mark Pagsuyuin (497,000)
Seat 2: Sim Somyung (1,442,000)
Seat 3: David Hilton (995,000)
Seat 4: Terry Fan (610,000)
Seat 5: Alexandr Tikholiz (231,000)
Seat 6: Phillip Willcocks (791,000)
Seat 7: Dong-bin Han (862,000)
Seat 8: Nick Pronk (563,000)
Seat 9: Kevin Clark (191,000)

You can join us for all the action at 12:15pm (GMT+8) tomorrow. Until then, goodbye!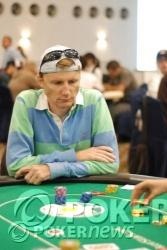 Just a short while after Jo Ker's elimination, Oleg Poluzhnikov and Mark Pagsuyuin got it all-in pre-flop.
Poluzhnikov:


Pagsuyuin:


The board did not improve Poluzhnikov's hand, and a decisive

came on the river to eliminate him and give Pagsuyuin a big boost in chips for the final table tomorrow.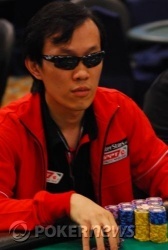 Jo Ker, who has been in involved in many big pots today, got it all-in pre-flop against Dong-bin Han. Unfortunately, Ker's pocket jacks were no match for the pocket aces that Han tabled.

Things only got worse on the flop when an ace appeared, and the runner-runner jacks that Ker needed did not show up on the turn and river.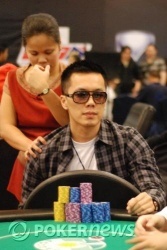 Nam Le's renewed lease on tournament life didn't last very long. He was quickly all in again, this time with

. Action passed to the last Filipino in the field, Mark Pagsuyuin, who attempted to take Le out with


.
The partisan pack of Filipino onlookers started chanting for hearts and got two on the flop,



. A third heart hit the turn,

, to seal the hand for Pagsuyuin and eliminate Le from contention just short of the final table.
Pagsuyuin now has more than 500,000 chips.
Nam Le moved all with


in for his final 240,000 and was called by Nick Pronk with


.
The


missed Le, as did the

river. He would be staring down the barrel of elimination, until a
hit the river to put a straight on board, giving both players a chop of the pot.
Phillip Willcocks opened his button for 50,000. Next to act was small blind Nick Pronk, who re-raised to 100,000. Willcocks called.
Pronk made a big show of playing with his chips like he was going to make a bet on the



flop before checking to Willcocks. Willcocks then made a small stab at the 230,000-chip pot by betting 80,000. It was enough to get Pronk to fold.
Level:

21
Blinds:

10,000/20,000
Ante:

2,000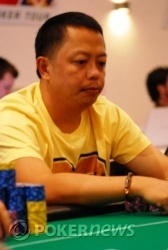 We are now down to just one local player in the main event.
Pre-flop, Sim Somyung raised to 40,000 and was called by Allih Bansuan.
The flop came



and Bansuan announced that he was all-in. Somyung instantly called and tabled


for the flush, which was superior to Bansuan's


for the flopped two pair.
The turn and river brought no help for Bansuan and he gets the boot in 13th place while Somyung wins a huge amount of chips to boost his stack.
Mark Pagsuyuin is now the last Filipino standing in this main event.
Kevin Clark needed help. After moving all in, he found his


up against the


of Alexandr Tikholiz.
The



flop was just what the doctor ordered, putting Clark out in front. After surviving the

turn and

river Clark doubled through to 205,000. With Tikholiz down to 365,000.
A congratulations is in order to our two Kiwis left in the field, Clark and Phillip Willcocks, with the New Zealand national football (soccer) team, qualifying for the FIFA World Cup for the first time since 1982, just a couple of hours ago.