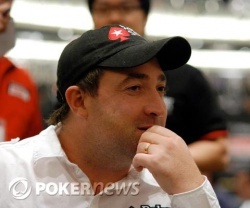 Vladimir Geshkenbein opened to 28,000 from middle position and Grant Levy made the call from the big blind.
Levy lead out for 38,000 on the



flop and Geshkenbein made the call.
The turn landed the repeating

and a bet of 84,000 followed from Levy.
"Will you show me if I fold?" asked Geshkenbein.
"Only cause you asked nicely" said Levy, and with that, Geshkenbein folded his


face up.
Levy sheepishly rolled over his

saying, "I thought Queen-high was ahead," as he raked in the pot to climb to 1,330,000 and snatch the chip lead from Geshkenbein.