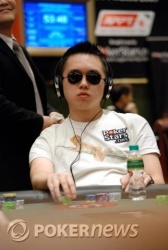 Van Binh Pham opened with a raise to 3,600 from the hijack, only to have Phil Lau essentially click it back to 7,500 from the small blind.
Once the big blind passed, Pham announced raise and mulled over amount before settling on 12,000.
Lau quickly pushed all in for over 30,000 and Pham made the call while he was still putting chips into the middle.
Lau:


Pham:


"What the hell is going on here?" commented Hui Chen Kuo who sat there in amazement.
Lau took the lead on the



flop and called for no Jack.
When the turn landed the

Lau stood up and screamed, "no Queen, Jack or club, no Queen Jack or club!"
No Queen or club would fall, but the

would to see Pham make his gutshot straight and send the Hong Kong native to the rail while climbing to 115,000 in chips.