APPT Macau Main Event
Day 3 completed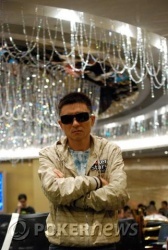 We've finally reached our final table of nine players. Coming back at 12:15pm local time tomorrow are:

Seat 1: Dermot Blain (507,000)
Seat 2: Michael Kim (1,653,000)
Seat 3: Daoxing Chen (1,747,000)
Seat 4: Brandon Demes (578,000)
Seat 5: Stefan Hjorthall (454,000)
Seat 6: Dbinder Singh (696,000)
Seat 7: Darkhan Botabayev (1,455,000)
Seat 8: Jicheng Su (778,000)
Seat 9: Pontus Kers (491,000)

We'll see what adjustments, if any, the tournament staff make tomorrow to deal with the glacially slow pace of play practiced by Daoxing Chen. At some point tomorrow a new champion will be crowned, taking home more than US$500,000. Join us then!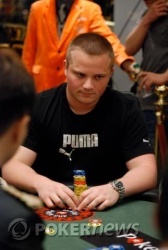 Darkhan Botabayev raised to 130,000 from the button before Daoxing Chen made it 300,000 to go from the small blind. Dane Lomas sat as the short stack of the field with around 220,000 and nearly 20% of those in the pot already as the big blind. He deliberated for a few moments before deciding this was the best spot for him to move his last chips into the middle. Botabayev folded flashing


.
Chen:


Lomas:


The board ran out





and Chen finds a king in the window to the roars of the rail as Lomas finally bursts a frustrating final table bubble, departing in 10th place for $22,887 in prize money.
With that elimination our final table is set! We'll have the redraw and end of day counts for you momentarily.
It seems hard to believe, but we've reached the 20k / 40k level without determining our final nine players. It seems undoubtable that the very slow pace of play on Daoxing Chen's table has contributed to this feat. The average stack at this point is 858,000, or only 21.45 big blinds.
Level:

24
Blinds:

20,000/40,000
Ante:

4,000
While Michael Collins was in the process of busting at the "speed" table, a huge hand was also going down at the "slow" table. Daoxing Chen limped into the pot, then called a raise to 110,000 made by small blind Brandon Demes. On an all-spade flop



, Demes led out for 125,000. For once Chen didn't take much time to call.
The turn was the

. Demes made a large bet, 225,000 total chips. Chen again did not take long with his decision, this time moving all in. Demes called with a sigh, knowing that he was probably behind.
Demes:


Chen:


Chen had flopped a queen-high flush and was in good stead to crack Demes' aces. He needed to avoid a fourth spade on the river and did so.
After Demes paid off Chen, he fell to 630,000. Chen meanwhile is up to 1.28 million.
With each table now five-handed, we are once again hand-for-hand until the next (and final) elimination of the night.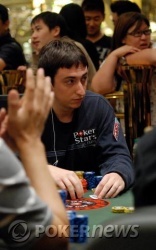 We may have reached the stage of the night where it's going to take a monster for someone to call an all-in raise. That's what Mike Kim was dealt. He opened for 70,000 from the button, then quickly called after Michael Collins moved in from the blinds for more than 400,000. Collins'


had run into Kim's


. There was no salvation for Collins after the board ran out





. He is the 11th-place finisher tonight.
Well, it's happened. Maybe about three hours overdue for our liking but finally enough is enough. After Daoxing Chen raised to 85,000 and Stefan Hjorthall shoved all in, Chen was given plenty of time to make a decision before the clock was again called. This time it was a 45 second clock. He timed out...again. What hand was he holding to give him such a "decision"? He flashed


.
Danny McDonagh had finally seen enough. Chen now only has a maximum one minute to act on EVERY hand. We now have a chance to get out of here this evening!
Mike Kim and Mike Collins have tangled once again. We caught the action on the river with Collins leading out with a bet of 200,000 on a board of





into the sizable pot but Kim snap-called.
Collins knew his
was no good as Kim flipped


for the flush.
Collins slips to 540,000 with Kim now up to 1.15 million.
On the "speed" table, Pontus Kers opened all in from under the gun for 168,000. Big blind Michael Collins got a count and then called with


. Kers turned out to have a par,


, and proceeded to flop a full house


. One blank card later Collins was drawing dead.
Kers is up to about 370,000 in chips.