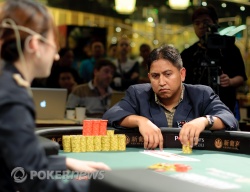 From the small blind, Victorino Torres raised to 150,000. Chong Cheong made the call from the big blind and the two were set to play another pot with each other. After the first three community cards came down the


, Torres fired 150,000 and was called by his opponent.
The turn card put the

on the board and Torres cocked back to fire again. His bet was worth 400,000 and it was enough to get a fold from Cheong. Torres is now at a booming 4.7 million chips and it looks as if it's his tournament to lose.