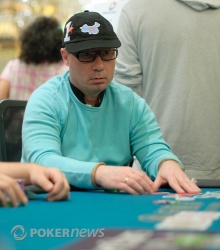 Wandering by the table where David Steicke is sitting, there's just an aura about it. One can just sense the power that Steicke has over the other players at his table as if he's the puppeteer manipulating them at will.
There was a flop of


laid out in the middle of the felt and Steicke was involved yet again. He checked his action over to his opponent. The player checked behind after taking some time to think about his decision.
The turn was the

and Steicke fired a bet of 5,000 into the middle. The pot at the time was just over 6,000. His opponent tanked for some time and then let his hand go, giving Steicke another pot. He showed the

for at least trip queens before raking in the pot.
On the next hand, Steicke saw a flop of


in multi-way action. Two players checked and then Steicke checked as well. The turn was the

and action checked to Steicke again. He fired 3,000 and the first player called. The other player folded.
The river completed the board with the

and the first player checked. Steicke took his time and then fired out 3,500. His opponent called and then mucked when Steicke turned over the

for trip jacks. More trips for Steicke means more chips and he's up just over 60,000.