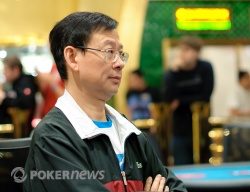 In the first of two disastrous hands for Samuel Aronov, he raised to 25,000, and John Chong called on the button.
Flop:



- Aronov bet 43,000, and Chong called instantly.
Turn:

- Aronov took another stab for 90,000. Another quick call from Chong.
River:
- Aronov gave up and checked, and Chong checked behind. All Aronov could show was pocked fours. Chong turned up


, and his flopped middle pair was enough for a giant pot.
The next hand, Aronov raised to 25,000, and Chong called once more. The flop came


, and Aronov bet 35,000. Chong snapped of the c-bet by moving all in. Aronov folded miserably, looking at the 210,000 left in his stack. Chong is now the first player over the 1 million mark.