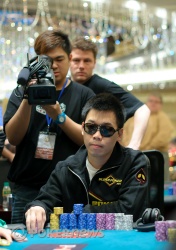 Elton Tsang and John Chong got themselves into a raising war preflop. Eventually, Tsang raised all in and Chong went into the tank. He wound up making the call and did so with a very surprising hand,

. Tsang held the


.
Chong got there in the flop and then added two pair on the turn as the board ran out




. Tsang was eliminated on the hand and while he was leaving the tournament area, tablemate Jonas Kronwitter yelled out, "That's how you play poker boys! Call it off with jack-nine!" Tsang finished in 33rd place.