Sponsored by:

Main Event
Day 3 completed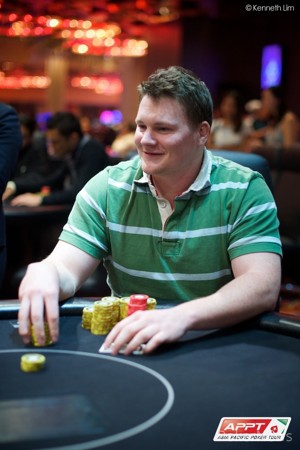 Day 3 here at the 2014 PokerStars.net APPT Macau Main Event has come to a close, and what an eventful day it was. What started as 51 players was slowly whittled down to the final nine after a lengthy 10.5-hour day.
When play began today, all of the remaining players were already in the money, guaranteed at least HK$38,000 for their efforts. Steve Yea would be the first player out when he moved all in for his last 13,000 in chips and was called by Jean Marie Peyron. His


would be out-flopped by Peyron's

on a



flop to see him hit the rail after no help on the turn or river.
Coming into Day 3, it was Daniel Demicki who had the most chips, holding a slight lead over Jiajun Liu and Hao Tian. Demicki would leave in 25th place, with Tian nine places later in 16th. Liu, though, was able to find himself as one of the remaining nine. He is lucky to still be around after getting it all in with pocket tens against Yat Wai Chen's aces and flopping a full house to survive, and he'll have 1.915 million heading into the final table.
Some prominent players who managed a deep run include Emi Hibuse (37th) and J.J. Liu (33rd) who were the only two females to make the money. Others were Day 1b chip leader Peter Chan (30th), Australian Michael Kanaan (23rd) and 2014 APPT Seoul runner-up Christian Haggart (12th) place.
Of course, what everyone wants to know is who is still in contention for the title. It will be Thomas Mcgarrity who will return tomorrow with the overwhelming chip lead, bagging up a huge 2.865 million. Mcgarrity was able to slowly chip away at the short stacks including Feng Wen Chen, who was eliminated in 10th place.
2014 APPT Macau Final Table
| Seat | Player | Chips |
| --- | --- | --- |
| 1 | Carlos Kuo Chang | 935,000 |
| 2 | Thomas Mcgarrity | 2,865,000 |
| 3 | Billy "The Croc" Argyros | 325,000 |
| 4 | Sailesh Verma | 405,000 |
| 5 | Jean Marie Peyron | 435,000 |
| 6 | Jiajun Liu | 1,915,000 |
| 7 | Chen Yen Han | 520,000 |
| 8 | Yat Wai Cheng | 875,000 |
| 9 | Andre Cyril | 1,545,000 |
Be sure to join PokerNews later on today as we bring you all the action from the final day of play here at the City of Dreams, Macau!
The final hand of tonight's play has seen Feng Wen Chen eliminated from the tournament as the final table bubble.
The action started with Thomas Mcgarrity moving all in for 2.5 million in chips, applying the pressure on both blinds. Billy Argyros got out of the way, but Chen made the call.
Mcgarrity:



Chen:


It was all but over when the dealer produced the


flop to give Mcgarrity trip deuces. The

got the crowd rowdy, as it gave Chen outs to a victory. However, the

completed the board sending Chen home in 10th place, HK$130,000 richer.
The



flop and the

turn was on the board and Thomas Mcgarrity bet 115,000 and was called by Billy "The Croc" Argyros. Mcgarrity bet 250,000 on the

river and after some table talk Argyros made the call. Mcgarrity showed


and took a nice pot, leaving Argyros short.
The Croc is back! Billy Argyros has just landed a big double up to now have some chips to do a little damage.
Action folded to Thomas Mcgarrity in the small blind and he announced all in to put maximum pressure on Argyros and his stack of 325,000 in the big blind. However Argyros squeezed out

and made a pretty easy call to have Mcgarrity in bad shape with an adventurous


.
The board was spread




to see Argyros climb to a more comfortable 700,000 chips while Mcgarrity is still in good shape with 1.45 million.
The hand started with Billy "The Croc" Argyros opening to 100,000 from under the gun. Feng Wen Chen was on the button and raised it up to 200,000. The decision fell back on Argyros who made the call and instantly turned his head to the side and checked dark.
The flop came down



and Chen immediately bet out 80,000 with the option now on him. Argyros looked back at the table and made the call. When the

dropped on the turn, Argyros again checked, and watched as Chen slid in a big bet of 300,000.
With only 330,000 behind, Argyros decided to muck his hand and wait for another opportunity to strike.
Level:

25
Blinds:

20,000/40,000
Ante:

5,000
Soo Jo Kim has become the tournament latest casualty, meaning we're one elimination away from the final table.
Kim's final hand started when Andre Cyril bet out 60,000 from the cut off. The decision fell to Kim in the small blind and he instantly moved all in for just short of 300,000 in chips. The big blind got out of the way, and Cyril called.
Kim:



Cyril:


Kim was behind from the start, and couldn't improve as the board ran out





to see him fall in 11th place.
The action started with Soo Jo Kim opening to 60,000 from the cut off before Jean Marie Peyron moved all in over the top for 485,000 in chips. The decision fell back on Kim who snap called and both players tabled their cards.
Peyron:



Kim:


The board ran out




to see Peyron hold with his pocket pair as he jumped over the one million chip-mark.
| | | | | | |
| --- | --- | --- | --- | --- | --- |
| Jean Marie Peyron | | | | 1,015,000 | 290,000 |
| Soo Jo Kim | | | | 325,000 | -475,000 |
2014 APPT Seoul runner-up Christian Haggart has been unable to go one better in this event after recently being eliminated from the tournament.
Carlos Kuo Chang got things started with a bet of 60,000 from under the gun. Christian Haggart was in the cut off, and opted to move all in for his last 195,000 in chips.
With the decision back on Chang, he thought for just a moment before making the call.
Chang:



Haggart:


The board ran out





giving Haggart nothing as he was sent to the rail in 12th place.