APT Macau Main Event
Day 2 completed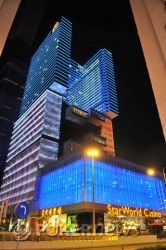 Sixty-seven players started today with dreams of claiming one of the eight seats at tomorrow's final table. One by one, those dreams were shattered. J.J. Liu knows that pain well -- she bubbled off the money despite the fact that the player on her immediate left had only a single 100-chip left in his stack when she was eliminated.

Once the money bubble broke, play proceeded at a tidy pace towards determining the final eight players. With the elimination of Michele Ferrari, we finally know who they are:

Casey Kastle - 456,000
Chong Wing Cheong - 454,000
Rober Karian - 419,000
Yevgeniy Timoshenko - 318,000
Quang Nguyen - 315,000
Julio Diaz - 315,000
Joon Hee Yeah - 160,000
Michael Pedley - 132,000

Play will start tomorrow with 47:36 left on the clock in Level 19. By the end of the day, one of these eight players will be $500,000 richer. Join us here at PokerNews.com at noon local time for updates on all of the action!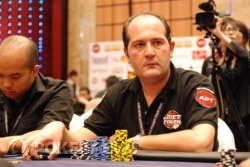 Michele Ferrari moved all in for 86,000 from early position and Casey Kastle flat called. Joon Hee Yeah tanked in the small blind but eventually folded as did Chong Wing Cheong in the big blind.
Ferrari:


Kastle:


The board fell





and Kastle's pair of tens held to eliminate Ferrari in 9th place for $22,500 in prize money. Our final table is now set!
Action folded to Casey Kastle in the small blind. He eyed the short stack of Michael Pedley and then raised to 200,000. Pedley peeked down at his cards and quickly called all in for a total of 120,000.
Kastle:


Pedley:

Pedley was in a dominating position, but wound up with only half the pot when the board ran out




. The dealer chopped the pot and everyone went back to waiting.
Level:

19
Blinds:

4,000/8,000
Ante:

1,000
Cards are back in the air.
The players are now taking a ten-minute break.
With the next player going home one place short of the official final table, play has predictably tightened. Most hands are raised preflop, with a reraise preflop then taking down the pot. We did have one three-way flop recently, but a single bet on the flop was enough to scare away all the competition.
The players have redrawn for the final table:

Seat 1: Casey Kastle
Seat 2: Michael Pedley
Seat 3: Joon Hee Yeah
Seat 4: Chong Wing Cheong
Seat 5: Yevgeniy Timoshenko
Seat 6: Michele Ferrari
Seat 7: Quang Nguyen
Seat 8: Julio Diaz
Seat 9: Rober Karian