Level:

16
Blinds:

1,500/3,000
Ante:

500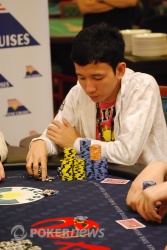 Pre-flop, the short stacked Andrew Vasilyev got it all-in with


and was looking good against caller Mike Takayama's


.
However, the number he was hoping not to see came out immediately as the brought



.
The turn and river blanked out and another player hits the rail.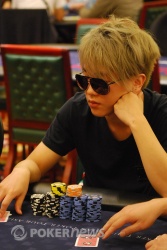 Pre-flop, Tao Jin made a raise to 5,500 and got a call from Dong Bin-Han. Action went over to Bryan Huang, who made a re-raise to 16,500 total.
Tao then decided to put his tournament life on the line and declared all-in for his last 63,300. Dong-bin decided to get out of the way but Bryan had other ideas, snap-calling and showing a dominating


against Tao's

.
It was looking good for Bryan as the flop came



. However, the turn and river brought the

and

, respectively, giving them both the same five-card hand and making it a split pot.
A few minutes after his son Brian was eliminated, Wally Sombero kept the family hopes alive by doubling up against chip leader Somyung Sim.
Pre-flop, he had his stack all-in with

and chip leader Somyung made the quick call with


.
The flop ran out




and Wally doubled to about 89,000.
However, the very next hand, Wally was on the other side of the coin flip as he got


all-in against the shorter-stacked Stephen Lim's


.
The board blanked for both players and Wally dropped back down to about 55,000.
Level:

15
Blinds:

1,200/2,400
Ante:

400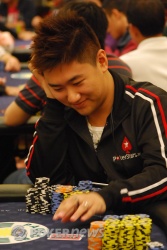 A father-son combo has just been broken up.
Under the gun, Bryan Huang raised to 6000. Reacting from the button, Sombero went all-in (34,500 chips) as Huang gamely called.
Sombero:



Huang:


The board blanked for Sombero who found the bitter end. Huang jumped to around 165,000 with the win. There is still one Sombero at the tables though and its now up to the father, Wally to continue the Sombero run.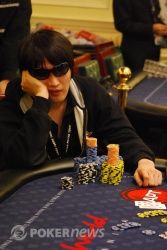 Day 3 is set to begin in a few minutes. There were originally 227 registrants and 37 have survived so far. With 10 seats for the final table at stake, we expect war at the RWM poker room!
Also, the top 27 players will be in the money so 10 players will have no choice but become the unlucky bubble players!
At the top of the heap is South Korean Somyung Sim with 350,800 worth of chips. One of Sim's accomplishments is making the final table in the 2008 APPT Macau.
And another accomplishment? He is one of the most successful players of the real-time strategy computer game StarCraft! Nicknamed "s.s.m~[SiLvEr] " in that virtual world, he placed second in a Starcraft League in 2006!
That said, we expect the battlecry of most players for today: Beat Silver!
We will see.
Main Event
Day 3 started