Event Info
| | |
| --- | --- |
| Prize Pool | 1,143,000 AUD |
| Players | 1143 |
| Players Left | 1143 |
Level Info
| | |
| --- | --- |
| Level | 27 |
| Blinds | 50,000 / 100,000 |
| Ante | 10,000 |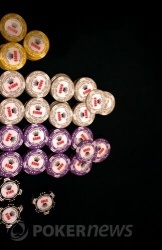 Matthew Ephraums - 4,080,000
Trung Tran - 3,770,000
Brendan Edmonds - 2,350,000
Brent Thomas - 1,025,000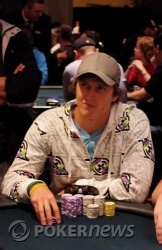 Brendan Edmonds fired out a bet of 180,000 on a


flop, Matthew Ephraums then check/raised to 400,000.
Without more than 30 seconds thought, Edmonds moved all-in, Ephraums rechecked his cards...and folded.
Brendan Edmonds opened for 160,000 from under the gun, only to see Brent Thomas call from the button before Matthew Ephraums four-bet it for another 400,000.
Trung folded from the big blind, Edmonds let his hand go and Thomas called and they checked a flop of



.
On the turn of the

, Ephraums fired out 400,000 and Thomas quickly threw his hand into the muck.
Ephraums hasn't been involved in too much action but he's certainly not going unnoticed, now on just over 4 million in chips while Thomas is reduced to around 1 million.
Tournament director Christian Vaughan has just put in another dealer in seat one to initiate the 'Speed Poker System' to try and speed things up.

For those unfamilar with how it works, while one deck is in play, the other dealer shuffles the other deck in preparation for the next hand.

Once the hand ends, the preshuffled deck is passed back to the dealer who pitches the cards out while the other deck is shuffled ... and so on and so on.

Thus, the dealing process is faster and more efficient, which should help move the game along!
Matthew Ephraums made it 175,000 from the cutoff but Truan Tran reraised to 400,000 on the button.
Ephraums called but then folded to another 400,000 bet on the



flop.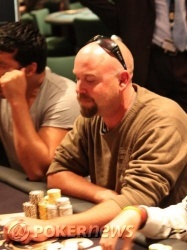 Trung Tran raised to 150,000 and Glenn Croft reraised all-in behind him for 950,000. Call.
Tran:

Croft:


Board



Down to just four players.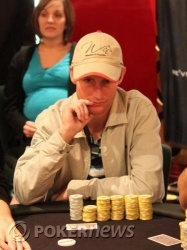 The action folded around to Brad Rawiller who made it 200,000 to go from the cutoff before Matthew Ephraums called from the small blind to go heads up to a flop of



.
Ephraums check-called Rawiller's bet of 250,000, then both players checked the

on the turn before Ephraums fired out 350,000 on the river

.
Rawiller gave it up and was left with just 630,000 which he moved into the middle on the very next hand with


but Trung Tran put in a protection shove to get the others out of the way before tabling
.
The board was spread





and Rawiller's wild ride has come to an abrupt halt.
Brendan Edmonds - 3,400,000
Trung Tran - 2,610,000
Matthew Ephraums - 2,230,000
Brent Thomas - 1,175,000
Glenn Croft - 1,170,000
Brad Rawiller - 1,070,000
The cards are back in the air!
Level:

25
Blinds:

30,000/60,000
Ante:

5,000