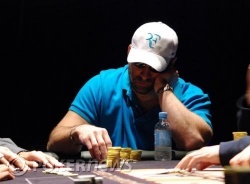 Steve Topakas was back at it with another all-in confrontation. This time he was up against the shorter-stacked Steven Friedlander. Topakas raised from the cutoff seat to 43,000 and then Friedlander moved all in from the small blind for 261,000. Topakas made the call and once again, the crowd of supporters rushed to the table along with the camera crew and media.
Topakas would be in a race his a healthy amount of his stack when his


was pitted against the two red sevens of Friedlander.
The flop came down



and Topakas picked up a gutshot to broadway along with a backdoor flush draw because he held the

.
The turn card was the

; a blank as far as Topakas was concerned.
The river card was the

and that didn't do it either. Topakas sent over the chips to double up Friedlander and was left with about 150,000.