High Roller
Day 2 completed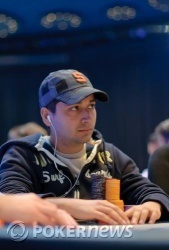 The middle day of the EPT Grand Final High Roller event has come and gone after twelve long hours. The eyes of the poker world were fixed firmly on the Main Event final table up on the television stage, but there was big money up for grabs down in the near corner of the room as well.

From a starting field of 113 runners, the final 41 were back in their chairs today and ready for the fight to the final table. It was a stacked field to start the day -- and it still is -- but a ton of notables fell by the wayside through the course of today's action. Among the casualties of this moving day were Team PokerStars Pros William Thorson, Rino Mathis, Leo Fernandez, Alexander Kravchenko, Chad Brown, and Bertrand "ElkY" Grospellier. Also making their exits shy of the money were Yevgeniy Timoshenko, Gus Hansen (who decided to forgo this day and instead blind off his ~60,000 chips), Antony Lellouche, Antoine Saout, and PokerNews' own Tony G.

When Luke Schwartz was eliminated in ninth place, the final table was set for tomorrow's run to the big money. Here's how the last eight will set up heading into the final day of EPT Season 6 tomorrow:

Seat 1: Dori Yacoub - 1,199,000
Seat 2: Tom Marchese - 909,000
Seat 3: Tobias Reinkemeier - 826,000
Seat 4: Sorel Mizzi - 770,000
Seat 5: Allen Bari - 835,000
Seat 6: Olivier Busquet - 666,000
Seat 7: Paul Berende - 327,000
Seat 8: Michael Friedrich - 112,000

That's all we've got for you tonight from Monte Carlo. We're off to rest up so that we can give you some proper coverage tomorrow. Hopefully, our website will cooperate a bit better for the last day, and we ask you to bear with us as we get some more robust hardware installed server-side.

Thanks once again for joining us here, and we'll see you right back here tomorrow at noon!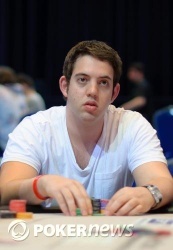 Well everyone was having a damn good time at the poker table until Luke Schwartz got eliminated. It was one of the most friendly and chatty games we've seen in quite some time, and that despite the huge payday up for grabs. Somehow, though, Schwartz always knows how to ruin a good thing. Here's what happened:
In early position, Dori Yacoub opened the pot to 38,000. Action passed all the way around to Schwartz's big blind, and he announced an all in for about 300,000 total. That sent Yacoub into the think tank as he cut the calling chips out and studied the potential damage. Finally, he called.
"You got a pair?" Schwartz asked. Yacoub waited for Schwartz to open up his


before showing his own


, and the race was on. "What a donk call," Schwartz couldn't help himself. "This is the most guaranteed paint ever." He was right.
The

appeared on the flop, and Schwartz, never one to be mature about losing, promptly shoved his towers of chips forward with a big heave, spilling them across the entire surface of the felt from one end to the other. The friendly chatter that the rest of the table was engaged in came to an abrupt halt; they just sat there, unsure of what to do as Schwartz stormed off to the rail. With a confetti of chips covering the playing surface, the dealer cleared a bit of working space and ran out the rest of the




board. Schwartz continued to mumble and mutter to himself as the floor man tried to sort out which chips now belonged to Yacoub.
"I think all of the loose chips on the felt are his," Kevin said. It took another two or three minutes to gather up Schwartz's chips with the now eliminated poor sport pacing around the perimeter having a little tantrum all the while.
It was a truly eventful and enjoyable night of poker, right up until Mr. Schwartz decided that he couldn't handle losing. Once the commotion had started to die down, Schwartz tried to approach the table once again, and he had a few quick words with Yacoub before he was escorted toward the payout desk to pick up his small paycheck.
There hasn't been much three-betting since we went nine-handed, as everyone is hunkering down to try and survive this middle day. Ah, but we found ourselves a three-bet just moments ago.

Sorel Mizzi opened to 38,000 from middle position, and Luke Schwartz was already eying up his chips. When it came to FullFlush, he stuck in a three-bet to 93,000 total.

"How much you playing?" Mizzi asked.

"Started the hand with about three eighty," came the reply.

With that, Mizzi announced a covering all-in reraise. Schwartz sat still.

"Gotta be pretty happy I didn't snap," he eventually said. After another moment or two of debate, he continued, "I'll give you €100 to show me worse than ace-jack or pocket tens when I fold." And he promptly folded.

"A hundred Euros?" Mizzi asked, double-checking his cards. He seemed to be considering, but finally admitted, "Nah, I have better than tens," and slid his cards into the muck.

Schwartz seemed a bit disappointed, so Allen Bari offered to help. "Will you give me €100 if I just flip his cards up?" Bari asked.

Chuckles all around as Mizzi adds about 100,000 chips to his stack.
Level:

20
Blinds:

8,000/16,000
Ante:

2,000
After all the deal-making and finagling, here are the new payouts:

1: €965.000
2: €597.000
3: €358.500
4: €263.000
5: €191.200
6: €143.400
7: €109.900
8: €81.300
9: €49.450
10: €49.450
11: €25.000
Here's how the last table of nine is laid out:

Seat 1: Dori Yacoub (920,000)
Seat 2: Tom Marchese (1,020,000)
Seat 3: Tobias Reinkemeier (725,000)
Seat 4: Sorel Mizzi (595,000)
Seat 5: Allen Bari (645,000)
Seat 6: Olivier Busquet (625,000)
Seat 7: Luke Schwartz (390,000)
Seat 8: Paul Berende (380,000)
Seat 9: Michael Frederic (280,000)
While players on the other table were racking up their chips for the redraw, Dori Yacoub made a sizable opening raise from the cutoff and Tobias Reinkemeier called on the button to see a



flop. Yacoub bet out 60,000 but Reinkemeier made it 160,000; Yacoub called and they saw a turn.
Turn:

Yacoub now checked, and Reinkemeier moved all in for 309,000 leaving Yacoub with a decision.
"You want me to call, hmm?" Yacoub enquired, but there was no reaction from Reinkemeier. "Only worried of trips, that's all," Yacoub thought aloud, and then continued, "Will you show me? If you show me I might fold." Reinkemeier might as well have been a robot, the amount of information Yacoub could pick up from the rock-steady gaze of his aviators. "Doesn't want to answer," said Yacoub unnecessarily.
Eventually Yacoub announced, "No, it's yours," but both player held on to their cards. Eventually Reinkemeier spoke, just to clarify that Yacoub had already folded and to state categorically that he didn't want to show his hand. The pot went to Reinkemeier, and the redraw could commence.
From under-the-gun, Tom Marchese made it 29,000 and Javier Garcia made the call from the big blind.
Flop:



Garcia checked the flop and Marchese slid out a bet of 38,000. Garcia moved all in and Marchese called. Marchese had Garcia covered by just about 10,000 in chips.
Marchese:


Garcia:


The turn and river brought the
and

respectively and although Garcia made his flush, Marchese filled his boat. Garcia will take home €50,000 for his efforts.
Tobias Reinkemeier got all 114,000 of his chips into the middle preflop, and he picked a good hand to do it with. Tobias held


, and he was looked up by Dori Yacoub and his


.
The board ran




, and that marks a nice double up for Reinkemeier.
Moments later...
Reinkemeier opened to 27,000 from the small blind, and Paul Berende three-bet to 106,000 from the small blind. When the big blind folded, Reinkemeier moved all in for 255,000 total, and Berende quickly called the remainder.
Showdown
Reinkemeier:
Berende:


"No offense, but I'm pulling for a seven," Luke Schwartz said from the end of the table. But there would be no seven. The board of





, and Reinkemeier earns his second double up in as many hands. He's back up over the half-million chip mark.