Main Event
Day 4 completed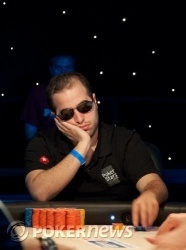 We started today with 24 players playing down the final table. However, out of the top six players coming into the penultimate day of the tournament, only one remains - Nicolas Chouity who sits with over 10 million in chips, that's 40% of those in play for the eight-handed final tomorrow.

The chip leader at the start of the day, Kevin Eyster lost several crucial pots and exited early in the day. The two remaining English players, Matt Perrins and Craig McCorkell, whom both held the chip lead during the day were forced just out before the final.

The question tomorrow will be can anyone stop Nicolas Chouity from steamrolling through the final table? Join us tomorrow to find out.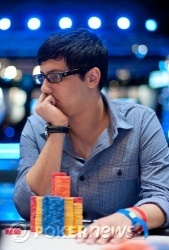 There must have been a little discrepancy in the official chip counts, as when Craig McCorkell finally got his chips in it was 65,000 - because the blinds had already gone up, it was a call all in. Andrew Chen raised, everyone else folded, and they turned the cards over.
McCorkell:


Chen:


Board:



The hapless McCorkell becomes our ninth place finisher, and we are going to have to wait until tomorrow to see what happens next as we are down to our official eight-handed final table.
Level:

28
Blinds:

40,000/80,000
Ante:

5,000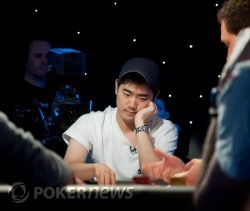 Next hand Dominykas Karmazinas raised to 135,000 and to everyone's surprise Craig McCorkell folded. Andrew Chen called in the big blind though, and they saw a


flop. Both players checked.
Chen bet out on the

turn, and it was enough to make Karmazinas fold.
By the by, McCorkell folded the next hand as well to leave himself with 50,000.
Now the table short stack, Aleh Plauski announced all in. Dominykas Karmazinas asked for a count - 830,000 - but folded. On the button, Craig McCorkell reshoved for only a little more. The blinds folded, and they were on their backs.
Karmazinas:

McCorkell:

Board:




...

Ouch. Plauski doubled up, and McCorkell was left with just 60,000 - that's one sad, lonely big blind.
With all our players seated aorund the feature table, Herve Costa wasted no time in getting his last 800,000 in. In the small blind, Craig McCorkell reshoved. "I can't fold this," he told the table, but he probably wished he had after the hand was done as Costa had him just pipped.
McCorkell:


Costa:


Board:





Costa is no longer the short stack at the table - he doubled to 1,705,000. McCorkell meanwhile dropped right down to 895,000.
Seat 1: Herve Costa - 805,000
Seat 2: Roger Hairabedian - 1,260,000
Seat 3: Aleh Plauski - 840,000
Seat 4: Dominykas Karmazinas - 2,430,000
Seat 5: Josef Klinger - 1,200,000
Seat 6: Craig McCorkell - 1,700,000
Seat 7: [Removed:146] - 3,790,000
Seat 8: Nicolas Chouity - 10,130,000
Seat 9: Andrew Chen - 3,280,000
We are down to nine players and they are being condensed on to a single table. Only eight of them will be coming back tomorrow for the official final table.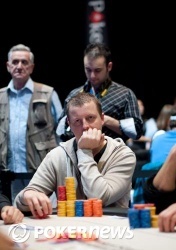 Nicholas Chouity raised to 140,000 and Matt Perrins, possibly still steaming from doubling up Guerfi, pushed for 1.27 million from the small blind. Call.
Perrins:


Chouity:


Board:





With that, we are down to nine.